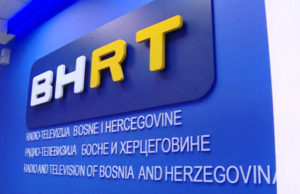 Bosnia and Herzegovina haven't participated in the Eurovision Song Contest since 2016, and this year's contest is no exception. However, we looked at acts, which, in case of Bosnia and Herzegovina's participation, could have represented the country in Rotterdam.
All the songs listed are released after the 1st of September 2020 and as such live up to the rules of the Eurovision Song Contest regarding eligibility. We sincerely hope to see Bosnia and Herzegovina return to the contest very soon. Due to serious economic issues within the Bosnian Public National Broadcaster BHRT and their huge debt to the EBU, they haven't participated since 2016.
Could any of the following seven songs have done well had they represented Bosnia & Herzegovina this year? Vote for your favourite in the poll at the bottom of this article.
Laka – Puberet
Elvir Laković Laka represented Bosnia at 2008 Eurovision Song Contest in Belgrade with the song Pokušaj. He qualified for the grand final where he finished 10th. Laka recorded his first song Malo Sam Se Razočar'o back in 1998. In 2004, Laka left for New York City, where he tried to start a band, but returned to Bosnia unsuccessful and a bit disappointed after two-and-a-half years. However, he then released his first solo album Zec in 2007. Laka was the spokesperson reading out the results from Bosnia and Herzegovina in the Eurovision Song Contest 2009, and again in the Eurovision Song Contest 2012. Pubertet describes the process of falling in love: how easy and innocently it is when you are young and on the other hand, how complicated and calculated it can be when you grow up.
Nermin Puškar – Ljubi Me
Nermin Puškar began his music career as a member of the band Krug in the late 1990s. He went solo in 2003 not only as a singer, but as a songwriter and a music producer too. Nermin participated in the Eurovision Song Contest back in 2010 in Düsseldorf as the backing vocalist for Dino Merlin. Ljubi Me is a song about supporting each other in these rough times by showing love, positivity and tolerance.
Armin Muzaferija – Studen Vodo
Armin made his debut on the music scene in 2000. He has participated in many music festivals in Bosnia and Herzegovina as well as in Croatia, where he accomplished some remarkable results. Last year, Armin represented Bosnia and Herzegovina at Turkvision and finished 3th with the song Džehva. He has recorded two studio albums – Još Te Volim (2009) and Na Srcu Potpisan (2015). Studen Vodo is a patriotic song where Armin expresses his love and sense of belonging to his native land.
Božo Vrećo feat. Makhi Beatz – Čovjek Od Soli
Božo is a unique singer who takes sevdalinka, the traditional folk song from Bosnia, back to its pure unaccompanied roots. He is an androgynous singer – sometimes performing as a man, sometimes as a woman – which is breaking down deep prejudices. Čovjek Od Soli deals with unhappy love and our ability to love someone, not least to love ourselves, even if the person we love doesn't share the same kind of feelings.
Dino Merlin & Senidah – Dođi
Edin Dervišhalidović, better known as Dino Merlin, needs no introduction. The singer, who started his music career back in 1983, has represented Bosnia and Herzegovina twice in the Eurovision Song Contest. In 1999, he finished 7th with the song Putnici and in 2010 he came 6th with the song Love In Rewind. Additionally, he also wrote Sva Bol Svijeta – Bosnia and Herzegovina's debut entry in the contest back in 1993. Dođi is about having someone you can lean on in the world of today which is dominated by insecurity, anxiety, pain and negative thoughts.
Amel Ćurić – Moje Zauvijek
During the war in Bosnia and Herzegovina in the early 1990s, Amel became interested in rock music. After the war, he was a member of several amateur bands. In 2003, he became the first winner ever of the Bosnian reality TV-show "OBN Music Talents" and in 2015 he won "X Factor Adria". In 2006, Amel released his debut album Urnebes. The message of Moje Zauvijek is to keep fighting for a relationship despite all the challenges and even though the relationship is doomed to fail.
Hari Mata Hari – Ja Sam Sam Što Nemam Tebe
Back in 2006 in Athens, Hari Mata Hari, achieved the best result in history of the Eurovision Song Contest for Bosnia and Herzegovina as he finished 3rd with the song Lejla. Before entering the contest, Hari Mata Hari was one of the most famous artists in the former Yugoslavia. He and his band have performed over one thousand concerts and sold five million albums to date. Hari has released an impressive total of 15 studio albums. The last album titled Ćilim is from 2016. Ja Sam Sam Što Nemam Tebe is Hari Mata Hari's first release in the last four years. It is a very emotional ballad – a lullaby – which tells a story about an unhappy man, who can't find rest after a failed relationship, although he keeps searching for love and a new home.
Vote for your favourite
Which of these songs do you think could have secured Bosnia and Herzegovina the top result in case of the Balkan country's participation in Rotterdam? Please vote for your favourite in the poll below.