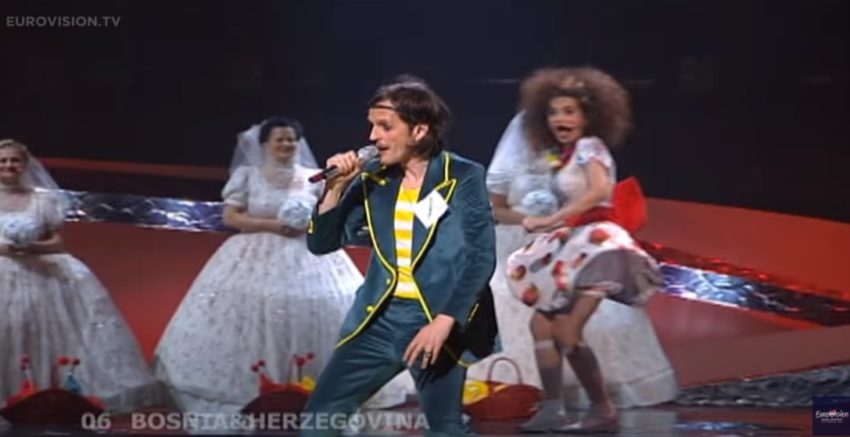 It's not everyone's taste. Bosnia and Herzegovina's 2008 entry divide the waters among Eurovision fans. Elvir Laković Laka's 'Pokušaj' finished 10th at the Eurovision Song Contest. Was it art or a mess?
Bosnian broadcaster BHRT selected Laka with his different song Pokušaj internally among 31 valid submitted songs to represent Bosnia and Herzegovina at the Eurovision Song Contest in Belgrade, Serbia. The jury who selected the song consisted of 7 music experts.
Laka first took the stage in the first semi-final held on the 18th of May 2008 13th in line. The 72 points he received made him eligible to take the stage in the grand final. On the final night (22nd of May 2008) he took the stage 6th in line, received 110 points and finished in 10th place.
Pokušaj – opinions from fans
In order to find out what Eurovision fans today think of this Bosnian entry from 2008, we asked our Eurovision Fan Panel. It includes team members as well as fans from all over the world.
🇧🇦 🇩🇰 Elvir P. – Bosnia and Herzegovina's performance back in 2008 is one of the most epic moments in history of the contest. A laundry basket, backing vocals knitting while wearing wedding dresses, a clothes line, which ended up spelling the word "Love", Laka's little sister dressed as some sort of Japanese doll and Laka himself. So much energy, so many good vibes and so much craziness at the same time. Laka is unique and so is his music. I just love his music because its pure art.
🇬🇧 Kat H. – I would usually say that I'm quite a fan of Bosnian entries. I usually enjoy the ethnic sounds and during the 2000s I was particularly fond of the direction they were heading when placing 3rd in 2006. And then this abomination came! What an absolute disaster — in a year that boasted an Irish turkey and Latvian pirates, this is absolutely the worst. How it qualified over many of the others who failed is beyond me!
🇧🇪 Enis H. – Easily my winner that year. I love everything about it. The artist is amazing, the clothes are funny but fit the theme.
🇹🇷 Gunec G. – After all those masterpieces, this was such a disaster from B&H. The show is so out of my sense of humour. The song has no quality. This was one of the most overrated entries in the history of Eurovision Song Contest. There was no positive energy on stage, just a huge mess. I am only thankful that the country returned with a masterpiece  in 2009. And I must say, I really miss them in Eurovision.
🇩🇰 Tina M. – Another Eurovision song that I had totally forgotten about — and this time with good reason. The composition and structure of the song is actually good enough, but I have a big problem with the vocals and the stage shows. To me, it seems like a parody, a lead singer running around the stage, four choir singers dressed as brides and a girl hanging laundry up. To me, it makes no sense at all. Bosnia and Herzegovina, which has sent fantastic and great songs to Eurovision both before and after – why this? A song I do not like. 2/10.
🇬🇧 Michael O. – On the surface this seems like a quite quirky entry, but really in the end it's just a piece of nonsense. Eurovision at its worst.
🇮🇪 Paul K. – This staging is so random that I actually enjoyed it. But it was fitting to the song. I always think of the 00s as the decade where the humorous acts were always so popular and this is one of them. It's definitely where Eurovision gets its name for being a wild and crazy festival, but it's always welcome. The song here is an example of that, such fun, humorous, and not taken too seriously, but wouldn't do well in the recent years.
🇳🇴 Steinar M. – Really a great song! Original, authentic, alternative, cool and very interesting. Great catchy melodious flow. Excellent Coldplay-ish chorus. But too much mess on stage. Would benefit from a simple band performance.
🇩🇰 Charlotte J. – Crazy, but yet catchy and fun. I actually enjoy this one. It's not really a good song to me, but it makes me smile. And so many years later, it is still one of those I remember best from that year. I appreciate it, and I respect Laka for what he does. And I love some of his other songs. He is a true artist.
🇨🇴 🇫🇮 Alvaro S. – A messy song in a messy year. Intentional or not, the male singer have these creepy looks that my reaction is just no! And besides that we have the ladies in wedding dress sewing, clothes hanging and a backing vocalist going around. I don't know what to make of this.
Enjoy Laka's performance from the 2008 Eurovision Song Contest in the embedded video. Below the video, you can read more about her.
Laka – a mini biography
Elvir Laković Laka was born in 1969 in Goražde in Bosnia and Herzegovina. He attended music school where he was studying guitar, but he disliked the school's teaching methods and views towards music, and then subsequently quit the school. Laka recorded his first song, Malo Sam Se Razočar'o, back in 1998. This song made him famous nationally. In 2004, he moved to New York, where he tried to start a band, but returned to Bosnia and Herzegovina unsuccessful and disappointed after two-and-a-half years. Short time after, he then released his first solo album Zec in 2007 – and soon followed Eurovision.
Back in 2008, Laka was internally chosen by the Bosnian and Herzegovinian National Broadcaster, BHRT, to represent the country in the contest, which was held in Belgrade. The title of his entry was Pokušaj. Laka finished 9th in the semi-final and in the grand final he came 10th with 110 points.
He was also the spokesperson reading out the results from Bosnia and Herzegovina in 2009 and again in 2012.  Laka is still active. In March 2019, he released the single Ostarih in relation to his 50th birthday. In June 2020, his Pubertet was released.