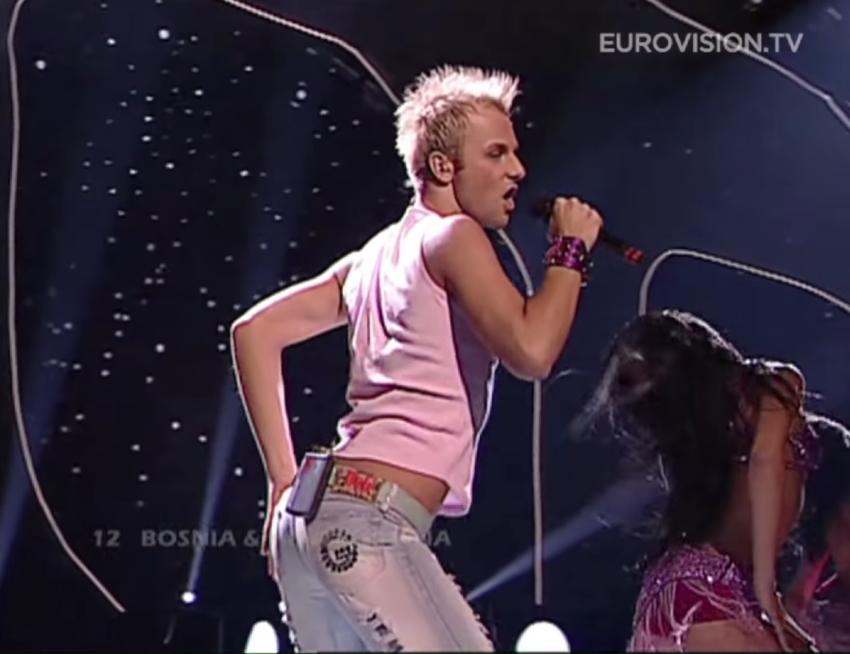 It's one of those songs you either love or hate. There isn't much of a middle way when it comes to Deen's 2004 entry 'In The Disco'. Deen stood out like no one else that year, and he managed to score a 9th place.
Artists with Bosnian citizenship that had at least two live performances and released at least three songs could submit their name to the broadcaster if they were interested in representing Bosnia and Herzegovina at the 2004 Eurovision Songs Contest. 7 acts did, only 5 was found valid. A selection committee of 21 people selected Deen out of those five valid options.
A national final later took place in which Deen performed five entries. A sixth entry written by Andrej Babić was disqualified as he didn't have a required Bosnian citizenship. Out of the five potential entries, both jury and televoters placed In The Disco first.
The 2004 Eurovision Song Contest saw the introduction of a semi-final. For Deen that wasn't an issue. He qualified easily, in particular with the 12 points from Denmark and Norway and six countries awarding him 10 points. In the final, the points went down, and he scored a 9th place with 91 points. This time no one had 12 points for him, but he did get 10 points from Albania, Croatia, Norway and Slovenia.
In The Disco – opinions from fans
In order to find out what Eurovision fans today think of this Bosnia and Herzegovina's entry from 2004, we asked our Eurovision Fan Panel. It includes team members as well as fans from all over the world.
🇧🇦 🇩🇰 Elvir P. – I am aware that many people have a love-hate relationship to Bosnia and Herzegovina's entry from 2004. However, I think that In The Disco is a pure gold. It is a hardcore party anthem that makes me sing alone, have fun and dance. Deen is a phenomenal vocalist and I really hope to see him back on the music scene soon with some fresh material.
🇬🇧 Steve P. – Deen certainly can't be accused of underselling his three minutes in the limelight! Frankly, some songs are best just listened to, watching them can occasionally put an image in your head that is impossible to remove. Whoever choreographed his routine clearly had an eye on the fan vote, given the amount of hip-thrusting and pouting. The Scouts camp less than Deen did in his performance! This is unfortunate as Deen has a very good voice and the song has more than enough to cheer anyone up on a bad day.
🇨🇿 Josef Š. – I like disco. But not the disco Deen is singing about in his 2004 Eurovision entry. That song is already in 2004 too old-fashioned, and I am not mentioning those moves he does, that are almost disgusting to me. This style could have been approached differently. This way it is one big NO from me, sorry Bosnia, sorry Herzegovina as well… 🙁
🇹🇷 Güneç G. – This is pure disco and Deen has a star energy on stage. The song is quite catchy and makes you dance. I love it.
🇩🇰 Charlotte J. – No, no and no again. This is just wrong on so many levels for me. If you want disco fine, then provide us a good disco tune I can dance along to. This is not it. The performance isn't good either, in fact is's quite bad. If you want to show your homosexuality that much, why dance with girls pretending you desire them? Deen wasn't very good at pretending. Vocally he wasn't strong either… Whereas in 2016, he was fantastic – so thank God, he really improved in the years between those two entries.
🇬🇧 Michael O. – Well to begin with you have to ignore this is a very, very poor copy of I Feel Love by the almighty Donna Summer, oh I'm so excited to know that Donna's going to get mentioned in a review piece, but anyway once you get that out your head, on its own I love it, still to this day. We need more entries like this nowadays.
🇩🇰 Alberte B. – It's a catchy song; super fun too. But his voice isn't really that great, which makes it less catchy. It's sad, though, because it has the potential to be really fun.
🇵🇹 Linete A. – The best part is the disco sound and the dancing. The singer is not very good and the singing parts very banal and without quality. I don't like the song at all, although I like the beat and energy in this disco song.
🇨🇴 🇫🇮 Alvaro S. – Oh no this is so terrible! Everything is so bad here. Let's start: the dressing of the singer, he deserved to win the Barbara Dex award. I mean you are going to perform in from of millions of people how could you wear jeans and a sleeveless t-shirt. And the backing dancers. The dance is cheap, the music is so stereotypical bubble gum pop that the whole act makes me cringe. How did he come from this to Ljubav Je in 2016? They looked like totally different people but In the Disco was the song that gave him a Top 10. Unbelievable!
🇧🇦 Nihad B. – I believe that 2004 was a turning point for Bosnia and Herzegovina in Eurovision. We took everything much serious, even if the song is silly. I remember this national final very well, and the whole nation was in shock by Deen hip thrusting. In Istanbul, it looks so good…dancers… camera works… everything.. It's cheesy pop song, but it is dear to my heart…
🇳🇱 Eric O. – A campy disco song with ditto dance moves and a queer singer made the 2004 entry of Bosnia & Herzegovina a favourite for the many LGBTQ Eurovision fans, hence a top 10 finish (despite the sometimes off-key notes, I must say). Deen's second attempt in 2016 was much better in my opinion, even though the song didn't qualify for the grand final. Anyway, In The Disco will still do well at many Eurovision parties hopefully 😂
Enjoy Deen's performance from the 2004 Eurovision Song Contest in the embedded video. Below the video, you can read more about him.
Deen – a mini biography
Fuad Backović Deen was born on April 12th 1982 in Sarajevo. Deen was the lead singer of the Bosnian boy band 7Up from 1997 until 2002, when he became a solo artist. He represented Bosnia and Herzegovina in Eurovision Song Contest twice. In 2004 in Istanbul, he finished 9th in the final with the song In The Disco. In 2016 in Stockholm, he performed Ljubav Je together with Dalal Midhat, Anja Rucner and Jala and finished 11th in the semi-final. This was very first time that Bosnia and Herzegovina failed to reach the grand final.
Deen has lived in Milan, Italy and has graduated from the Istituto Marangoni with a degree in Fashion Business and Brand Managament. As a solo artist he recorded 3 albums – the last one, Anđeo Sa Greškom, is from 2005. Deen now lives in Los Angeles, United States, where he works with fashion.