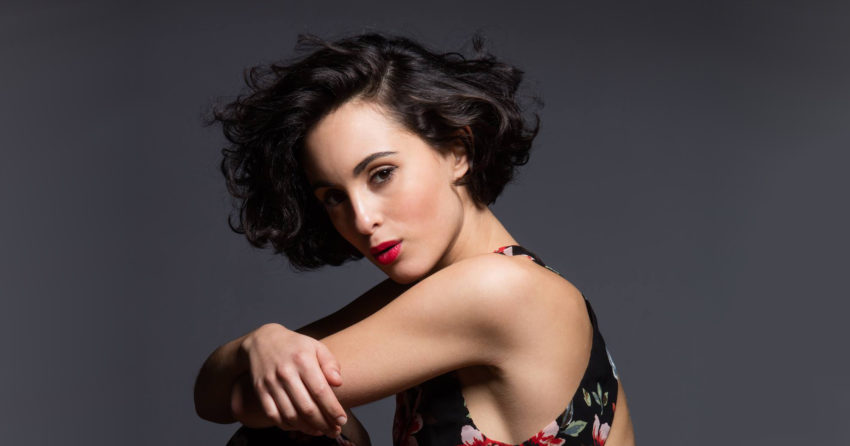 France becomes the third, and first of the Big Five countries so select their Eurovision Song Contest 2021 entry. They have chosen Barbara Pravi with the song voilà.
Tonight, the National selection, Eurovision France, c'est vous qui décidez! took place, hosted by the broadcaster, France 2. Twelve acts took part, with the winner being Barbara Pravi.
France, being one of the Big Five, will proceed straight to the Eurovision Song Contest final, to be held on May 22, in Rotterdam, The Netherlands.
The Show
The show opened with several dancers holding the French flag dancing to Waterloo. There then followed a medley of Marie Myriam, Natasha S-Pier, Duncan Laurence and Amir, performing their Eurovision classics, accompanied by tonight's contestants. The hosts, Stephane Bern and Laurence Boccolini welcomed everyone to the show. They then introduced the judges. Laurence was wearing the theatre's curtains. We were also introduced to the Junior Eurovision 2020 winner, Valentina.
The show wasted no time, running through the acts, with selected jury members voicing their opinions after each song. While the public were calling in their votes, Amir entertained with a medley of his hits, including his 2016 entry  J'ai Cherche. Amir has become a really big star in France since his Eurovision days.
Of course, when the public were voting for the second time, Valentina performed her winning Junior Eurovision Song, J'Imagine, which coincidentally is written by tonight's winner. Valentina and tonight's cast finished with a performance of Ne Partez Pas Sans Moi, Celine Dion's Swiss winner from 1988.
The Songs
Andriamad – Alleluia
One of the favourites opened the show. The duo is highly fancied to do well tonight.  They were accompanied by four dancers. The duo are Cecile and Kevin, and Cecile wore an electric blue suit, while Kevin was in red. A good strong performance to open the show. The song had a dance beat with a bit of an Eastern European flair.
Juliette Moraine – Pourvu qu'on m'aime
Juliette, who plays the piano stood by herself on stage, although the song does heavily feature a piano. The stage looked quite spectacular and classy in gold as she performed her ballad. This is one that needs a few listens before you get the feel of it. The stage was totally alight as she hit the high notes.
Céphaz – On a mangé le soleil
Céphaz looked well in his yellow suit and cool trilby hat. A very polished and positive performance, with creamy soulful vocals.  Céphaz  can reach some high notes. Céphaz's name was emblazoned in lights behind him. Four dancers danced behind him.
Amui – Maeva
This was a very strong performance, a Tahitian  Polynesian party that all the audience loved.  Towards the end of the song, two dancers joined them, almost as if they were dancing to try and make it rain. This two lady, one man trio is probably heading into the finals. Great fun.
Philippine – Bah non
This type of song is very popular in France at the moment, with the likes of chart topper Angele. Phillippine was joined by a dancer on stage. She sang atop tables and chairs that were illuminated. The song sounded angry yet powerful.
Terence James – Je t'emmènerai danger
Accompanied by  a female  with a hula hoop, and four dancers in kilts, this was a very energetic performance. The verses were fine, but the chorus was a little repetitive. However, the song came to life on stage tonight.
Barbara Pravi – Voilà
This song can't be anything else but French. A modern take on the style of Edith Piaf. This is another one highly fancied to be the French entry. Barbara was all in black, smoke bellowing as she looked alone on stage. Very dramatic, but is it suitable for Eurovision. The judges loved it.
Pony X – Amour fou
Another song of its time described as electro dance. PONY played at the back, a little like JOWST, while our singer accompanied by five ladies in pink gave out some hot vocals. This was a complete 360 degree change from the previous song, and woke everyone up. A future dance classic.
Casanova – Tutti
This had a very seaside village feel about it. Four female dancers gave the song a very summer-like appeal about it. The sing a long chorus helped keep the song interesting. France has to be commended on all the different types of entries they have presented tonight. All deserve to go through to the next round. And part of the song was sung in Corsican.
LMK – Magique
LMK began the song by playing the harp slowly. You knew it was going to change, because five dancers were waiting on stage. Sure enough a beat kicked in and a very modern song transpired. As an extra bonus, a little rap was thrown in, and here again was another great performance.
Ali – Paris me dit
This was a very different type of performance again. Ali comes from Lebanon and the song had a feel about the country about it. A very easy song to be drawn into. Ali stood on a box, surrounded by white drapes, with white smoke bellowing out behind him
21 Juin Le Duo – Peux-tu me dire?
A duo opened the contest, and another closed it. This is a very catchy song, and although the sound is different, you can't help  but compare  them to Madame Monseuir, and where they finished at Eurovision. This is an instantly pleasing sound, but may not have the power to be as everlasting as some of the others. Still good though. They were all in white in front of a stage with a large poppy on.
The Jury
The artists had to perform in front of a ten person jury, led by the French representative from 2016, Amir. Joining him was the last French winner from 1977, Marie Myriam, and 2001 French entrant, Natasha St-Pier.
The last Eurovision winner, Duncan Laurence, from The Netherlands was also part of the jury.
French fashion designer, Jean-Paul Gaultier was also on hand, to critique the performers.
The final five jury members were Chimène Badi (singer), herself a potential French entrant from 2019, Michèle Bernier (comedian), Agustín Galiana (singer and comedian), Élodie Gossuin (television presenter) and André Manoukian (jazz singer and former judge on Nouvelle Star).
The Results
The public chose seven of the entrants to proceed to a super final, with the judges choosing one more wild card, taking the finalists, in a second round, up to eight.
The public choices were announced in the order Casanova, Juliette, Cephaz, 21 Juin, Amui, Barbara and PONY X. The jury added LMK. The scores were reset to zero and the public were asked to vote again.
From these eight, the winner was chosen 50% public, and 50% jury.
| | | | | |
| --- | --- | --- | --- | --- |
| | Jury | Public | Total | Position |
| Juliette Moraine | 76 | 60 | 136 | 2 |
| Céphaz | 52 | 30 | 82 | 5 |
| Amui | 8 | 70 | 78 | 6 |
| Barbara Pravi | 104 | 100 | 204 | 1 |
| PONY X | 74 | 50 | 124 | 3 |
| Casanova | 22 | 80 | 102 | 4 |
| LMK | 66 | 10 | 76 | 7 |
| 21 Juin Le Duo | 18 | 20 | 38 | 8 |
France At The Eurovision Song Contest
How has France performed at The Eurovision Song Contest through the years. Lets take a brief look throughout the decades.
Fifties: France appeared in the first ever Eurovision Song Contest, and although the results of the first contest are not known, it can be assumed they finished in the Top 3 in every contest in the fifties. Their first win came in 1958 with André Claveau and Dors, Mon Amour.
Sixties: France began the sixties by winning the first contest of the decade, and co-winning the last with Jacqueline Boyer in 1960 and Tom Pillibi and Frida Boccara with Un Jour, Un Enfant in 1969. In between they finished in the Top 5 every year except 1966, including another winner in 1962 with Isabelle Aubrey and Un Premier Amour.
Seventies: The seventies gave France their fifth and last win to date in 1977 with Marie Myriam and L'oiseau et l'enfant. From 1975, France again finished in the Top 5, including being runner up in 1976 with 1,2,3 by Catherine Ferry.
Eighties: The eighties saw a decline in France's fortunes. They only ended up in the Top 3 on one occasion, 1981 with Jean Gabilou and Humanahum. On the other hand in 1986 they achieved their worst position to date with Cocktail Chic and Européennes coming 17th.
Nineties: France started the nineties well, by becoming runner up in 1990 and 1991 with Joelle Ursell and White And Black Blues followed by Amina and C'est le dernier qui a parlé qui a raison. Amina was particularly unlucky as she received the same amount of points as the winner, Sweden. In 1998, Marie Line gave France a new low of 24th position.
Noughties: This decade saw a further decline in France's fortunes as they dipped regularly into the bottom half of the scoreboard, on three occasions into the mid-twenty placings. However, they started the decade well with Natasha St-Pier coming 4th with Je n'ai que mon âme in 2001, and 5th with Il faut du temps by Sandrine Francois. This was the last time France made the top 5, to date.
Tens: Only Amir in 2016 has managed to finish in the Top 10 with J'ai cherché in 2016. Worse, this decade gave France their first and only time, where they finished last in the final, when Twin Twin took Moustache to the bottom of the table.
Below, you can watch the video of the song France hopes will turn their fortunes around this year.