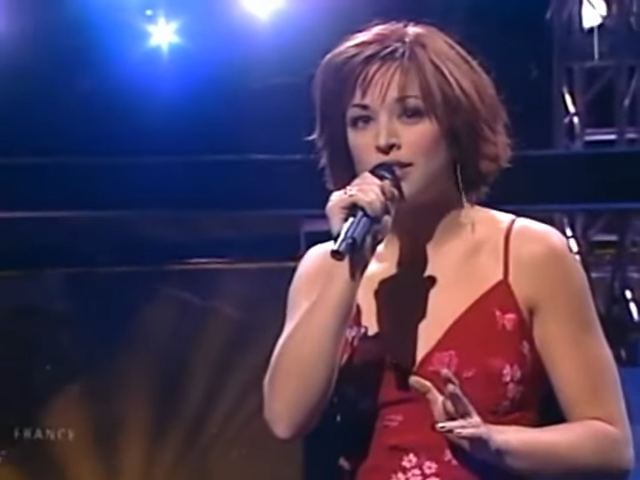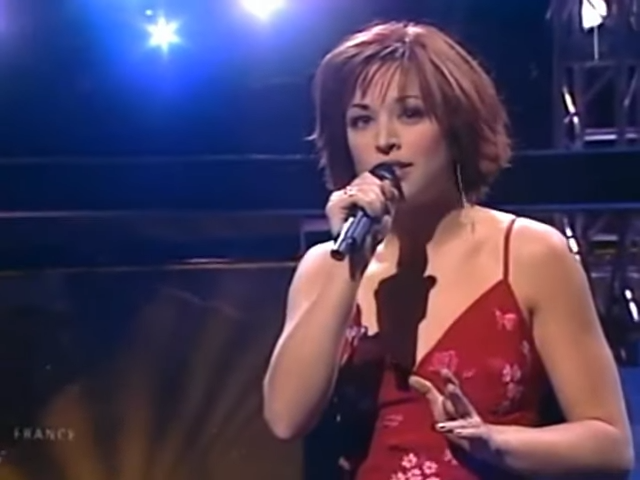 Canadian Natasha St-Pier was one of the top favourites to win the Eurovision Song Contest in 2001. She finished 4th, but still today, nearly 20 years later, many fans love her entry.
Natasha St-Pier was selected internally by France Télévisions for the 2001 Eurovision Contest. The previous two years, the country had held national finals to select their entry. The power ballad entry Je N'ai Que Mon Âme was sung in part French, part English.
At the Eurovision Song Contest, Natasha St-Pier finished 4th with 142 points. The contest, which was held in Copenhagen, Denmark was won by Estonia. Home country Denmark took the second place, while Greece's Antique came third. As part of the Greek duo we saw Helena Paparizou, who would later win Eurovision.
Opinions From Fans
In order to find out what Eurovision fans today think of this French entry from 2001, we asked our Eurovision fan panel. It includes team members as well as fans from all over the world
🇩🇰 Charlotte J. – I am still puzzled this didn't win Eurovision. I know it was a strong year, but in my opinion, this song is perfect – although, I have to say that the studio version is better than the live performance. Maybe she was too nervous? But nonetheless, it would have been a fantastic winner.
🇬🇷 🇬🇧 Theo V. – I fell in love with this entry as soon as I first watched the promotional video. On the night, it was one of the songs I was rooting for. However, looking back at the live performance now, there are a few things that are not quite right, including unsustained notes, an unassuming dress and obscure video backdrops. Singing part of the song in English probably detracted rather than added to its strength, too. Still a beautiful piece of Eurovision – one just wonders what the result would have been if some details had been fine tuned.
🇨🇴 🇫🇮 Alvaro S. – I think that being an early favourite did not work in Natashas' favour in 2001. In spite of this, Je N'ai Que Mon Âme is one of the most succesful French entries in Eurovision in the most recent times for a very good reason. The lyrics are beautiful and the song has aged well. I actually love the 2015 version for the Eurovision Song Contest's Greatest Hits even more than the original performance. Had the voting system been split between a jury vote and the televote, Je n'ai que mon âme would have been the winner!
🇬🇷 Giannis A. – Je N'ai Que Mon Âme was, is and probably will be my 12 points in 2001. I loved it from the very first time i heard it. Natasha is a very charismatic artist with an excellent voice. I didn't like the English chorus in the end. I also think she could wear a different dress more fitting with the song.
🇬🇧 Michael O. –  This was a very good ballad, but very like what fellow Canadian Celine Dion was releasing around this time. Nonetheless it was a standout in the 2001 contest and although it did very well coming 4th I had expected it to have finished first or second, the only other song to compete with it was Greece's entry. Having though said I liked it , it is not one of the songs I still listen to a lot.
🇨🇿 Josef Š. – Je N'ai Que Mon Âme is even after almost 20 years one of my favourite French entries of the new millenium. Natasha St-Pier is a memorable performer and she is still very well known in France. And her live performance from 2001 is a top class.
🇬🇧 Aaron S. – Natasha has an amazing voice, making an already beautiful french language sound even more beautiful. While I enjoy the English words towards the end of the song, I love how the song was predominantly in French. This was certainly one of my favourites from 2001, and one of my favourite french entries from this decade too. It deserved more than 4th place!
🇮🇪 Conor K. – This is one of the most classy Eurovision songs, with a very professional performance to match. This is especially noticeable for me as the early 2000s in Eurovision was not particularly full of 'classy' songs, concentrating more on the stage show. No doubt France wanted to replicate Switzerland and Celine Dion in 1988 by selecting a French-Canadian singer with a powerful song.
I think it's worth noting that 2 of the 3 countries using 100% Jury (Russia and Bosnia and Herzegovina) both gave this top 12 points. Perhaps a sign that a jury vote would have brought France their 6th victory?
🇹🇷 Güneç G. – The song starts like a river flowing gently just like Natasha's voice. It begins to gain acceleration through the middle. At the end of the song, the melody reaches its peak and becomes like a river that reached the falls. Natasha's beautiful, natural and capturing performance was unfortunately not enough for the top 3 as expected by many fans around.
🇬🇧 Steve P. – I'm partial to a good French language ballad and this song is one of the best! It builds beautifully as the song progresses. My only criticism is the diversion into English towards the end. Even so, this is the first of two consecutive entries that should have brought France its sixth and seventh victory.
🇩🇪 Pascal W. – Here we have yet another year where all the Top 5 songs are better than the winner itself in my opinion. Her voice is amazing and suits the song very well. Also, French is such a mellifluous language, so I got a bit disappointed by the switch to English in the end, which may have cost the song a higher position in the ranking. Overall I think it's a pretty good song lifted by a good stage presence of the singer.
🇬🇧 Kat H. – You could be forgiven for mistaking Natasha St-Pier for Celine Dion. Her French Canadian roots and distinctive crystal clear pop-rock voice is audibly an imitation of the Eurovision legend. Je N'ai Que Mon Âme is a power ballad which is executed very well, and the final chorus being in English gives it a much wider appeal (a first for a French entry!). Despite this, and considering it holds the joint highest finish for France since 1991, I personally think that there are at least 15 better French entries in that time period; and it's high finish can at least partially be attributed to a plethora of poor songs in 2001.
Enjoy Natasha St-Pier's performance from the 2001 Eurovision Song Contest in the embedded video. Below the video, you can read more about Natasha St-Pier.
A mini biography of Natasha St. Pier
Natasha St-Pier was born on 10th February 1981 in Canada. She is in fact of Acadian descent, a term referring to descendants of 17th and 18th century French settlers as well as indigenous populations from a region in what is nowadays Eastern Canada and North Eastern USA.
Her first album, Emergence, was released in 1996. Prior to Eurovision 2001, Natasha had also taken part in the London production of musical Notre Dame de Paris.
Her fourth place in Copenhagen 2001 was followed by a number of chart topping albums and singles in France in the following decade. She also had considerable success in French speaking counties as well as in parts of Eastern Europe, at some point scoring a top ten position in the Eurochart Hot 100.
In 2012, she got married to French fireman Gregory Quillacq. The couple have since had a child named Bixente Maxime. 2012 also saw Natasha endeavouring in a two-year stunt as a coach in The Voice Belsique.
Since September 2013, Natasha has been the host of television show Les Chansons D'Abord (Songs First) on public broadcaster France 3. The singer has also acted as a commentator for the 2014 Eurovision Song Contest for the French broadcaster.
Her last album to date to have charted in the top 20 of France (as well as Wallonia and Quebec) was 2015's Mon Acadie, a compilation with covers of traditional folk songs from the region of her descent.
Natasha is allegedly a vegetarian, a yoga teacher and an occasional scuba diver.