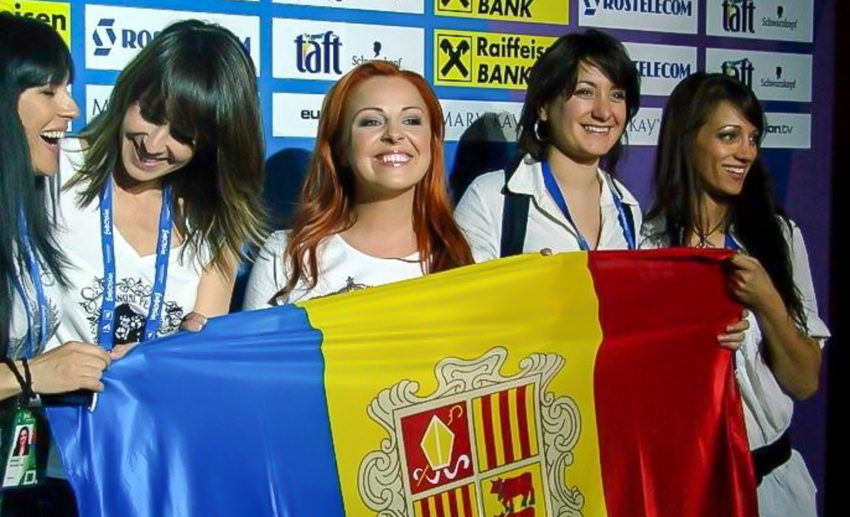 In 2009, Danish born Susanne Georgi represented Andorra at the Eurovision Song Contest. It became the country's so far last appearance at the contest. If it's up to Susanne, they will soon return. Eurovision fans back her up.
Andorra joined the Eurovision Song Contest in 2004. After six participations without ever reaching the final, the broadcaster pulled the plug after the 2009 contest. That year, Susanne Georgi finished 15th in the semi-final with the song La Teva Decisió (Get A Life).
Susanne Georgi is now campaigning to get Andorra back to the Eurovision Song Contest. While waiting to see whether or not this plays out successfully, we asked Eurovision fans, what they think of it. Are they just as eager as Susanne to see Andorra (and maybe Susanne) back on the Eurovision stage?
Andorra back in Eurovision? – opinions from fans
In order to find out what Eurovision fans think of a possible return from Andorra, we asked our Eurovision Fan Panel. It includes team members as well as fans from all over the world.
🇦🇺 Vivienne F. – I back Susanne 100% in getting Andorra back into the ESC. It would show that small nations or micro states are just as important as bigger countries. It showcases their own culture and language, if they do sing in their Catalan language, viewers become curious and want to know Andorra's story, it's particular history of being sandwiched between Spain and France, and how it managed to retain its language and how language links other areas like Catalonia in Spain, where Catalan is also spoken.
🇨🇴 🇫🇮 Alvaro S. – Simple answer. Yes and yes! The more the better. I would like to see Andorra, Monaco, Liechtenstein, Kosovo, Kazakhstan, Morocco, Palestine, even the Vatican City in Eurovision. If this ever happens I would like to see Andorra sending a song like Salvem El Món.
🇸🇪 Antonio P. – My favourite entry songs from Andorra is from 2004, 2007 and 2009. Every country has their own culture and language, even in music. In Andorra they speak Catalonian, a Spanish language, which I miss very much. If you have a music ear, or is a Hispanic talking person, you can hear the differnces. Every ESC country is special, because you never know what they going to do on stage. Andorra has (sometimes) choosen good songs with good coreography, this is all reason why I want Andorra back in Eurovision.
🇩🇰 Charlotte J. – Yes, I would love to see Andorra take part again. Despite only taking part six times, they did offer great variation in their entries. A couple of them should have made it to the final, in my opinion. As a Dane who grew up listening to Susanne and her sister, I wish her good luck with her campaign. Hopefully, it will be successful.
🇬🇷 🇬🇧 Theo V. – I agree with one of the comments above – the more, the merrier. When it comes to countries I would like to see back, I would specifically add Luxembourg as I like all of their five wins. Andorra should have stuck to it – I liked the fact they often sang in Catalan and some of the entries were not bad at all.
🇲🇹 Christopher D. – Andorra back to Eurovision? Yeaaahhhh! Absolutely would like to welcome back Andorra. It is a very small state but the times they competed they did send some amazing songs. Susanne Georgi with Get a Life, Gisela with Casanova and Marian van de Wal with La Mirada Interior all deserved a place in the final. Unfortunately as things stand in Eurovision, small countries tend to struggle to get through even if they send good songs. But I hope they will come back stronger then ever. The more countries participating, the more thrilling Eurovision is.
🇬🇧 Paula D. – Yes I would like to see Andorra back in Eurovision, Australia are now in and so are a lot of countries not in Europe, so I can't see a problem.
🇳🇱 Eric O. – Yes, I would definitely like to see Andorra returning to Eurovision! The songs they submitted in the past were very nice and I did like her 2009 entry very much, especially the part in Catallan/Basque language. If they can find the budget and a good singer/songwriter, they could definitely have a shot, same as San Marino had last year. Outsider!
🇫🇮 Martti I. – Eurovision is still a possibility for songwriters, artists and countries. The smaller the country is, it's an interest factor. 3 minutes to shine on stage, and for ever online. Andorra can proudly show their own music, culture and certainly language. Welcome with open arms.
🇬🇧 Michael O. – Andorra yes I'd love them back. They deserved the final at least three times but were thwarted before, as they competed in what I call the diaspora years.
🇨🇿 Josef Š. – Andorra being back is one of my wishes since they left ESC. But it is not only about Andorra, but for returning countries in general. No matter what they send, the more countries, the better variety of songs to choose from.
🇳🇴 Steinar M. – I would maybe more like to have Turkey, Bosnia, Hungary and Slovakia back before Andorra…but still them too, of course! Let's not forget their great 2007! Many people believed Andorra could have won with their great punkpop song, in the style of Green Day etc. Such huge disappointment when it failed to qualify (along with many other great rock entries that year – Czech rep., Croatia, Iceland etc.) For me a real masterpiece. One of the best entries ever!
A really GREAT band, which have been around for many year, which sung in Catalan would be perfect for Andorra, Els pets. They have very catchy feelgood indie pop/rock.
In the embedded video below, you can listen to Susanne Georgi's 2009 Eurovision entry. This is the – so far – last appearance on the Eurovision stage from Andorra. Below the video, you can read more about Susanne Georgi.
Who is Susanne Georgi?
Susanne, born in South Jutland, Denmark in 1976 shot to fame together with her sister Pernille. In the late 1980's the two teenage girls performed under the name 'SuPer Sisters'. They released two albums. A couple of years went by and the girls became young women. In 1995, they were back, this time using the name 'Me & My'. Their first Me & My hit became a big success, not only in Denmark, but also abroad. Dub-I-Dub reached the charts in Denmark, Norway, Sweden, Finland, Germany, the Netherlands, Belgium, Austria, Switzerland and France.
Me & My took part once in the Danish national selection; Dansk Melodi Grand Prix. That was in 2007 with the song Two Are Stronger Than One. They finished in 6th place. Susanne moved to Andorra, and in 2009, she represented the country at the Eurovision Song Contest.