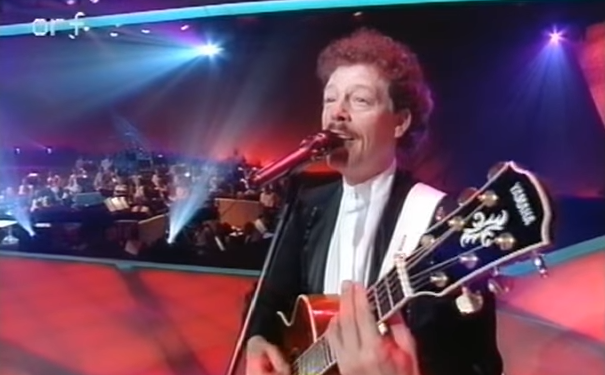 The tragedy of Tommy Seebach's life was sealed as his third Eurovision entry scored a bad result at the 1993 Eurovision Song Contest. Today, this song is a classic in the Danish Eurovision history. Unfortunately, he is not here to experience it.
We all know how Hans Christian Andersen's ugly duckling turned into a beautiful swan. The same transformation happened to Under Stjernerne På Himlen (Under the stars in the sky).
Tommy Seebach knew he had written a good song. He felt so confident about this entry that he kept submitting it to the Danish Melodi Grand Prix selection through several years. Finally, in 1993, broadcaster DR gave in, and accepted it.
It became a clear winner in the Danish national final. The local population as well as press praised its quality. Everyone loved it… two months later, the song finished 22nd at the Eurovision Song Contest. With help from a frustrated population, the Danish press fought to express the most anger towards Tommy and this song… It took about a decade before things changed again. Under Stjernerne På Himlen is now a classic in Denmark.
Under Stjernerne På Himlen – opinions from fans
In order to find out what Eurovision fans today think of this Danish entry from 1993, we asked our Eurovision Fan Panel. It includes team members as well as fans from all over the world.
🇲🇹 Christopher D.-  This song still gives me good vibes when listening to it after all these years. It was a simple but melodic song. The whistling parts now reminds me pleasantly of Sebalter (Switzerland 2014). I am not sure that I like the staging as it seems they were excluding the audience and singing more to themselves by that circle staging. When taking into consideration that this song is representing Denmark, it can be classified as not exceptional, but a very Eurovision-friendly song.
🇮🇪 Paul K. – It's a really nice song. The instrumentals just reminds me of anything joyful and happy and I love his voice. This is a song that I would definitely love to keep listening to over and over whenever i'm feeling a little sad. The unfortunate thing about it is it went up against Ireland that year, so it'll have to be my second place of that year. Nonetheless, it is a solid entry for Denmark which i reward an 8.5/10.
🇵🇱 🇯🇪 Pawel J. – Watching back the contest from Millstreet in 1993, I'm actually quite surprised that it didn't come last. To me it was dated and just too simple for its time. I think the whistling is the most annoying part to be honest and just doesn't do anything for me. If that song would have been the Danish entry ten years earlier, then maybe it would do better.
Definitely I would put that song in a box with "approach with caution and preferably never open it again" on it. I hope that no one will take it personally. Very forgettable"
🇨🇴 🇫🇮 Alvaro S. – I found the sound of this song very sweet, including the whistling part. It is quite sad that this song has not been appreciated in 1993 because the lyrics are very loving and sweet.
🇪🇸 Alexander S. – The entry from Denmark 1993 came for the third time by Tommy Seebach, but this time he could only hit number 22, in my humble opinion the song should have finished a bit higher. The performance was probably very simple… just two female in the chorus, two more musicians and Tommy himself. The melody is not that bad at all, but probably Tommy 's image did not help a lot for a better result. Finally, I must point out the whistling during the song.
🇩🇰 Charlotte J. – I love this song. It's a masterpiece in my ear. It's emotional and very catchy at the same time. Back then when it won the national final, I feared it wouldn't do well at Eurovision though because it might be 'too Danish'. Unfortunately, I was right – but I loved the song back then, and I still do. I am glad that it, years later, finally got the recognition in Denmark that it deserved.
🇹🇷 Güneç G. –  A very nice little song from Seebach band when Eurovision was real Eurovision. The song immediately fills you with positive thoughts and energy and makes you smile. We are missing such quality songs nowadays.
🇳🇱 🇩🇰 Wouter V. – Without listening to the lyrics, Under Stjernerne På Himlen sounds a bit too much "happy go lucky". Tommy's voice however is fantastic, and it's easy to tell how much love he's poured into his song. Years later, his son Rasmus recorded a toned down, more sensitive cover version which to me revealed how much of a masterpiece this song actually is.
🇬🇧 Michael O. – The song totally passed me by in 1993 as a testament to mediocrity, and in a contest with many great songs, it was a total lost cause. Many years later, in fact when Yohanna did a cover I discovered the song is loved to this date in Denmark. So I decided I'd give it another chance. My 1993 opinion hasn't changed.
🇨🇿 Josef Š. – Denmark presents an interesting piece, which combines a lot of different things into one song. South American ethno sound of Pan's flute, with whistling, good supportive backing vocals and a catchy melody not different from some songs by ABBA. This rich cocktail is something worth listening to not only once, but for sure on repeat from time to time.
🇬🇷 🇬🇧 Theo V. – During a recent trip to Denmark, I had tuned in to a Danish pop/folk radio station and the music played brought this entry to mind. To me, this was another positive example of Eurovision being able to provide an insight into each other's culture from time to time. Other than that, even in 1993, the entry must have felt like a pleasant addition from Tommy Seebach rather than a true contender for the trophy. Even so, it is heartbreaking to think of the emotional effect that the entry's bad placing and subsequent backlash allegedly had on the established artist, especially it being a song with such sweet, personal lyrics.
Enjoy Tommy Seebach's performance from the 1993 Eurovision Song Contest in the embedded video. Below the video, you can read more about Tommy Seebach.
A mini Biography to Tommy Seebach
When he won the national final, for the last time in 1993, it was his third victory. He had taken part a total of 8 times. It all started by a singer who cancelled shortly before the national selection. The song was written for Gitte Hænning to sing it. When she bailed out, Danish broadcaster DR insisted on Tommy to sing it himself. He hesitated, but the broadcaster gave him no option. He gave in, won – and when he won two years later too, Tommy sang all of his Melodi Grand Prix entries himself from that moment on.
During the late 1980's Tommy Seebach had developed an alcohol abuse. And just as it looked like, the 1993 Danish final win could change that, he was crucially blamed for the Eurovision failure. The press was really hard on him, and Tommy never really got back on his feet again after that.
In March 2003, Tommy Seebach died. Years with alcohol as his best friend had caused his body to give up. Tommy was just 53 years old. After his death, people in Denmark rediscovered their love for Under Stjernerne På Himlen. Today, the song is a classic. Tommy himself is a legendary Grand Prix hero. Just a shame that he never himself got to experience that he was right about his 1993 song; it is a good song.
Tommy Seebach's 8 Melodi Grand Prix entries
1979: Disco Tango won the Danish final, and finished 6th at the Eurovision Song Contest
1980: Bye-Bye (Tommy wrote the song that was performed by Lecia & Lucienne) finished 7th in the Danish final
1981: Krøller Eller Ej won the Danish final, and finished 11th at the Eurovision Song Contest
1982: Hip Hurra Det' Min Fødselsdag finished second in the Danish final
1984: Pyjamas For To finished 4th at the Danish final
1985: Det' Det Jeg Altid Har Sagt finished second at the Danish final
1986: Det' Gratis finished 4th at the Danish final
1993: Under Stjerner På Himlen won the Danish final, and finished 22nd at the Eurovision Song Contest