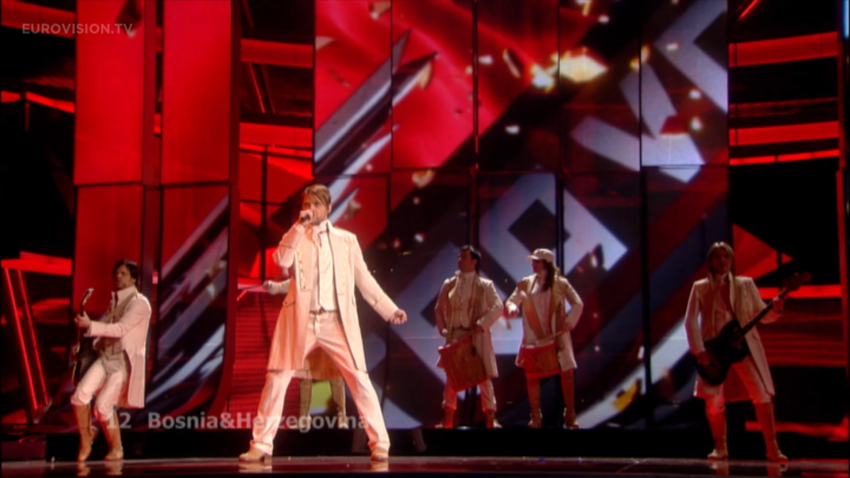 With attitude and perhaps a bit of hypnose, Regina stole the hearts of many Eurovision fans back in 2009. The band reached popularity spread over the Balkan countries and has even been warm up band for Rolling Stones.
For the 2009 Eurovision Song Contest, local broadcaster BHRT internally selected Regina to represent them. The selection took place after the broadcaster has received more than 50 suggestions from artists interested. Included in those were also Hari Mata Hari (Bosia & Herzegovina 2006).
Regina's Eurovision entry Bistra Voda was presented in a televised show on the 1st of March. The show featured several of the artists, Regina would be up against at the 2009 Eurovision Song Contest.
With a third place in the semi-final, Regina easily qualified for the final. Eventually, they finished in 9th position in the final where in particular the country's neighbours loves the song. The maximum 12 points were received from Croatia, Montenegro, Serbia. 10 points came from North Macedonia and Slovenia.
Bistra Voda – opinions from fans
In order to find out what Eurovision fans today think of this Bosnia & Herzegovina entry from 2009, we asked our Eurovision Fan Panel. It includes team members as well as fans from all over the world.
🇧🇦 🇩🇰 Elvir P. – Bistra Voda is my second favorite Bosnian entry after Lejla (2006). It is magnificent, catchy, bombastic, attitude folk rock song with very emotional and beautiful lyrics. The staging in Moscow was perfect and Davor Ebner's vocal was on point. This Bosnian entry should have finished in top 3 if you ask me.
🇷🇸 Milosav T. – Although I am not usually a fan of anthem-like songs or marches, this one is an exception. It's quite a package, with a nice progression, solid vocals and great lyrics. The staging is quite simple, but effective and tasteful, even in that over proportioned stage. In my opinion, it deserved a Top 5 ranking. The instrumental parts are haunting and beautiful and Davor's voice fluctuates between high and low registers with such ease. Probably the best Bosnian entry along with Lejla.
🇧🇪 Enis H. – Bosnia is my favorite eurovision country, I love most of their entries and this one is no exemption. I love everything about this song, the lyrics, the vocals, the instruments, the dance moves… this is another one of Bosnia's masterpieces.
🇹🇷 Güneç G. – This one is epic. This makes me hypnotized everytime I listen to it. The singers magical vocals captures me. I love the balkan feeling in the song. Very good.
🇩🇰 Charlotte J. – I am torn when it comes to what to write now. Going into the 2009 contest, this was one of my top favourites. In the video, the song was nothing less than fantastic. Unfortunately, it failed a bit in the live performance. It's still a good song, which I like, but from being in my top 3, it dropped to 6-8th position in the final. As such, it's 9th place is not much off.
🇳🇴 Steinar M. – A nice enough Balkanballad in my opinion. It doesn't have the OTT drama which I think some Balkan ballads suffer from. It has a nice "bandfeel" to it, and also a more "punchy" feel which I like. What I don't like so much is the structure of the verses, which sound somewhat encforced. But the chorus has a nice melodic flow. I still have a feeling a band like this could come up with something more convincing though.
🇬🇧 Michael O. – Alas this is one of the entries I find totally unmemorable. Nothing offensive but to me it's just making up the numbers. Average.
🇲🇹 Amira M. – This song is a sensual piece full of emotion with a catchy drum beat. The fact that they were wearing white accentuates a sense of peace. Overall I liked it.
🇬🇧 Kat S. – I found the 2009 contest interesting, with only five or six good songs and the rest broadly unappealing. At the time, this fell into the unappealing group for me, particularly down to the weird backing dancers attire and bizarre dance routine. I was fairly shocked to find it won the Marcel Bezençon over Johanna's Is it True?, one of the most under-appreciated songs in ESC history. Upon re-listening over the years it has grown on me, but I think 7th place is fair.
🇨🇴 🇫🇮 Alvaro S. – The instrumental of this song sounds hypnotic. The whole song is very captivating. I like that the drum players have a main role in the performance. I like the peaceful feeling that it gives me.
Enjoy Regina's performance from the 2009 Eurovision Song Contest in the embedded video. Below the video, you can read more about them.
Regina – a mini biography
Regina was founded in Sarajevo in 1989. In a very short time, the band became very popular all over Yugoslavia. Nowadays, the band consists of Aleksandar Čović, Bojan Milićević and lead singer Davor Ebner. In 2000 Čović started his solo career. Five years later, Regina reunited with the original members and appeared at a Serbian radio festival organized by Radio S.
They were opening act for The Rolling Stones concert in Budva (Montenegro) in 2007. Regina represented Bosnia & Herzegovina at the 2009 Eurovision Song Contest where they finished 9th in the final with the song Bistra Voda.
In 2016, Regina published their biography called Ljubav nije za nas (Love isn't for us). The same year, bassist Denis Čabrić died on holiday in Croatia with his family, at the age of 49. The band has so far released eleven studio albums, one compilation album and two singles.