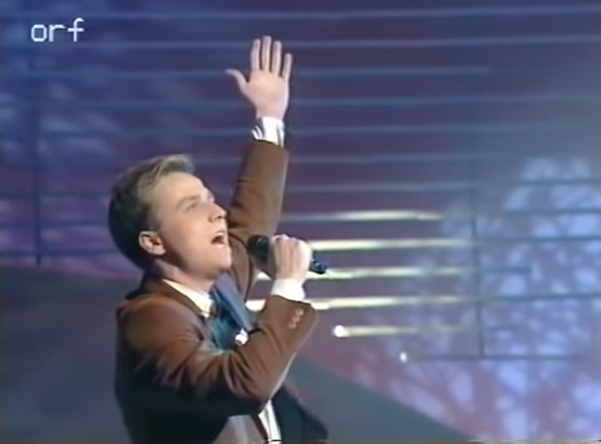 Bosnia & Herzegovina's Eurovision debut in 1993 was anything but easy. The country was still at war, but a Eurovision debut could bring hope for a better future. Eurovision fans today feel the pain and the suffering the nation went through back then.
Bosnia & Herzegovina got their Eurovision debut in 1993. The country was still at war after they had declared themselves independent just a year earlier.
Together with Croatia and Slovenia, they joined Eurovision as independent nations as the first ones after the east European communism and Yugoslavia fell apart. A special competition 'Kvalifikacija za Millstreet' was held for Eurovision newcomers. Six countries battled for three places. The ones left out at that time were Hungary, Slovakia and Estonia.
Fazla had been internally selected with the song Sva Bol Svijeta. The title translates to 'All the pain in the world' and it's a patriotic song about defending your country. The chorus says "All the pain in the world is in Bosnia this night. I'm staying here to defy the pain. I'm not afraid to stand up against the wall. I can sing, I can win".
Sva Bol Svijeta is written by Dino Merlin (Bosnia and Herzegovina 1999 and 2011) and Fahrudin Pecikoza. The latter also wrote Lejla, which in 2006 achieved the country's best Eurovision result, a 3rd place.
Sva Bol Svijeta – opinions from fans
In order to find out what Eurovision fans today think of this Bosnia & Herzegovina entry from 1993, we asked our Eurovision Fan Panel. It includes team members as well as fans from all over the world.
🇧🇦 🇩🇰 Elvir P. – Sva Bol Svijeta is a song that will always have a special place in my heart as it's my home country's first Eurovision entry as an independent country and because the song refers to the sufferings of the Bosnian War which I also have experienced. So, I consider Sva Bol Svijeta a personal and very emotional song as well. Fazla's performance in Millstreet was fantastic and this song deserved much more than 16th place in the final.
🇬🇧 🇮🇪 William S. – This is an emotional one. 1993 for me is the strongest year and this is one of the songs why I have come to this conclusion. Bosnia as we all know, were going through the toughest times in their history and this band showed commitment to their country by fleeing to Ireland to sing for their citizens. Their show of strength and determination should be applauded, and their pain can be felt through this rousing ballad. One of the most important entries in Eurovision's history from a social as well as political stand point. Their placing in that years contest is irrelevant.
🇩🇰 Charlotte J. – The music is interesting and captivating, and he has a nice voice, which makes me feel comfortable. When reading the translation of the lyrics, I am brought to tears. This is so emotional that I cannot help but shed a tear or two. I can't even imagine what it must have been like for the locals to hear this song – in Bosnian – on that night. It must have been such a touching moment in a very difficult time. These lines sealed it for me: 'Who will be the guard instead of me, so that another evil doesn't occur?' I know I am naive, but let's hope that what their population went through back then, others won't have to go through too.
🇦🇺 Vivienne F. – Fazla, with this song, were worthy representatives of B&H at such an awful time in the history of their new country. I enjoyed the intro especially the low whistle sound and strings thanks to the great orchestra. While slightly waiting with baited breath for the singing to begin, I watched incredulously at these brave soldiers/musicians and thought of their risky journey to arrive in Ireland. The beautiful low voice hit me and the beat of the verse transfixed me, I felt like a Bosnian and was proud. (I'm Irish Australian actually). Ah the power of music.
🇬🇧 🇹🇭 John E. – Entitled 'All the pain in the World' in English I think, this was a very fitting debut from a war torn nation who were welcomed to Eurovision community. A haunting melody, sung with great sincerity, by a group that risked their lives on the journey to the contest. I remember feeling quite emotional watching the song, which was very relevant and reflected Balkan rhythms and style. An amazing debut followed in later years by many other songs which were not formulaic.
🇪🇸 Alexander S. – In 1993, Bosnia & Herzegovina took part in Eurovision for the first time. Needless to say that this was very special. Fazla is a great singer. I was amazed about the story behind the song and how they arrived to Ireland.
The result was not good, but maybe the political situation influenced on it. In my personal view the song is very pleasant to listen to, with oriental sound in the song. The video clip is worth watching too.
🇬🇧 Michael O. – A pretty good debut, but nowhere near as good as Croatia. Still very heartfelt and no doubt at the time and even to this day, the pain of Bosnia was definitely felt. In that respect an entry sung with passion and meaning.
🇨🇴 🇫🇮 Alvaro S. – Although I like the flute of the intro the song falls flat. I cannot feel any emotions from the singer the guitar players or the drummers until the very last part of the song. At some point the backing vocals are doing a better job than main singer.
🇸🇪 Sara T. – This Bosnian debut entry is not one of my favourites, mostly due to the song's slow start. The chorus is good though, and the ending is much stronger than the beginning. The singer has a good voice, and I am very fond of Balkan ballads, so I would give this song a solid 7 points.
🇬🇧 Ashleigh K. – This is a new song for me. It wasn't one that I knew previously and I had to look up the lyrics due to it being in Bosnian. I'm sure this song was very emotive at the time due to the situation in Bosnia. I'm lucky that I can only imagine what it was like to be there during that time. I wonder what the reaction was to this at the time as Jamala did something very similar in 2017 and got slated for being too political. A very moving song from Bosnia.
🇷🇸 Milosav T. – Congrats to Bosnia for sending a song to Eurovision in those dreadful times. Unfortunately, other than that, there isn't much I like about this song, which is no wonder since I think Dino Merlin is the most overrated musician from the Balkans. Fazla can sing, but the song is confusing and those back vocals super annoying. Add to it a haphazard choreography and you get a very mediocre performance. Also, I personally don't like songs with political messages at Eurovision. Bosnia had some awesome performances over the years, but their first effort should best be forgotten.
🇨🇿 Josef Š – I usually like Balkan songs and I like a lot from this region from the 1990's. Sva Boj Svijeta is my cup of tea because its music keeps the message from the lyrics – All pain in the world. These powerful though emotional songs, I always love about songs from Bosnia & Herzegovina and other Balkan countries.
Enjoy Fazla's performance from the 1993 Eurovision Song Contest in this embedded video. Below the video, you can read more about Fazla.
Fazla – A mini biography
Muhamed Fazlagić, better known as Fazla, was born in Sarajevo 17th of April 1967. In 1993, the same year as his Eurovision participation, he released his first album Sva Bol Svijeta. His second album Zelena Rijeka, Fazla released back in 2007. In addition to his music talent, Fazla has successfully developed his sporting talent. He played many years for the local football team FK Sarajevo.
After the war, Fazla moved to USA. He earned a Bachelor of Business Administration degree in 2000 from Sullivan University and a Master's Degree in 2003 from Kentucky State University. Furthermore, Fazla graduated in applied sociology at the University of Louisville. He also founded the United Soccer Club in Louisville, Kentucky.
In 2008, Fazla was contacted about making a film about his participation at 1993 Eurovision. The film "Sarajevo Calling" is currently in production. The aim is to have it premiered at the 2021 Cannes Film Festival. In 2018 Fazla decided to move back to his hometown Sarajevo, where he is politically active.