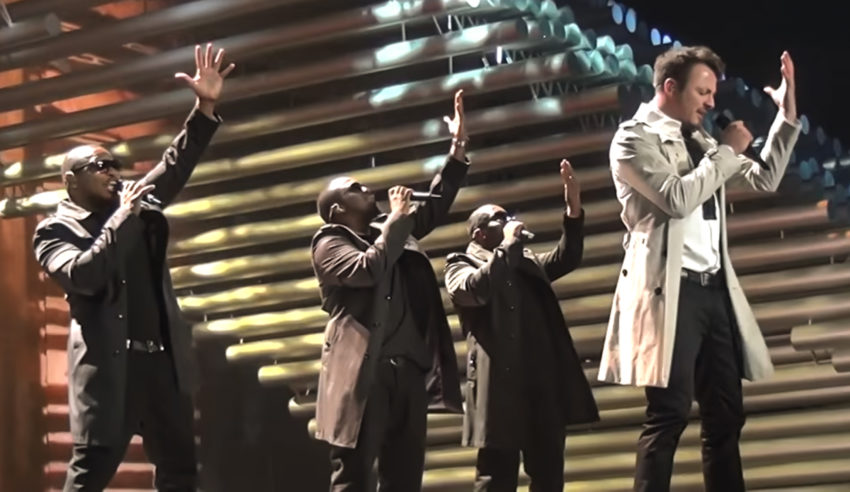 At the 2015 Eurovision Song Contest, many fans unfortunately didn't pay much attention to Daniel Kajmakoski. Representing North Macedonia, he failed to qualify for the final. The singer, who is involved in charity too, however still have a fan base that adores him.
In November 2014, the local broadcaster in North Macedonia (F.Y.R Macedonia back then) organised the national final Skopje Festival 2014. The competition was won by Daniel Kajmakoski with the song Lisja Esenski.
For the 2015 Eurovision Song Contest an English version was made. The song competed under the title Autumn Leaves. With 28 points only, Daniel scored a 15th place in the semi-final and thus wasn't near qualifying for the final.
Lisja Esenski/ Autumn Leaves is written by Daniel Kajmakoski himself together with Swedish songwriter Joacim Persson.
Autumn Leaves – opinions from fans
In order to find out what Eurovision fans today think of this North Macedonian entry from 2015, we asked our Eurovision Fan Panel. It includes team members as well as fans from all over the world.
🇩🇰 Charlotte J. – I love this song. Going into the two weeks in Vienna this was one of my personal favourites. During those weeks, I ended up with a soft spot for Daniel too. If you watch my video interview with him, you'll recognise me as acting like a 13 year old school girl not knowing what to do or say, just desperately trying not to let the man see my affection. My love for the song had developed into a crush. 5 years later, I still love this song. Best entry ever from that country. Such a shame not many others share my love for it. Whenever I need to smile, I put this song on. It works every time. It's my medicine.
🇨🇿 Josef Š. – The song itself is not bad. I only think that it was better in Macedonian language and without those backing vocalists Daniel had in Vienna. He is a good singer, though. He deserved a better result.
🇧🇦 🇩🇰 Elvir P. – There are two sides of North Macedonia's Eurovision entry from 2015. The original version in Macedonian sounds smooth, emotional and pleasant, although nothing spectacular. But then, North Macedonia totally massacred the song with that disastrous staging in Vienna – as they did so many times before and after. I still wonder why they changed the language and the style of the song and whose idea it was to include MERJ on the stage, because the new version was a total mess with no recognizability and no emotions.
🇬🇷 🇬🇧 Theo V. – I agree that the original version was much better. I liked the Slavic sound of the native language as well as the musical style before the revamp. Elvir pretty much summarises it for me. Shame, because Daniel is really charismatic.
🇪🇸 Alexander S. – Personally, I like more the original language version. The translation to English lost its identity.
As for the performance the images shown are nice, but you can hardly see them. The backing singers confuses me… are they singing the same song?… They should stand in a corner or so.
Vocally Daniel has nothing to regret, but I think he manages better in his mother language when singing.
I suggest take your time to listen other songs in his prolific music career.
🇦🇺 Vivienne F. – I had forgotten about this song so I had another listen. The recorded version sounded good, but on the stage performance in the first semi final sounded off key. It might have qualified otherwise. Funnily enough I think the Lithuanian song in 2016 I've Been Waiting For This Night seemed to have borrowed a part of Autumn Leaves, what do you think?
🇮🇪 Paul K. – I actually forgot about this song! But then again, it's not the most memorable one. He has a great voice, and a nice chorus but the overall song does not have much appeal, and the staging was not great either! North Macedonia have a great skill at picking diverse, melodic and pleasing songs but they always have staging problems and this is no exception, and weaker than other attempts. And considering that 2015 was such a strong year, this was well too weak, but nonetheless it's not strong enough for me and does nothing to entice me towards it. I would give this a 4/10, because he has a great voice and isn't a horrible song, but no higher since i can never remember this.
🇬🇧 Paul G. – I loved this song until I heard it on the night. Vocal ruined by the terrible backing singers. Sorry North Macedonia, totally deserved not to qualify!
🇳🇱 Frank S. – Believe me if I say that I am really trying to be positive about or find something positive on most entries in the Eurovision Song Contest, but with this song…. I can't. It does not reach my heart. Just my ears and that is full stop….
Sorry can't be positive about this one…
🇫🇮 Martti I. – Sad, so sad. This was totally in wrong place if not in wrong continent. There was some elements which could have been worked with instead of going to this direction. National elements, arrangement and the visual look. Three things to correct and it might have worked. Usually they send amazing songs and artists, this… Well is easy to forget. Unfortunately.
🇬🇧 Michael O. – This song has some nice hooks in the verses and as a stand alone song is ok, but the staging and performance of this was so wrong in every way, with Daniel missing so many notes, it was obvious the song was doomed to stay in the semis.
🇳🇱 🇩🇰 Wouter V. – From start to finish: boring. He's got a good voice though.
Update: Just as I (Charlotte) had concluded, I was all alone with my love for this song, one of the Fan Panel members not selected for this one wrote us the following comment:
🇬🇧 Kat H. – Gutted to not have been asked about this one – it's one of my favourites! 😍
Enjoy Daniel Kajmakoski's performance from the 2015 Eurovision Song Contest in the embedded video. Below the video, you can read more about Daniel Kajmakoski.
Daniel Kajmakoski – A mini Biography
When Kajmakoski was born in October 1983, he was given the first name Daniel after Danijel who represented Yugoslavia at the 1983 Eurovision Song Contest. He had finished 4th with the song Džuli. In an interview with Daniel Kajmakoski at Eurovision, he told us that his mother was a big fan of the 1983 singer. Daniel had recently covered that entry as a way of showing his love and appreciation for his mother.
Daniel Kajmakoski, who moved to Vienna, Austria at the age of 17, has won several competitions. In 2014, he won the first series of X Factor Adria. Two years later, he won 'Tvoje lice zvuči poznato'. (The Serbian version of 'Your face sounds familar'). In the final, Daniel performed as 2015 Eurovision winner Måns Zelmerlöw.