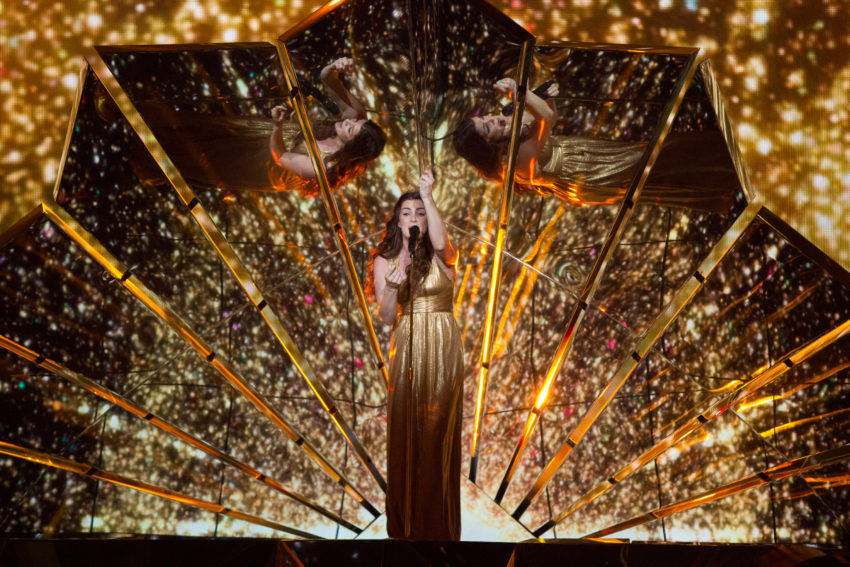 Lucie Jones represented the UK with Never Give Up On You in Kiev 2017. Co-written by 2013 Eurovision winner Emmelie de Forest, the entry can be seen as a positive departure for the UK, not least due to the attention that was paid to the staging for the live Grand Final performance. Still, was the song's 15th place justified?
Lucie Jones and Never Give Up On You was the United Kingdom's 60th entry in the Eurovision Song Contest. It had been chosen  through selection format Eurovision: You Decide and featured Emmelie de Forest in her first attempt as a co-writer for a Eurovision contender.
In Kyiv 2017, the song finished at a relatively disappointing 15th place. Still, this was the UK's best placing since an eleventh place in 2011 with boyband Blue and I Can. The entry had received a respectable 111points, 99 of which were notably awarded by the national juries, which had placed the UK in 10th place. This had included the Australian professional jury's 12 points.
Unfortunately, despite an impressive staging concept, the public televote was not as generous with Lucy and Never Give Up On You, only awarding the entry 12 points and thus relegating the UK to an overall 15th place. The artist herself was later quoted as attributing the televoters' reserved response down to their feelings towards the Brexit referendum, which had taken place a little less than a year earlier.
Never Give Up On You – opinions from fans
In order to find out what Eurovision fans think today of the 2017 British entry, we asked our Eurovision Fan Panel. This includes EuroVisionary team members as well as fans from all over the world. The views contributed were as follows:
Will O'R. – 'I voted for this song to win the UK National Final. It really stood out and is different from years before. Lucie brings her theatrical experience to awaken the emotive lyrics and the song was enhanced by a pre contest production revamp. In Kyiv when the golden staging was revealed I got behind it even more. The theme really set it apart. While juries responded in the Grand Final – the public not as much. I happily listen to the song to this day – kudos to Emmelie de Forest & company for a memorable and stirring British entry.'
Sara T. – 'Never give up on you was one of the biggest growers for me in 2017! When I first heard the song, I thought it was all right, but the more I listened to it the more I fell in love with it. Once I saw the staging during the first rehearsals I became convinced that UK would make the top 10 for the first time in many years. Unfortunately, the Eurovision audience wasn't as convinced as I was, but it's clear that us Eurovision fans still hold this song in high regard. Wonderful song, great singer and meaningful lyrics.'
Vangelis M. – 'The first days I remember that the song was not very catchy for me, but then when I saw this spectacular staging, I loved it. Though, in my opinion Lucie Jones overacted on stage a bit, but the result was good! The lyrics are touching. Together we can do anything! Together, by helping each other no matter our diversities, we will triumph!'
Theo V. – 'I was present at the British final that year and was pleased when beautifully sparse Never Give Up On You won. On video however, close-ups capture the tension on Lucie's face, which takes away from her live performance. In Kyiv, Lucie still looked tense (to finish her performance?) rather than immersed in her song. I liked the kaleidoscope idea for the staging but the camera work never went all the way to a truly polished result for me. Still, a good vocalist and song. Perhaps a point of reference for the UK's future direction.'
Ray M. – 'The 2017 entry from the UK, Never Give Up On You, sung by Lucie Jones, is a song that was never fully realized in Kiev. Although I admire the vocal talent of Lucie Jones, the song never seems to hit its potential emotional and musical peak. I want to feel the beauty and depth of the lyrics and to connect to the artist singing, but, every time I listen, it sadly comes up short.'
Michael O. – 'Every year we are told our songs will get better but this was a very unimpressive song. It never gained any traction and stayed at the same pace all the way through. I spent the whole three minutes waiting for something to happen. In Kyiv it seemed that all the budget was spent on the background lights. Lucie had plenty personality but the grimaces she made during the performance were very off putting. Yet another song I never listen to.'
Ashleigh K. – 'I remember not being pleased when the song was selected. I knew of Lucie from when she was on X Factor & knew she had the potential to make a great entrant for the U.K but the song is completely dull and I suspect was only chosen because Emmelie DeForest wrote it. I did however find myself pleasantly surprised with the staging. It was classy and suited the style of the song. Despite this, I'm still not a fan of the song and have never listened to it again since.'
Josef Š. – 'Lucie Jones wasn't completely unknown to me as I watched her in the X Factor UK already. And I loved her since then. And what an entry she brought to Eurovision stage! TOP material which was crowned with impressive vocals and staging. She definitely deserved better, but for me it is still one of the best entries from the UK in years.'
Michael R. – 'Usually, I feel the UK places where they deserve, but this is one of the few times where I can honestly say they should've done better. A beautiful ballad with stunning staging. Deserved a lot more.'
Bernard D.   – 'Lucie Jones with Never Give Up On You is certainly my fav UK
entry of this decade. Nice music, nice and powerful voice. Why most of the people don't get it ??? Big five penalty? Some winces of Lucie?'
Álvaro S. – 'Lucie and Molly are my absolute favourite UK entries from the last decade. Some may say that the bar is low but at least in 2014 and 2017 I can see that the UK was trying to get a good result. Yes, Lucie looked uncomfortable during her performance but it deserved a top 10 for me. I wish Lucie had a better result to mark a new beginning for the UK in the Eurovision Song Contest.'
In the following video, you can revisit Lucie Jones performing Never Give Up On You during the 2017 Grand Final. Further below, you can read a little more about the artist.
A mini biography of Lucy Jones
Born in 1991, Lucy Jones is a Welsh singer, model and actress who first came to prominence after taking part in the sixth series of The X Factor UK, where she finished eighth.
Mentored by Dannii Minogue, Lucie's elimination from the show had caused something of a controversy when Simon Cowell decided to side with fellow judge Louis Walsh in eliminating her over fellow contestants John & Edward. Lucie had received the support of Minogue and Cheryl Cole but the 2-2 vote deadlock from the judges meant that the elimination was determined by the popular vote result that evening, which had not favoured the Welsh singer.
Following the X Factor, Lucie got signed up by Select Model Management and did some modelling work as well as endeavouring in a considerable career in musical theatre with parts in shows like Les Misérables, We Will Rock You, and Rent. Acting assignments also saw the young artist taking part in series like British detective drama Midsomer Murders.
Post Eurovision, Lucie carried on with musical theatre and roles in Legally Blonde and Waitress as well as concerts as a singer.
This reflection article is based on the author's own personal experience. Views expressed belongs to him or her, and are to be seen as unrelated to EuroVisionary.com.