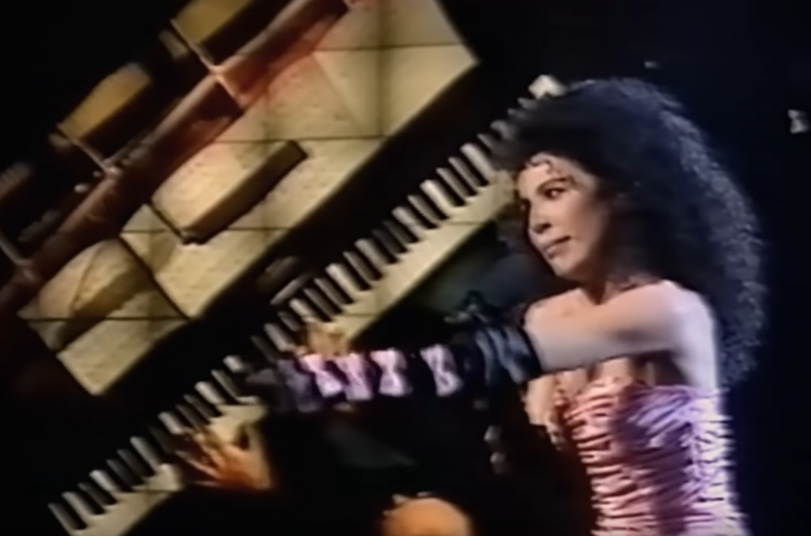 When Nina was internally selected to represent Spain in 1989, she was relatively unknown. She surprised the press in her own country when she finished in sixth place at Eurovision. Nina is still active and she has participated in the Spanish music contest 'Operación Triunfo', which has been used to select the Spanish representatives in recent years.
In March 1989, it was announced that Nina would be the Spanish representative for Eurovision. Nina wave the Spanish flag in Lausanne, Switzerland with the song Nacida para Amar (Born to love).
In the evening of the Eurovision Song Contest 1989, Nina performed in sixteenth place. Nacida Para Amar is a romantic ballad. The song finished in sixth place in the final with 88 points. The song has been covered by Mexican pop singer Luis Miguel, who is one of the best selling pop singers from Mexico.
Nacida Para Amar is written by Juan Carlos Calderón, who also penned the Eurovision entries Eres Tú (1973, Mocedades) and La Fiesta Terminó (1985, Paloma San Basilio).
Nacida Para Amar – opinions from fans
In order to find out what Eurovision fans today think of this Spanish entry from 1989, we asked our Eurovision Fan Panel. It includes team members as well as fans from all over the world.
🇩🇰 Charlotte J. – I am a bit mixed here. The first half of the song, I can't really connect to it. I don't feel it at all. Towards the end however, it explodes, and I hear the quality in the song. For me, it's a real shame, that it took that long, but better than never.
🇬🇧 Michael O. – A very classy entry from Spain and indeed one of the standouts from 1989. It seemed though that year it was time for in uptempo winner so she was in the wrong year. The song has aged well and her performance was simple yet effective. Another example of what does Spain need to do, if they can't win with this.
🇪🇸 Mária P. – Good entry, but what thrills me is Nina's performance rather than the song itself, which I find quite average and bland. In my opinion Calderón composed much better songs. If the singer had been average too, I think that the song would have passed unnoticed. But Nina did a good job and the entry stood out. My score is 7/10.
🇨🇴 🇫🇮  Alvaro S: When Nina sung in Switzerland I was only one year old. As a millennial Eurovision fan when I revisited the 1989 Eurovision Song Contest it was a nice surprise to discover such a beautiful song.
🇨🇿 Josef.- I don't understand Spanish at all, but it doesn't matter as I get the emotions from the song even without the lyrics. Nina sings it flawlessly and delivers the whole package. Nacida para Amar has still some old school Eurovision classic vibes and that is something I always loved. I think that similar songs could survive even nowadays at Eurovision. One of the songs I did not know before and I am really glad I know it now.
🇳🇱 Frank S. – "Nacida Para Amar" was my absolute favourite of the 1989 Eurovision to take the trophy! Up to today it still ticks all my "ESC-buttons" and I simply LOVE it as for me this was the utmost perfect Eurovision song.
🇬🇷 🇬🇧 Theo V. – I was a kid in 1989 and I remember being taken with the joyous fun that was Turkey, Denmark and ultimate winner Yugoslavia. However, I do remember that many of the adults watching the contest thought that Spain had one of the best entries. Just over 30 years later, I agree. This is a classy, well-structured and exquisitely sung ballad. Possibly one of Eurovision's best. I still listen to it.
🇮🇹 Maurizio A. – Nina has a very good voice. The song Is nice and simple.
🇬🇧 Paul G. – Nina's voice is beautiful and suits the song perfectly and with a near perfect vocal performance on the night deserved the points she received. A typical 80's ballad with the hair, the make-up and the costume. For me after listening to the songs again from 1989 the Spanish song would have received my 8 points behind Austria and UK.
🇳🇱 🇩🇰 Wouter V. – Right from the first piano notes, I expected that this would be a song I'd like. But for just about the first half, I mainly admired the music and wondered what was holding Nina back. It was as if she was held captive behind a glass wall. And then the second half started, and I just couldn't stop smiling; happy that this song delivered on it's promise. That it kept me waiting only makes it better.
Enjoy Nina's performance from the 1989 Eurovision Song Contest in the embedded video. Below the video, you can read more about Nina.
A mini Biography to Nina
Anna Maria Agustí Flores, better known as Nina is a singer and actress. In fact, she performed a role as a flight attendant in a TV show before she was internally selected to represent her country.
She has continued her career as a singer and actress. In 2015 she went on tour with her version of the musical Mamma Mia!. Nina has contributed as a director and juror in different seasons of the music show Operación Triunfo, which has been used as a platform to pick the Spanish representative for Eurovision in recent times.