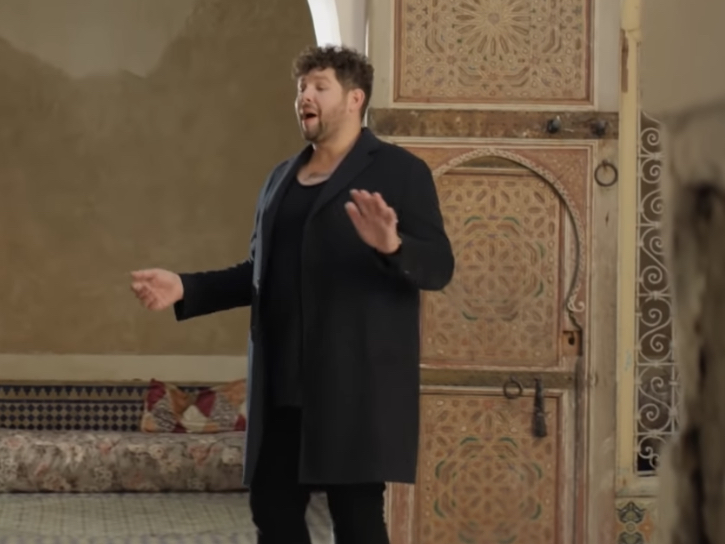 James Newman represented the United Kingdom at the 2021 Eurovision Song Contest. Sadly the song, 'Embers' didn't go down too well. He had a little bit more luck with an earlier release, 'Therapy'.
Therapy was released in 2018, with Dutch DJ, Armin Van Buuren taking the lead artist role. James was the featured vocalist on the song. He also wrote it, along with Armin, Benno de Goeij and Michael Busbee.
The dance-pop song did very well in Armin's native country, The Netherlands, where it reached number four in the charts. Neigbouring Belgium also took to the song and it also featured in the American dance charts.
The song was written at one of the many songwriting camps that take place nowadays, where sometimes potential Eurovision hits are written.
The song was the 15th best seller in the Netherlands in 2018, but failed to enter James's own country's charts.
Therapy – opinions from fans
In order to find out what Eurovision fans think of this song from James Newman, we asked our Eurovision Fan Panel. It includes team members as well as fans from all over the world.
Josef S. – James has a really memorable voice, which is what I love about him and this song by Armin van Buuren is nothing different from it. I like its modern sound and how radio friendly it is. On top of that, I am always glad to see a music video with a story so another plus points for that. Good job, James!
Charlotte J. – I love this one. What we shouldn't forget after this year's Eurovision Song Contest is that James Newman IS a great singer. He masters various genres to almost perfection. He got zero points at Eurovision because the staging of that song was all wrong. Embers was a good song, and so is Therapy. This collaboration with Armin van Buuren is really, really good.
Andrew G. – In the words of James Newman this is a banger. His biggest asset is his amazing voice. Soulful and smooth on this dance track. James has so many good songs in his catalogue. Embers was not one of them. Too much of a banger. Where his voice got lost in trumpets. With this song or any other one of his tracks he would have got more than 0 points.
Aaron S. – Therapy is a nice song, while I prefer both of James' Eurovision entries, this song isn't too bad, it has Summer vibes and the vocals are good, I also feel James and Armin van Buuren work well together as their talents complement each other, making this a good song.
Jacques H. – In both James Newman's Eurovision songs there is a bit of Therapy by producer Armin van Buuren. The Dutch DJ wanted to travel to space and sky rocketed Newman. But strangely enough, it didn't do anything for his chances at Eurovision. We all know his results: zero points. Both years, I defended him as a good, stable singer. But in Rotterdam, he under delivered and gave an underwhelming performance. Maybe James is more of a recording artist, than a live performer. I love his vocal work, but the songs don't stand out enough. The same goes for Therapy.
Maurizio V. – I don't have strong feelings about this song. It's fairly catchy but not memorable. I do want to say I like James Newman and his voice and I think Embers is a better song than Therapy. I can see the DJ playing this song at the start of the evening as he is setting up his booth. Not a banger or a crowd-pleaser – it's just ok for me.
Gunec G. – I still can't believe the result James received. 0 points? Come on! Anyway, let's move on. Another worldwide hit material from James and the legendary Armin Van Buuren. About Therapy in Eurovision, I really don't know. Normally it's a winner material but you know, what do I know?
Michael O.- I'm quite surprised that this wasn't a hit at home, as it would fit well in the charts. James is better than many acts around today, and this is a quite good song. More radio play could have seen it chart.
Enjoy Armin Van Buuren featuring James Newman's Therapy in the embedded video. Below the video, you can read more about James.
James Newman – a mini biography
James was born in October 19, 1985 in Settle, North Yorkshire. In 2012, he relocated to London, songwriting with his brother, John. In 2013 he co-wrote Waiting All Night for Rudimental and Ella Eyre, and won a Brit award the following year, as composer of the best song. The next song he wrote, Blame also topped the U.K chart for his brother.
Newman featured on songs by Arno Cost, Night Safari and Don Diablo, before striking gold in the Netherlands with Therapy with Armin Van Buuren.
In 2020, James should have represented the United Kingdom at the Eurovision Song Contest with My Last Breath. When the contest was cancelled, he was given a second chance by the British broadcaster BBC. He returned for the 2021 contest with the song Embers, but all juries and members of the public, ignored the song altogether, leaving James with zero points.