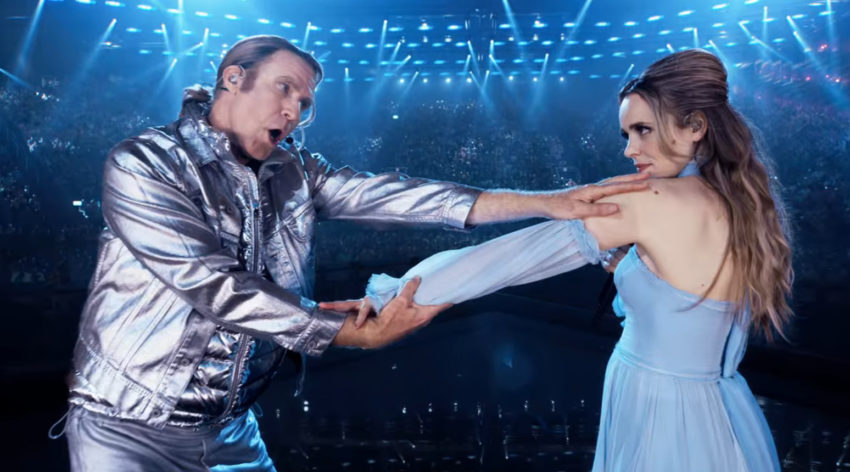 It's a fun and enjoyable film and while, it is far from giving an accurate picture of the Eurovision Song Contest, they do however get some things very right, which are worth paying attention to.
We already brought you a list with 25 things they got wrong in the new Netflix movie 'Eurovision Song Contest: The Story of Fire Saga'. What most of those points had in common was that they neglected the immense work and preparations that goes into organising a Eurovision Song Contest.
But, the film does address several things well known to followers of 'Europe's Favourite TV show'; Eurovision Song Contest.
SPOILER ALERT
The article below discusses events happening in Eurovision Song Contest: The story of Fire Saga.
The facts about Eurovision they got right
Eurovision Song Contest: The Story of Fire Saga is filled with unlikely events and plot holes, that can annoy many Eurovision followers. But, we do want to bring attention to some of the things, we are pleased to see they actually managed to get correct, sort of.
1. ABBA did win on the 6th of April 1974
With the many wrong facts, of which some could easily have been fixed without destroying the story, we were actually quite pleased to see that they opened well. We saw how it would have looked when Lars, Sigrit and their families watch ABBA win the Eurovision Song Contest with the song Waterloo. That happened on the 6th of April 1974 – and the film got that right. They were watching the BBC broadcast of the show, which isn't unrealistic either. Iceland joined the Eurovision Song Contest themselves in 1986 with the local broadcaster showing the show from 1983. On Iceland people would have to tune in to a foreign channel in 1974 to watch it.
2. Lars Erickssong's dream of a Eurovision participation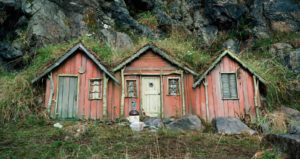 It's not unheard of that artists grow up with one big career dream: to take part in the Eurovision Song Contest. They have seen how Eurovision can give a big career boost, and they dream of that international attention too. To perform on TV in approximately 50 countries around the world can make a difference. The film portrays this well in the shape of Lars Erickssong.
3. Iceland was almost ruined during the financial crises
The Icelandic Eurovision delegation have heard one question over and over again, year after year: 'Will Iceland be able to host the Eurovision Song Contest?'. Iceland do seem to get this question more than other countries. The film brings this up in combination with the financial crises that hit Iceland (and the rest of the world) around 2008. It lasted a couple of years, which matches with it being mentioned in the film as 'Iceland was almost ruined 10 years ago'.
It is expensive to host the Eurovision Song Contest, and in the film we see Iceland's central bank director Victor Karlosson being so focused on preventing his country from winning the Eurovision Song Contest, that he is ready to become Iceland's worst mass murderer.
4. Delegations meet at nightclub – EuroClub
Everyone who attends Eurovision with some kind of accreditation is likely to have visited EuroClub at least once. This is where artists, delegation members, press and some fans meet (and party!) in the evenings during Eurovision Song Contest. Though not called EuroClub in the film, this is most likely the nightclub it's referred to that a group of artists wants to attend.
5. Eurovision branding in the host city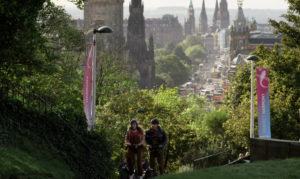 This is a big part of the Eurovision Song Contest. For those who attend a Eurovision Song Contest, it's difficult to avoid seeing Eurovision branding in terms of banners, big posters etc all around the city. No one in the city should be in doubt about that the Eurovision Song Contest takes place there. The film shows how host city Edinburgh is covered in this too.
6. Technical rehearsals prior to live shows
A lot of rehearsals take place for each act during the two Eurovision weeks, though it has to be added that they aren't as chaotic as we see in the film. There are also many more of them than the film address. It's a plus though that they do show a bit of this world. Every country has two sessions of technical rehearsals, with a duration of 30 minutes for the first and 20 minutes for the second. After that, there's three dress rehearsals of the full show – before each of the three live shows.
7. The artists are identified as their country
'You are Iceland, right?'. The Icelandic duo is in the film met with this question. And yes, it is correct that the artists taking part in the Eurovision Song Contest often are identified as the country they are representing. Whenever a new act is to rehearse, they will be mentioned as the country name. This also brings us to the many flags at a Eurovision Song Contest. Artists are often seen with their flag at official press events, and fans will be waving the flag of their own country – or the one of the entry they support.
8. British commentator talking through the songs
In this film, we see the British commentator Graham Norton talk through the songs. To be fair, he has never done that. But the film isn't totally wrong here though as late former British commentator through many years Terry Wogan was known for doing exactly that.
On a side note, both commentators for the United Kingdom are actually Irish.
9. Camera movements and on-screen graphics looks pretty accurate
When shooting the film 'Eurovision Song Contest: The Story of Fire Saga' the film crew were present at the 2019 Eurovision Song Contest. This explains how they got the camera movements of the fictive Eurovision performances to be so true to reality. Another thing which looks quite accurate is the on-screen graphics used for performances and voting. It's a big plus to get such things right in a film that it is otherwise full of impossibilities and shows an incorrect picture of the Eurovision Song Contest.
10. Eurovision props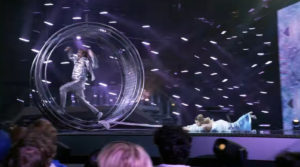 At this fictive 2020 Eurovision Song Contest, the Icelandic duo wants to use a big hamster wheel on stage. That's a prop we have seen before at Eurovision. Mariya Yaremchuk used that in her 2014 performance of the song Tick-Tock. As always at the Eurovision Song Contest, these props are very well rehearsed and therefore we don't see the big disasters as it happens in this film.
Eurovision is full of props we remember, and another one used in the film brings back memories to Eurovision 2010. The rollers on the floor reminds us of the Danish performance of In A Moment Like This by Chanée & N'evergreen.
11. The Russian act is very convincing
In general, the acts we see taking part in this fictive 2020 Eurovision Song Contest are quite realistic as Eurovision acts. In particular Alexander Lemtov representing Russia comes across as such. He is extravagant in his attitude, and in his performance, but that's all a part of the Eurovision Song Contest we love. Russia is furthermore known to hosts at least one big party during Eurovision – just like we see happening in the film too.
12. Everyone hates UK
Ok, this statement from the film is actually not true. It is correct however that the United Kingdom have scored quite low in recent years. It's also correct that many in the UK have drawn the conclusion that their low points are related to the country being disliked by people in other countries. But maybe it's just easier blaming it on others instead of looking at whether or not you actually chose the right song?
Through many years, it appeared like Germany was just as hated. Just like United Kingdom, they ended at the bottom of the scoreboard year after year – until they sent Michael Schulte in 2018. With the song You Let Me Walk Alone they finished 4th – and suddenly everyone loved Germany.
Conclusion
We love the film. But one shouldn't take it as an image of what goes on at the Eurovision Song Contest. They do get some things right, which we focused on in this article, but they got so many things wrong too. We previously highlighted 25 things they got wrong.
If one put aside what they already know about the Eurovision Song Contest for a couple of hours, 'Eurovision Song Contest: The Story of Fire Saga' is a fun and enjoyable film, which we recommend. Just don't take it too serious 😀.