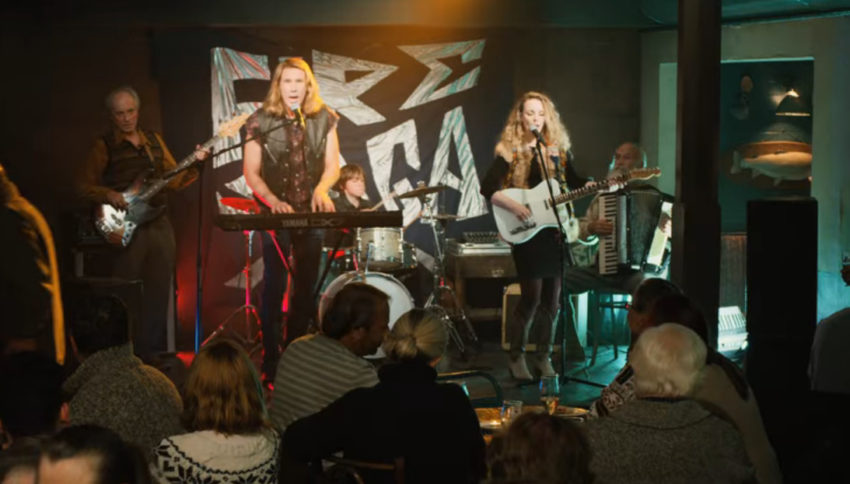 The new Eurovision Song Contest movie is fully packed with impossibilities, plot holes and clear rule violations, but yet extremely enjoyable. If you never heard of the contest, here's your guide to what they didn't get right, when writing the script for Eurovision Song Contest: The story of Fire Saga.
In case you still intend to watch this film, we recommend that you first let go of everything you might know about the Eurovision Song Contest. Are you completely new to this world? Congratulations. Enjoy the film. Read this article afterwards, and get ready to fully explore what 'Europe's Favourite TV show' is all about.
While many things are wrong, the film does include moments where it shows a pretty accurate picture of the Eurovision Song Contest. A list of 12 such things is worth reading too.
SPOILER ALERT
The article below discusses events happening in Eurovision Song Contest: The story of Fire Saga.
The facts about Eurovision they got wrong
Eurovision Song Contest: The Story of Fire Saga is filled with unlikely events and plot holes, that can easily be spotted even if you know nothing about Eurovision. We've compiled a list of everything we spotted to be wrong directly related to our beloved event.
1. Eurovision logo shown before ABBA's performance
Every performance at the Eurovision is preceded by a so-called postcard. A 45 second clip introducing the artist and/or something about the host country. After that, the feed cuts directly over to the stage. 1974 was no difference so the full screen Eurovision logo was not shown just before Waterloo.
2. Half a million visitors for Eurovision
The Eurovision Song Contest is large indeed. But Viktor did inflate the number of visitors by quite a bit. While nobody really knows how many people travel to the Eurovision host city, we do have some estimates. About 10.000 people travel to the contest in some form of official capacity, including crew, artists and other delegation members, and press. The arena where the shows are hosted, is required to have a capacity of 15.000. If all 9 shows (yes, 9 shows) are sold out, to all different people, that would be a total audience size of 135.000. But as many tickets are sold in packages that's not the case. If we say that about 100.000 people visit the host city, we're being generous. This would still be a lot though, for a small town of 15.000. In 2013, an estimated 31.000 people visited Malmö for Eurovision.
3. 12 acts at Söngvakeppnin
Many countries host a so called national final to select their entry for the Eurovision Song Contest, and each national broadcaster has their own rules. The Icelandic national final, Söngvakeppnin, has a varying number of participants. 10 in 2020 and 2019, 12 in the two years prior. So for Söngvakeppnin 2020 they would not have been obligated to have 12 acts.
Additionally, since 2009 Iceland held 4, 3 or 2 semi-finals ahead of their national final cutting the number of participants further down.
4. Icelandic forbidden at Söngvakeppnin
This is perhaps the funniest mistake. For the past few years, songs submitted for the "Icelandic Eurovision" were required to have an Iceland version, to be performed in the semi-final. In the final, acts have to perform their song in the language intended for Eurovision. Earlier versions of the rules either allowed or required Icelandic to be used in the final, though the song had to be performed in English at the Eurovision Song Contest.
5. Sigrit and Lars travel to Edinburgh alone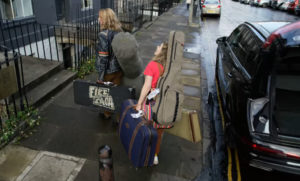 There's so much more to Eurovision than just the lead singers. A country's delegation travelling to Eurovision consists of a Head of Delegation and Head of Press and their assistants, lead singers, dancers, backing vocals, sometimes makeup artists, a team of content creators, producing content for the national broadcasters own website and social media channels, etc. Anything under 20 is pretty much unheard of.
6. No press, anywhere
A 1500 people strong press corps attend the Eurovision Song Contest from all over the world, to cover every aspect of the preparations, rehearsals, parties and related events. Delegations would often arrange photo-ops and press gatherings to show off the best side of their artists. Whether they visit an orphanage, attempt to rescue stray dogs or make everybody believe they can walk on eggs, nothing is spared to get that bit of extra attention that might earn you another point or two. With so many members of the press present, it's hard to believe that Lars and Sigrit can cruise the city without anybody snapping their picture.
A large group of press, and even some fans with accreditation, would also be present at the second session of technical rehearsals.
The one place where we meet the press, in the artist lounge – or green room – after the Semi Final, is also the one place where there wouldn't be that many photographers. The green room is not a very large place, and the camera crew needs unobstructed paths to be able to film the artists as they receive their points. Or, for even better TV, don't get the points they think they deserve. For that reason, less than a handful of photographers, from large press agencies, will be present in the greenroom.
7. Nobody recognises Salvador Sobral!
The winner of the 2017 Eurovision Song Contest calmly plays the piano like an ordinary street musician. A small crowd is gathered, and give him some well earned sterling. And not even Eurovision SUPER FAN Lars Erickssong recognises him. Yeah right.
8. A small crowd and flag of no country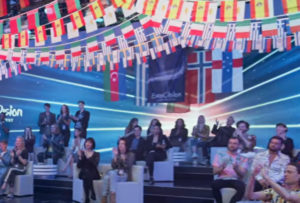 In an otherwise very recognisable scene, all delegations are officially welcomed to the host city by the (now former) Executive Supervisor of the Eurovision Song Contest Jon Ola Sand. However, with 42 countries the crowd should contain at least 300 people. Attendance is usually restricted to a maximum number of people per delegation but anything less than all artists and one senior delegation member is unrealistic.
We also see the Andorran flag, a country that hasn't participated in Eurovision since 2009. And even the flag of the Netherlands Antilles, a now dissolved Caribbean country. That's just weird (and funny).
9. Everybody can go anywhere, anytime
We never see Lars, Sigrit, or any other artists wear their accreditation badges, even though this is a strict requirement for everybody who's inside the secured area. This rule also counts for artists backstage, and you would even see them wearing their badges on stage for rehearsals. At the real Eurovision Song Contest, artists (and other delegation members) are only allowed near the stage during their own rehearsals. Visiting another country's rehearsal as such is not allowed, unless specifically invited and escorted by a senior delegation member. And even then, no matter how famous the artist, they would always be required to wear their badge.
Only Vladimir Putin and his private securtity personal have been behind the scenes at Eurovision without accredition.
10. Total lack of preparation
For comic and dramatic effect, Fire Saga kept changing their performance, outfits, props and even music. While this did make for some really funny scenes, this is – of course – utterly impossible to ever happen at Eurovision. In real life, performances are prepared and rehearsed in great detail. About two months before the Grand Final, every country needs to submit their backing tape (with music only), precise stage plans, recording of their performance in their rehearsal area, initial plans for hair styling and a lot more to the Host Broadcaster and the EBU at the Heads of Delegation meeting. Once the Host Broadcaster has received all plans from all countries, the stage director and their team can really get to work preparing the whole show. Only very minor changes are allowed after that point.
11. Pyrotechnics at the very first rehearsal
If you think firing off fireworks for New Year's Eve or the 4th of July is expensive, imagine what stage fireworks – or pyrotechnics – costs! For this reason, the use of pyros at rehearsals is usually limited to the last run-through of both the first and second session of technical rehearsals, the dress rehearsals and the televised shows. As participating broadcasters, or at times the artists' teams, pay for these special effects themselves it is not entirely impossible though to see them at every run-through. Honestly though, Viktor would never have allowed that!
12. Wasting valuable rehearsal time for private discussions
If an act would really want to win the Contest, they'd better take advantage of their precious rehearsal time. Every country has two sessions of technical rehearsals, with a duration of only 30 minutes for the first and 20 minutes for the second. Even though the performance is already well rehearsed, they very much need this time to fine-tune their movements, get used to where the cameras are and generally get acquainted with the stage. But it's not just their rehearsal, this is also the time for the camera, props and lighting crew to rehearse. Using any of these mere 50 minutes for such a private conversation is pretty much unheard of. And looking at what happened during their Semi-Final performance, they really should have used their time on stage.
In 2003 t.A.T.u notoriously wasted much of their rehearsal time, and look at how their performance turned out!
13. Only one Semi Final, and no dress rehearsals
The writers really cramped the Eurovision Song Contest into a very short time. When the end credits roll over the screen after the Grand Final, a full two weeks of Eurovision extravaganza comes to an end. The first act has their first technical rehearsal on either the Saturday or Sunday two weeks before the Grand Final. This keeps the stage busy for the first full week. Then on Monday in second week, we have the first and second Dress Rehearsals of the whole first Semi Final. One in the afternoon, and one more in the evening. The next day there is another Dress Rehearsal, even though this one isn't always in full stage outfit, in the afternoon followed the televised show of the First Semi Final. This same procedure is repeated on Wednesday and Thursday for the Second Semi Final, and on Friday and Saturday for the Grand Final. These Dress Rehearsals include every aspect if the show, including the voting – which is rehearsed with a fake, random, set of points.
Thus, when we about a hour into the film see that the Semi Final is held after their last technical rehearsal, the movie really doesn't do justice to the immense preparations that go into organising this huge event.
14. Pre-2015 Eurovision logo on the arena entrance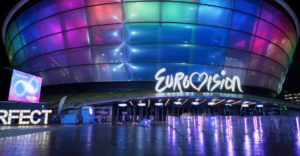 Whether this is a mistake, or an Easter egg, is anybody's guess. But the arena entrance features the Eurovision logo as it was originally designed in 2004. In 2015 it got revamped into a much smoother edition. Most notably, the heart is much larger than the other letters in the new version. Any Eurovision fan would be able to spot this in the dark with their eyes closed. Despite this, the old logo does still randomly feature in Eurovision related productions by mistake. So the use of the wrong logo might just be an homage to this.
15. Eastern European hosts
Hosting the Eurovision Song Contest is a great national honour for the country, and personally for the presenters. That any country, let alone the United Kingdom, would select non-local hosts is unthinkable.
16. Apparently Russia is not in the Semi Final
Technical rehearsals are held in the same order as the acts will perform in the shows. This would have Iceland perform after Russia in the Semi Final. However, Alexander Lemtov says that he doesn't perform in the same show as Fire Saga. This could indicate that Russia is somehow directly qualified for the final, playing by the rules from 2004-2007. But even back then, Semi Final participants wouldn't rehearse before direct finalists.
Or maybe Alexander was just confused, because later we do see Russia on the Semi Final scoreboard.
17. Seven is a crowd
We see Johnny John John, the Swedish participant for the fictional 2020 Eurovision Song Contest, along with 6 dancers on stage. Whether or not this is an Easter egg or a mistake is debatable, but it surely breaks the rules of the Contest. In order to have space for every act backstage, and to keep things organisationally manageable, an act can consist of a maximum of only 6 people. This includes lead singer(s), backing vocals and dancers.
However, Melodifestivalen, the 6 show Swedish national selection event, allows for 8 people, and the Swedish national broadcaster has – reportedly – been trying to have this be adopted at Eurovision as well.
18. Costume change for the live show
Did we mention how well prepared and rehearsed every single aspect of the Eurovision Song Contest is? Very! A change in outfit after the first technical rehearsal would be possible, but a last minute change like changing the costume just before the televised show is totally out of the question. Remember, before going on stage for the Semi Final the whole show has been rehearsed in full 3 whole times. And a few moments later, we see exactly why.
19. Not everyone on Iceland watch Eurovision
Iceland has consistantly had extremely high viewing figures. Basically, almost everyone does watch the Eurovision Song Contest. It's unrealistic that we are suddenly at a bar where a football match is shown instead. It just wouldn't happen in a country like Iceland. And besides, it would have to be an old football match as there won't be played any major football matches a Saturday evening at 21:00 CET on Iceland – unless it was Champions League, but that will never again collide with the Eurovision Song Contest.
20. Graham has memory loss
Fans and press, commentators among them, typically know pretty much everything that happened at every national final. A series of dramatic events, like what played out shortly after Söngvakeppnin, in particular would have been the talk of the day – every day. Graham Norton would certainly have known about Fire Saga's path to Eurovision, and most likely have addressed it in his commentary instead of saying he don't know how they were selected.
21. The show did go on
Despite Fire Saga being in possibly mortal danger due to the scarf-meets-hamsterwheel accident, the show did go on. This worked for dramatic effect, but of course is very much impossible. The second Dress Rehearsal of each show is taped, and plays out in sync with the actual live show. In case of a problem with the signal, or other severe issues, the broadcast can be switched over to this recording. This is one option the EBU and the Host Broadcaster would have had. This measure, however, has never been used.
They could also have stopped the performance, and allowed Fire Saga to perform again after all the other acts had performed. Or even have them complete their performance, and still perform again at the end of the show. This, for example, was used when Jimmy Jump disturbed Spain's Daniel Diges' performance in 2010. SuRie (United Kingdom 2018) was also offered this option, after a stage runner disturbed her performance, but refused.
22. Nobody around to stop Lars
On the long way for the Eurovision stage to the venue's exit, you would meet a lot of people. Based on the path he took, there should have been production crew, security people, other artists, delegation people and some audience. Eurovision is really a very busy place. And most of them would have tried to stop him from leaving. The same counts for his way to the hotel, and the airport. Instead he's left on his own, let to believe he's a failure, while in reality the audience did award Fire Saga an enormous applause – after they had recovered from their shock.
Not to mention that this applause would have been audible in the entire arena, including the exit area, so Lars and Sigrit would have heard it. Oh well.
23. Everything goes wrong with the Semi Final results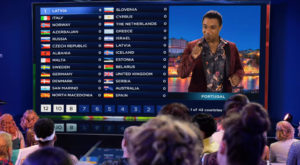 Oh my, where to start. The first thing that comes to mind is that we see spokespeople give out their 8, 10 and 12 points. Points have only ever been read out at Eurovision for the Grand Final. The 10 qualifiers from a Semi Final, since the introduction of a single Semi Final in 2004, have always been read out in "random order", either from a screen or envelopes. The full results are not announced before after the Grand Final.
During the voting sequence, we also see that 42 countries are to give points. In reality, only countries participating in the respective Semi Final, and 3 out of the 6 direct finalists, cast their vote.
At the Grand Final, however, we do see spokespeople from every participating country read out their points. Since 1975, each country has awarded 1 through 8, 10 and 12 points to their top 10. In the films alternate reality, the lower points seem to have been forgotten entirely.
And look what countries suddenly appear on the scoreboard. We see Russia, who was not performing in tonight's show, as well Germany, Italy, Spain and the United Kingdom, who due to their "Big 5" status would only perform in the Grand Final. The United Kingdom, as host country, would have even have two reasons to be directly in the final.
That points appear and disappear from the scoreboard is of course also completely impossible, but probably just an honest mistake.
After we've just heard all points being announced, everybody is suddenly very excited to find out who qualified. This, of course, would have been very predictable – knowing all the points already.
24. Live music at Eurovision
Still in his fisherman outfit, and probably stinking as much as Joey, Lars sits down behind the keyboard and starts to play. And we hear – music! Sadly, this is not possible at Eurovision. No musical instruments can be plugged in, banning the use of actual live music. Later on in the impromptu, unrehearsed yet perfectly filmed performance of Husavik, we hear other instruments come in from what must be a backing track. Let's leave it at that, and also forget that Sigrit was send on stage all by herself and so on.
25. Occupy the stage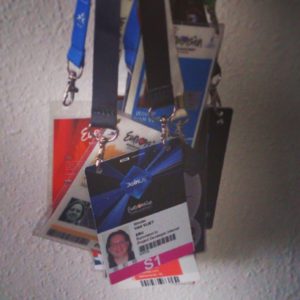 The stage crew has exactly 45 seconds – the duration of the postcard clips – to clear the stage for props used by the previous act, and put the props for the next act into position. And no speech is allowed, neither before or after each performance. This rule is in place both to prevent politicising the performance, and to be able to follow the very strict timing. After all, Europe's Favourite TV Show is broadcast in all 42 participating countries, and in some non-participating countries as well.
Including their performance, Fire Saga occupied the stage for just about 8 minute. This kind of delay is simply not acceptable in this enormous production, and the hosts, stage crew or perhaps security would probably have removed them from the stage long before they could even start their illegal performance.
And by the way, Lars still wasn't wearing his accreditation badge – so how did he even make it all the way to the stage?
Good thing movies don't have to be true to reality, huh!
The 2020 Eurovision Song Contest
And then there was the one thing, that perhaps could explain it all. The events in Eurovision Song Contest: The Story of Fire Saga play out around the 2020 Eurovision Song Contest. By all means, the film would have expected to have a serious clash with reality – if this year's Contest would actually have taken place. But it didn't! The real 2020 Contest was cancelled due to the restrictions put in place all over the world in reaction to the COVID-19 pandemic. As there is no mentioning of the Coronavirus anywhere in the movie, a possible conclusion is that the series that resulted in what we see in the film branched off from reality just in time for the 2020 Rules to be changed.
And that would explain how Edinburgh ended up as Host City, instead of Rotterdam.
The Format Changes
Based on all of the above, we can draw a few conclusions about the format changes put in place for the fictional ESC.
The "Big 5 Rule", which gives the countries with the biggest TV audience (and, as a result of that) a direct spot in the final, is finally abolished;
We're back to a single semi final, with 26 countries. 16 countries have pre-qualified for the final, by unknown means;
After the one Semi Final, we hear "the big points" from all countries – but the lower points are kept from the audience. This makes for a longer broadcast, but increased excitement during the reveal of the qualifiers;
Live music is finally allowed again on the Eurovision Song Contest stage!
The maximum number of performers per act is increased, likely to 8. This would give countries the freedom to both use backing vocals and dancers, rather than having to opt for multi-talents who can do both.
Artists are given more freedom to change their act, based on feedback after their rehearsals or even after the Semi Final.
It would also be likely that this one Semi Final would be held on the Saturday, a week before the Grand Final. 7 days may just be enough time for the production crew some to implement the changes compared to the Semi Final. This would also explain why Lars had time to fly back to Iceland, reconnect with his dad, get on the fishing boat, visit the elves, and eventually travel back to Scotland.
Changes to Europe
The movie also hints to to a few political changes. As the contest is held in Scotland, and the United Kingdom takes part in the Semi Final, Scotland seems to be taking part as an independent country. Indeed a long-time wish for many Scottish nationals. A post-Brexit United Kingdom breaking up into smaller countries would have been a likely catalyst for the abolishment of the Big 5 rule.
Don't miss our list of 12 things they got right! The film does include moments where its' clear that filmmakers show respect to the Eurovision Song Contest. 
In my view

Despie the above list of obvious deviations from how a real Eurovision Song Contest goes about, or perhaps because of it, I really enjoyed the film.

Edit: A reddit user made me aware that the flag I previously called "made up", is the flag of the Netherlands Antilles. Thanks PortableAfternoon!

The opinion expressed in "In my view" are those of the author and are not necessarily the one of EuroVisionary.com.