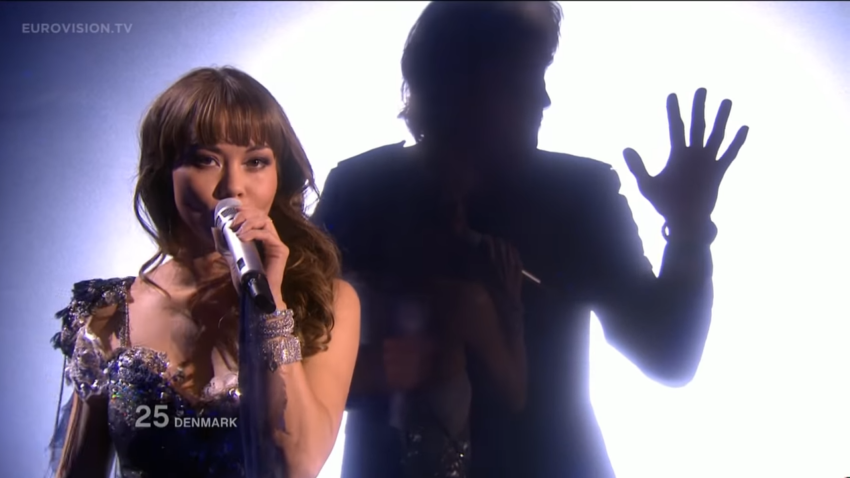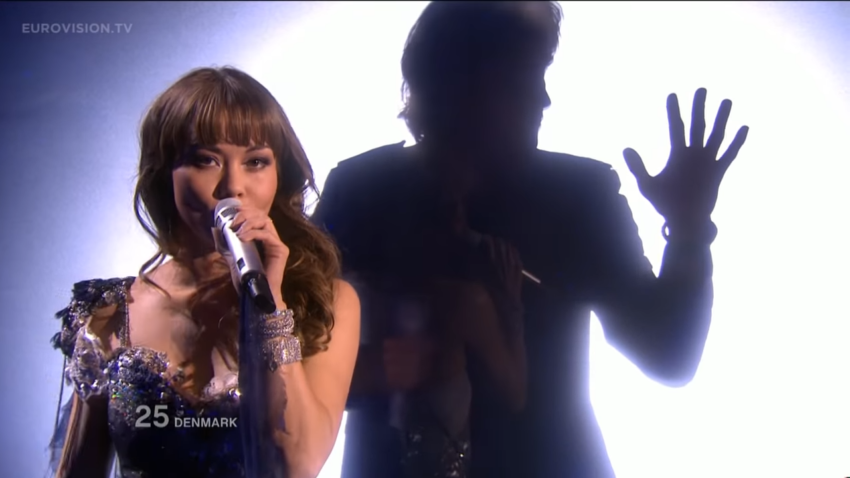 The chemistry wasn't there. Christina and Tomas just didn't connect. Their 4th place at the Eurovision Song Contest in 2010 was however fully deserved. Today, this song is still loved by many fans.
The Danish final in 2010 was a battle between two; Chanée & N'evergreen and Bryan Rice. Both offered that something extra which could secure Denmark a good result at Eurovision. After two rounds of voting, Chanée & N'evergreen indeed took the victory with Bryan Rice's beautiful Breathing finishing second. After the Danish final, it was revealed that the winning song had been rejected for the Swedish selection.
Let's be honest, most journalists present at the 2010 Eurovision Song Contest will never forget the Danish press conference. One thing is that Chanée & N'evergreen didn't have much chemistry. Something else is that Tomas N'evergreen didn't connect well with the press either. It all ended in a big farce, and a Danish fan press trying to escape questions from their foreign colleagues.
The TV viewer and juries loved the song and awarded Denmark a 4th place following the maximum 12 points from Romania, Ireland, Poland, Slovenia and Iceland.
In A Moment Like This – opinions from fans
In order to find out what Eurovision fans today think of this Danish entry from 2010, we asked our Eurovision Fan Panel. It includes team members as well as fans from all over the world.
🇩🇰 Charlotte J. – A perfect recipe for an up-tempo Eurovision entry. The build up follows the (Swedish) standard and includes no surprises whatsoever, but why change what works? I like it, and I think the result; a 4th place, is quite right. I would have placed it third myself.
I appreciate that Christina and Tomas really did what they could on stage to hide the fact that they couldn't stand each other.
🇨🇴 🇫🇮 Alvaro S. – This song bring this magical, almost Disney-like atmosphere to the stage. I have to admit that it is a little cheesy, but it is an enjoyable song. The lyrics are sweet. However, I would say that the couple did not show as much chemistry as they could have.
🇦🇺 Craig M. – This is a great song. It sounds just as good in 2020 as in did 10 years. 2010 was a year that gave us some real Eurovision classics with Lena & Jessy Matador as well as Je Ne Sais Quoi? and Epic Sax Guy. In a year full of classics, In a Moment Like This is still in my 2010 top 3.
🇨🇾 Elena T. – Great effort by Denmark! This is a pleasant song and the singers have good voices. However the song lacks originality and the stage presence of the two artists does not catch attention. People are craving more quality and new ideas. They use stage techniques that have already been used so many times e.g. the fan. I do appreciate that their show is based on the feeling that derives from the lyrics and not on the female stereotype of the sexy naked female artist. I did enjoy the moving floor though!
🇬🇧 Ashleigh K. – I watched the contest in 2010 and I can honestly say that I didn't remember this song at all. On listening to it again, the first thing I thought was how flat N'evergreen's vocals were for much of the song. Chanée however, really delivered. Now I've listened to it again I regret not having remembered it. Great song from Denmark.
🇳🇱 Frank S. – A very middle of the road song, however, add some good visuals and two good voices and you have a "cheesy" Eurovision song… that works! Volume up and singing along! Love it!
🇧🇦 🇩🇰 Elvir P. – I remember how disappointed I was when Chaneé and N'evergreen won Dansk Melodi Grand Prix. Bryan Rice and his fabulous song Breathing was my huge favourite back then. But I have to say that In A Moment Like This grew very much on me in all these years, so today, I consider it as one of the best Danish entries ever. Denmark should have won in 2010.
🇬🇧 Aaron S. – As much as I want to like this song, as it was one of my favourites in 2010 after Lena of course, I feel it's too similar to The Police's Every Breath You Take. Until the vocals actually kick in, I find it hard to distinguish between them. I would have preferred something more original especially with Thomas G: Son's involvement who is one of my favourite composers, however Chanée & N'evergreen performed well with nice staging and I can understand why they finished in 4th place.
🇹🇷 Güneç G. – I loved the energy between the two singers. The song is a strong, catchy, typical Eurovision song and it was surely in my top 10 that year.
🇨🇿 Josef Š. – Thomas G:son from time to time spread also out of Sweden, and in 2010 it was Denmark. In A Moment Like This is actually one of the best duets we have ever seen at Eurovision, and 2011 winners Ell & Nikki can't even compare to the pure masterpiece of Chanée and N'evergreen.This is still on the list of my favourite songs from Eurovision.
🇸🇪 Antonio P. – How in the earth could this end up in 4th place, are people so deaf? It's a mediocre cheezy song, we always hear on the radio everyday. Not bad, not good, should've been in the middle in Eurovision 2010. I understand why the Swedish jury disliked this song, when Melodifestivalen started to choose song, and I agreed with the jury. Personally, I have heard better from Denmark, still every song is better than the winning song 2011 (please let me write about that next time, have more hate inside me).
🇬🇧 🇮🇪 William S. – My Favourite in 2010, it is a little dated for the year it was entered, yet it still gives me that epic, anthem I feel I love from songs. A lot has been said about their frosty chemistry, and they aren't exactly the most convincing performers live, but it doesn't detract from how good this song is.
Enjoy Chanée & N'evergreen's In A Moment Like This from the 2010 Eurovision Song Contest in the embedded video. Below the video, you can read more about Christina Chanée and Tomas N'evergreen.
Chanée & N'evergreen – A mini Biography
This duo was put together for their Danish final appearance. Probably with the hope of a new powerful duo on the Danish music scene, an album was quickly recorded and released in relation to Eurovision. In the few months following their Eurovision 4th place with the song In A Moment Like This, the duo toured Denmark performing at market places and such. And that was it. A couple of months later, it all became history. Chanée & N'evergreen didn't connect and went each their way.
Christina Chanée released an album in 2012 called Just The Beginning. For quite some years, it was rather quiet around her, but a year ago, she joined the party band Mint Condition.
Tomas N'evergreen lives in Russia, and before representing Denmark, he took part in the Russian national selection in 2009. In 2016, he produced a remix of Samra's Eurovision entry for Azerbaijan, Miracle.
Chanée & N'evergreen reunited for the Danish final in 2019 where they appeared as interval act.