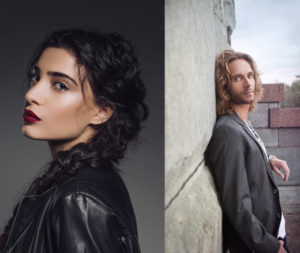 In 2010, he finished 4th in the Eurovision Song Contest representing his home country Denmark. Now Tomas N'evergreen is behind one of two remixes for this year's Azerbaijani entry, Miracle.
This year Azerbaijan is represented by Samra and the song Miracle. Two remixes of the song have been released, and one of them is by Tomas N'evergreen who represented Denmark at the Eurovision Song Contest in 2010 in a duet with Christina Chanée. With the song In A Moment Like This, they finished 4th. Tomas, who is living in Moscow, took part in the Russian national final in 2009, and in general had his focus point on Russia and its surrounding countries. Therefore, Azerbaijan isn't such an odd market for him as it might be for other Danish musicians.
When talking about the 2016 Azerbaijani entry, Tomas said in a press release "This year I've got a chance of making a remix of Miracle. It is a nice entry song performed by young and beautiful Azerbaijani singer Samra. I wish her best of luck at Eurovision in Stockholm."
A video with the remix is embedded below, but first we think you should test your knowledge about Samra in our quiz. If you do well, pleased don't forget to brag about it.
When did Samra take part in the Azerbaijani national selection in the past? Check your knowledge about Samra in this quiz.
Together with this remix, another has been released by Azerbaijani DJ and music producer Kamil. That remix is also available on YouTube.
Samra will perform her original version of Miracle in the first semi-final on the 10th of May from start position 14.