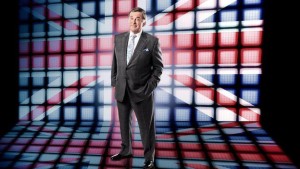 Not every Eurovision personality becomes as famous as the former BBC commentator, Sir Terry Wogan. Known for his often harsh comments about the show, he left many fans either in frustration or laughing out loud, he is some-one who the British public will always remember as a  TV legend. He passed away today at the age of 77. 
Former radio and TV host, Sir Terry Wogan passed away at the age of 77. He will be remembered  by many for his Eurovision commentary for the BBC, which he did for television during the years 1973, 1978 and 1980 to 2008. He became known for his cynical approach to the contest and his sarcastic and harsh comments to the participants and the hosts. Many fans also complained that he often spoke over the songs and he was one which really divided people, but no doubt he had a big impact on the British attitude towards the Eurovision Song Contest in those years.
In the old days before the contest was available on DVD, a dedicated fan hoped he wouldn't talk over the songs He was in his element in the 1996 contest where he didn't care when he commented. Croatia's Maja Balgdan was described as tempestuous at the beginning of her song. Right in the middle of her high note he blurted out " Steady Woman Steady" and called out for a pan of boiling water. At the end he said he was drained of all emotion and she'd played on us like some stringed instrument.
In 2000 Renars Kaupers from Brainstorm, was described as not the full shilling. Terry asked about Russian 2002 boy band Prime Ministr, pardon me but if it's a boy band aren't they supposed to be good looking. Linda Martin in 1992 was called Jessica all the way through the voting.
Although totally against the rules, Terry often advocated voting for Malta, so that he could have a paid vacation there. Other times he'd just say oh vote for where you want the contest to be held next year. River Dance was described as "good, but not that good". The actors in the 1984 postcards were called a bunch of idiots. A similar dedication was given to anyone who voted for Guildo in 1998 or Alf Poier in 2003, a group he called the lunatic fringe. Maxine and Franklin fro Netherlands 1996 were described as Ruby Wax and O.J. Simpson.
Edyta Gorniak was described as the brownest Polish woman he'd ever seen. He questioned Ledina Celo's nationality, saying she was too pretty to come from Albania. He described Gracia from Germany and Les Fatais Picards from France as simply dreadful. Chiara was called a big lump of a woman. He described the boy in the vest as the highlight of Marianna from Greece's 1996 performance. When Azucar Moreno didn't start on time he asked if he could hum them the tune. Often after about 5 songs he'd say be off good cheer only another 20 to go.
It wasn't just in the UK, Terry Wogan, who became Sir in 2005, made himself known., In 2001 he called the Danish Eurovision hosts Søren Pilmark and Natasja Crone, Dr. Death and the Tooth Fairy. This caused some controversy as Danish broadcaster DR supposedly asked for an apology, and afterwards Wogan joked about having to wear a paper bag over his head in order not to be lynched if he ever sat foot on Danish soil again. He also made fun at their rhyming couplets.
Fans either loved or hated him – and sometimes actually both at the same time. He was fully responsible for the disdain the contest gets in the United Kingdom, but it was obvious he had a special place in his heart for the show. Viewers loved his Wogan chat show, Blankety Blank and all the work he did for Children In Need. He will be missed. R.I.P, Sir Terry Wogan.