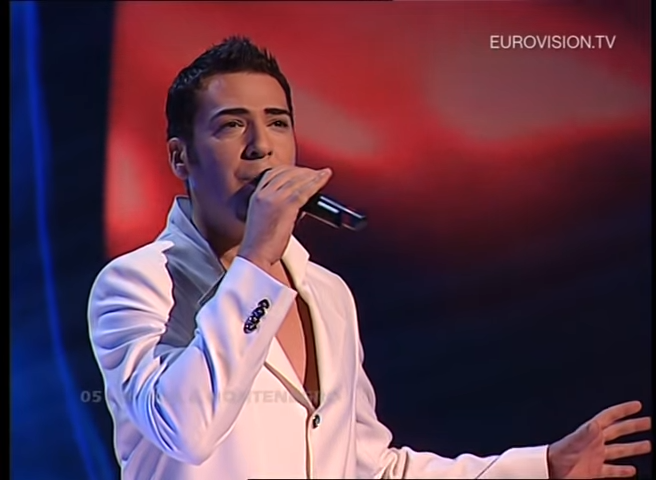 He won the semi-final, but in the final he lost out to Ukraine's Ruslana. Željko's second place is, however, still remembered and loved by many fans, but an opposition does exist.
In a joined national final Evropesma, Serbia & Montenegro selected their Eurovision Song Contest participant in the years 2004 to 2006. There were 9 juries: 4 from Serbia, 4 from Montenegro and finally one televote. Eventually Serbia's Željko Joksimović won with the song Lane Moje and became the first to represent Serbia and Montenegro.
With 263 points in the semi-final, he finished 7 points ahead of Ruslana and her Wild Dances. Three days later in the final, their placements would be swapped. Now Ukraine won 17 points ahead of Serbia & Montenegro.
Lane Moje is written by Željko Joksimović himself, with Leontina Vukomanović penning the lyrics.
Lane Moje – opinions from fans
In order to find out what Eurovision fans today think of this Serbia & Montenegro entry from 2004, we asked our Eurovision Fan Panel. It includes team members as well as fans from all over the world.
🇬🇧 Richard C. – As soon as you hear the intro and you hear the audience you know that this performance will be epic. Zeljko doesn't disappoints. His vocal vocals are truly incredible. You feel his pain and emotions. The way he sings, I am still memorised by this performance even to this day. Željko at his best! Lane Moje is one of my all time favourites for sure.
🇨🇿 Josef Š. – Željko Joksimović is an icon when it comes to Eurovision. Twice representing Serbia (once "& Montenegro), once hosting Eurovision, once as a composer for Lejla… and he represents what I love about Balkan songs (especially ballads). Touching melody, ethnic sounds, perfect vocals… And this is something I believe most people love, that's why he always did so well. Who can say they were three times at Eurovsion and ended once 2nd and twice 3rd? That's an amazing result and well deserved for this Balkan God. ❤
🇩🇰 Charlotte J. – I am not your typical Eurovision fan who gets all emotional whenever a Balkan ballad is on the agenda. But when a song is perfect, or near to, I do recognise it. Lane Moje is one of those. The flute is perfect, the violin is perfect, Željko's vocals are perfect… How this didn't win is beyond me. I was not, and will never be, a fan of Ruslana's Wild Dances.
🇳🇴 Stine F. – Lane Moje drowns between my two upbeat favourites from 2004; Shake It and of course the winner Wild Dances. Although this is a huge fan favourite runner up, I hardly even remembered Lane Moje before listening to it again today. I do like the sense of tranquillity with the flute, violin and beautiful voice, but it just doesn't stand out to me.
🇷🇸 Milosav T. – Lane Moje is a somewhat "legendary" song in Serbia, since it was our first song in Eurovision after 12 years of absence. And what a debut it was! Željko found a perfect balance between ethnic, polished and cheesy. The performance, the outfits and the presentation of the song were spot on, and if it weren't for Ruslana, it could have won. It remains one of my favourite Serbian entries, which outlasted the country (Serbia & Montenegro) it represented.
🇳🇱 🇩🇰 Wouter V. – I was crazy about this song in 2004, and I still don't need to actually find it on YouTube or Spotify to hear it. Lane Moje is permanently playing somewhere in the background of the back of my mind. The arrangement, Željko's voice, and in particular that flute make this a near perfect song. Just a pity I don't understand the lyrics, but they seem beautiful also in the Google translated version.
🇬🇧 Ashleigh K. – This song gives me mixed feelings. I love the instrumental parts of the song, I love the staging, the styling of the performance. The song sounds nice and I think sitting and watching the contest that I would enjoy watching the performance as a whole. But I can't picture myself listening to this song on Spotify and enjoying it without seeing the performance as a whole.
🇩🇰 Liza P. – Lane Moje is one of my favourite Balkan entries. The reason is mainly because of the preview video made for the song. I really adore it. But the music and the mood of the song brings out big emotions for me, when I hear it. Even if I don't hear the English version or read a translation of the Serbian version, I feel overwhelmed every time. And not necessarily with sadness, sometimes also happiness.
🇨🇴 🇫🇮 Alvaro S. – What else can I add that has not been said already about this amazing song? This is another treasure given by Zeljko Joksimovic, who was so close to get the trophy. Although I love his 2012 entry, this one in particular is pure magic. The chorus and the first verses in particular are remarkable and the sound of the violin creates an interesting atmosphere. It is not necessary to understand the lyrics to connect with this song. The power of music like this is universal.
🇬🇧 Michael O. – Never have understood the love for this song, or indeed the song that beat it at Eurovision. While I'm quite partial to a ballad I was shocked this did so well. To me 2004 was a pretty poor year, Cyprus, Sweden and the neighbouring In The Disco being the only ones I really liked.
🇧🇦 🇩🇰 Elvir P. Let me say right away: Lane Moje is a beautiful piece of music. The lyrics, the melody, the performance – everything is just working fine for this song and I wouldn't have minded if Serbia and Montenegro won the contest back in 2004. But … there is one big "but" about this song that irritates my really much. For me, it sounds too much as the song Sen Gelmez Oldun by Azerbaijan musician Alikan Samedov. And I really don't like copycats.
🇧🇷 Amir B. – Lane Moje  was the first and my favourite entry from Željko Joksimović, the Serbian Midas. Every music with his participation turns gold. The runner up title in Istanbul was a preview of the other 5 musics with his touch. My favourite composer in Eurovision history, Lane Moje is a light and pleasant ballad to hear. The face of Balkan ballads! His voice is beautiful and is the final touch of this great entry!
In the embedded video below, you can watch this Serbia & Monenegro 2004 entry performed at the Eurovision Song Contest. Below the video, you can read more about Željko Joksimović.
Željko Joksimović – a mini biography
He was born on 20th of April 1972 in Belgrade. His professional career started in 1997. The turning point of his work as a solo artist was releasing his album "Amajlija" in 2000, which was proclaimed as the best selling album. So far, Željko has released six studio albums.
Željko took part in the Eurovision Song Contest twice as an artist, and he composed five entries for four different countries all together. In 2008 he co-hosted the contest, which was held in Belgrade, together with his future wife Jovana Janković. They have two children.
Joksimović is still active on the Serbian music scene. His latest single Možda Je To Ljubav is from February 2019. He also composes music for films, television series and theater shows.