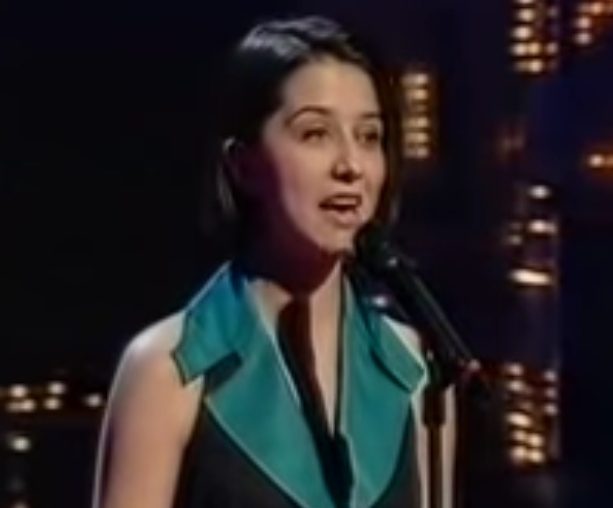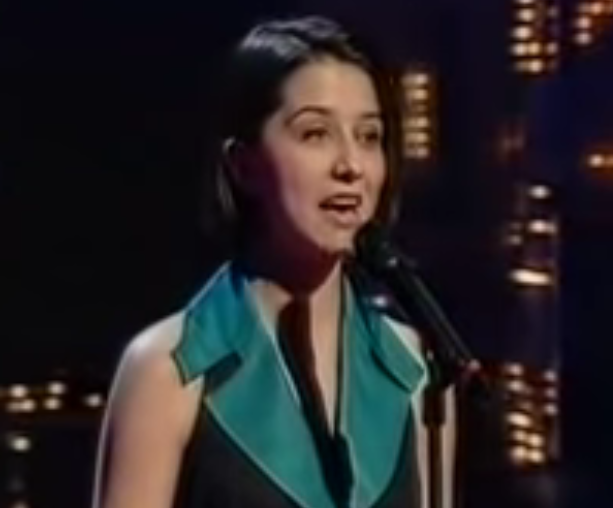 The Eurovision Song Contest 1994 saw Hungary participate's Eurovision debut with Friderika Bayer. She achieved what is still today the best results for Hungary.
In 1994 Hungary made its debut in the Eurovision Song Contest. Hungary attempted to participate on the previous year with Andrea Szulák. Back then, there was no semi-finals in Eurovision. Hungary took part in Kvalifikacija za Millstreet, the pre-selection for Eurovision 1993. Although, they failed to make their debut in 1993, Hungary was eligible for the following year. Thus, Friderika had the honour to be the first Hungarian representative in the Eurovision Song Contest in Dublin.
For the 1994 Eurovision Song Contest, MTV, the Hungarian national broadcaster organised a national selection.  Friderika Bayer won the national selection with the song Kinek Mondjam El Vétkeimet? (To whom can I tell my sins?).  She performed her song accompanied by a guitarist and received 122 points, which resulted in a 4th place. This is Hungary's best result to this date in Eurovision.
Kinek Mondjam El Vétkeimet? is written by Szilveszter Jenei.
Kinek Mondjam El Vétkeimet? – opinions from fans
In order to find out what Eurovision fans today think of this Hungarian entry from 1994, we asked our Eurovision Fan Panel. It includes team members as well as fans from all over the world.
🇨🇿 Josef S. – Friderika is very young and those guitar ballads at Eurovision are always great. This time combined with orchestra, it just makes a perfect feel-good song to listen to. That guitar melody is memorable, and Friderika sings it really well. It may sound like I repeat myself, but with these opinions, my Eurovision favourites playlist is growing bigger and bigger. I should focus more on the older Eurovision years as there are some hidden gems. And Hungary 1994 is definitely one of them.
🇬🇧 Paul G. – I have to say that I am not a massive fan of this entry from Hungary, I think they have sent better since their debut in 1994. However debuting with a 4th place was very good for them.
🇸🇪 Jill R. – Friderika Bayers from Hungary has a rather good voice but her performance wasn't very interesting. And Kinek Mondjam El Vétkeimet isn't a great song. It is sweet and sounds a bit like a lullaby, but it is also kind of boring and forgettable. But so were a lot of other songs that year, so I still would place it in top ten. Let´s face it; 1994 wasn't´t a very good year in ESC. The Riverdance interval act totally outshone all the contestants.
🇨🇴 🇫🇮 Álvaro S.- I love the sound of the guitar and Friderika's beautiful voice. It is a minimalistic atmosphere that brings me peace and it works perfect creating an intimate atmosphere. The sound of this song is touching and gives a feeling of intimacy even if one does not understand the lyrics.
🇩🇰 Tina M. – A very timeless song. The song could just as well have participated in Eurovision 1970 as it could 2010. The song shows the strong vocal of the singer, and the accompanying guitar helps the song in a great way. The song is thus very simple, which suits it a lot. A fine and simple song. A very fine song, which I like. 7/10.
🇭🇺 Vangelis M. – Allow me to take this moment to mention that for me an artist is someone who respects first of all people. Friderika was a member of an anti-LGBT action, spreading hate towards the LGBT community. I am so sorry this woman was sent to the contest, because in Hungary we have artists that respect human beings, love and respect all people no matter what. The song for me is boring and even if I love my country in the contest I cannot understand how it went so well in the final results.
🇬🇧 Michael O. – No way did I see this getting 3, 12 points right at the start of the voting and fortunately the scoring returned more to what the song deserved. Certainly I like this better than the eventual winner, but to me Poland and Russia's debut in the same year, were the better entries.
🇪🇸 Quique B. – For me Frederika leaves a good first impression from Hungary. She sang a pleasant song, nice, elegant, in Hungarian, that's good for a presentation card. Probably her country hasn't done it again. The problem is that Poland did the same but much better, and also Russia. Anyway that was a nice song, well performed, very well classified and a great souvenir from Dublin 1994.
🇩🇰 Charlotte J. – This song reminds me of an old boyfriend of mine. It was one of his favourite entries. While I don't share his love for the song, I am able to appreciate it too. It's nice and a bit mysterious, probably because I don't understand the lyrics (Guilty, I haven't checked the translation). The guitar player really is a nice addition, for me. I would probably rate it 6/10.
🇬🇧  Ashleigh K. – A nice entry from Hungary that I hadn't heard before. The performance is beautifully subtle but still captivating. I'm glad to have heard this.
Enjoy Friderika's performance from the 1994 Eurovision Song Contest in the embedded video. Below the video, you can read more about Friderika.
A mini Biography to Friderika
Friderika Bayer is a pop, gospel singer. She was the first Hungarian representative in Eurovision in 1994. Her first album, Friderika, got a gold certification two months after it's release in her country. She started attending the Faith Church since 1996 along with her husband. In 2003 she released the album Gospel, an album inspired by her faith. This marked a change of genre. More recently, she has released children-oriented music.
In October, 2019 she said to a local newspaper that though she loves music, she is living a happy life with her family which includes three children.