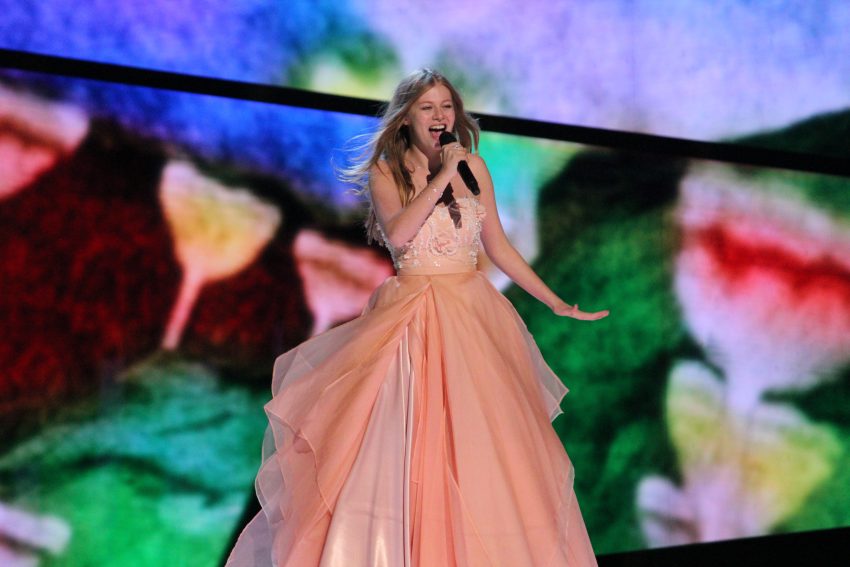 At the Eurovision final in 2016, only one of the songs didn't include any English in its lyrics. That was Austria's Zoë who sung her song entirely in French. This was also the first time that Austria sent a song in French, bringing some variety in terms of languages.
In February 2016, the local Austrian broadcaster organised a national selection to chose their representative. Wer singt für Österreich? took place on the 12th of February 2016. Zoë Straub won the competition and the right to represent Austria in Stockholm, Sweden.
For the 2016 Eurovision Song Contest, Zoë sung her pop song Loin d'ici (Far from here). The song talks about going on a journey in the search for paradise with a loved one. Zoë performed in the first semi-final where her performance included colourful backdrops representing idyllic landscapes. She qualified for the final where she finished in 13th place with 151 points. However, she ended in 8th place with the televoting. This was a huge improvement from the previous year in which Austria came in last with 0 points.
Loin d'ici is written by Zoë herself together with her father, Christof Straub.
Loin d'ici – opinions from fans
In order to find out what Eurovision fans today think of this Austrian entry from 2016, we asked our Eurovision Fan Panel. It includes team members as well as fans from all over the world.
🇨🇴 🇫🇮 Álvaro S. – I adore the innocence and sense of joy this song gives me. Zoë's carefree performance is simply lovely. I also like to appreciate the beautiful visual effects on the screens + the bridge. Magnifique, J'aime bien Zoë.
🇬🇧 Mhairi O. – The song is very catchy although it is a little bit repetitive for my taste. I feel the staging is better than the song. At one point I believed she could have won.
🇩🇰 Charlotte J. – In 2016, I wasn't able to appreciate this as much – until I saw Zoë perform it at Eurovision In Concert. Then I understood just how much quality this song had. Seeing how fans reacted to it at that pre-concert in Amsterdam, I knew this would be a fan favourite. It's really a cute and charming song, and though, she at Eurovision never quite managed to hit that magic from Amsterdam, I still like it. It will never be a favourite of mine, but I enjoy it very much.
🇳🇴 Steinar M. – I know this is a huge fan favourite – but not with me. OK – a cute girl, with a cute stage background. But….it's just TOO Cute. And too sugary and simple musically. Chocolate taste well, but this is as if I have eaten too many chocolate bars in a row. Cutie overdose. Her father was a well known indie musician in Austria, I wish we could hear more of that in this song. Interesting to notice that the expert jury didn't want this song to qualify, they wanted the great rock song from Montenegro instead. If only….!
🇱🇹 Konstancija S. – I really love this song. I love the beat, which is relevant even today, after four years. The singer is really professional – her voice is very suitable for this song. Actually I have one more observation, it's often said, that songs for Eurovision should be in English as everyone in the world can understand that. But this song is a perfect proof of the Beethoven phrase: Music is a universal language that everyone understands. It doesn't matter that it is not in English, everyone understands. So it is a perfect evaluation for the composers and lyrics writers.
🇬🇧 Ashleigh K. – A wonderful song by Zoë for Austria in 2016. One of my favourite Austrian entries. The song is very sweet as are the vocals. One thing I didn't like about the performance was the styling.. Her hair, her dress and her skin are pretty much the same colour and it just looks odd…and makes her look washed out. Even now when I watch it back the styling bugs me. But a wonderful song.
🇷🇸 Miljan T. –  2016 was a very strong year and still many fans consider it the best Eurovision in a long time, especially technically. Austria surprised us all with sending a song in French, and though the studio version was OK, the absolutely flawless vocal presentation and scene backdrop made it a very magical experience.
🇬🇧 Michael O. – A decent enough wishy washy entry which amazed me why it was so popular in the arena in Stockholm, but juries and viewers didn't quite salvate about it so much. Light weight and enjoyable and definitely the best choice Austria had to send that year, as I remember their national final that year very well.
🇨🇿 Josef S. –  Zoë should have represented Austria already in 2015 as her song Quel Filou was miles better than The MakesMakes. But her time to shine came in 2016 and she had perfect song. One of my favourites in Stockholm. I love her singing in French as she's good at it. Loin d'ici is a fairytale-like disco-pop song where Zoë is the main princess. It is not French-chanson style like in 2015 and maybe it's good for the overall acceptance of the song. TOP 10 placing is well deserved, she could have finished even higher. One of my favourite Austrian entries ever. I love Zoë!
Enjoy Zoë's performance from the 2016 Eurovision Song Contest in the embedded video. Below the video, you can read more about Zoë.
A mini Biography to Zoë
Born in Vienna, Zoë Straub is a singer and actress. Her interest for French pop started in her childhood. She attended the Lycée Français de Vienne, a French high school.
After Conchita's victory, Zoë tried to represent Austria in Vienna for the 2015 Eurovision Song Contest. Her song Quel Filou came in third place in the national final. She got to represent her country the next year instead where she reached the final and achieved a 13th place. Her album Debut includes both singles. After her Eurovision participation, she has released more singles in French.
Zoë participated in the San Marino national selection in 2018 as a jury member.
In February 2020, she announced that she gave birth to her first son and in May 2020, she released her EP Amour Fou the Remixes.