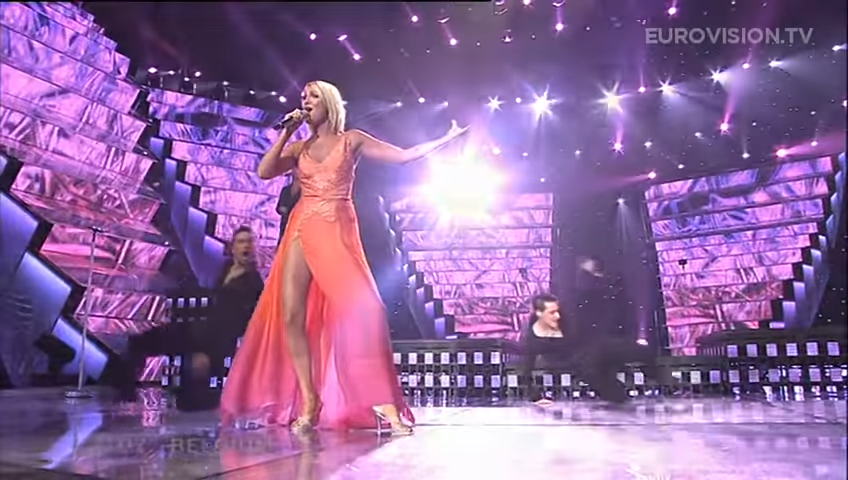 Belgium failed to qualify for the grand final for the second year in a row when Kate Ryan brought pop-love song 'Je t'adore' to the Eurovision stage in Athens. Despite being one of the pre-contest favourites it was a great disappointment for the Belgians who have encountered many a rocky road in their eurovision journey.
Kate Ryan was selected to represent Belgium at the 2006 Eurovision Song Contest following a lengthy national selection process consisting of 7 shows. In the final Kate Ryan won by a landslide with the song Je 'tadore after receiving the top votes from the public televote as well as the 'home jury' in addition to picking up points from the international jury.
Je t'adore is a pop-discoesque love song with was written by Kate Ryan herself as a team with three other writers. Despite the French title, the song was performed in English with only the title sang in French. Ryan was the 7th participant to sing during the semi-final where she performed the track in an orange dress surrounded by male backing dancers carrying neon microphone stands. Kate received just 69 points in the semi-final placing her in 12th position.
Je t'adore – opinions from fans
Josef S.- Kate Ryan was a big name back in 2006 and everyone expected her to do well and Je T'adore is a very good song. I like it and would put it somewhere in the middle of the whole Eurovision 2006 scoreboard. It's catchy and the performance was very professional. Maybe too sterile for somebody. I would like to see it in the final of Eurovision 2006.
🇬🇷 Kostas C. – A very nice song and catchy as well. I liked it a lot back in 2006. But when I saw the performance at the semi final, I was sure it won't make it to the final. Very poor stage appearance. An example, how a good song can be destroyed by a bad appearance. If there were two semi finals this year, maybe it would make it to the final, but even then a low place in the final. Kate Ryan should act more professional and not be so sure, as she was a big favourite.
Ashleigh K. – Je 'tadore is my number 1 guilty pleasure song. I still find it a complete travesty that this song failed to qualify – Europe, what were you thinking?!.
[Flag dk] Wouter V.- When Kate Ryan entered the Belgian selection back in 2006, I had quite high hopes for her. Not that I was a fan or anything, but she was quite well known and I did appreciate her music. How she managed to win the Eurosong final is still a mystery to me. To me, Je t'adore is one of the most simple and boring dance tracks I've ever heard. But I will always remember her from when I met her in the lobby of her hotel in Athens, and shook her hand. I don't know what that weak excuse for a handshake was, but a jelly fish would give you a better squeeze than that.
Micheal O.- Way overhyped during its time and this one line with a different language really grates. Didn't think for a second this would qualify, but as time has passed I'm finding the song more tolerable, but really it's not that great
Charlotte J.- I should like this. It's an up tempo pop song, but unfortunately I really don't like it. While the studio version is sort of half acceptable, the live version is really bad in my opinion. Only good thing is that I can at least remember it when changing the lyrics to 'Shut the door'. Unfortunately that's also what I do; shutting the door to this entry. Hopefully, I won't be reminded of it again for a while.
Martti I.- Kate Ryan was for the fans the real winner months before the contest. I repeated in every interview that despite Kate has luckily had several hits before, but in studios you can do miracles and never on stage live as that shows every weakness clearly. Told how Kate will have an another radio hit with this, but in Eurovision it is not working. The whole three minutes was so plastic, cold and well it was just bad with the clear lack of energy.
John E. – When I first heard the studio recording of this song it immediately became my favourite. It had power, originality and seemed likely to become a Eurovision dance classic and a potential winner. I was shocked when it failed to qualify for the final.. I think maybe it was overhyped in the lead up to the contest. I was not a great fan of the staging and the live performance lacked the power and vitality of the studio version but I still enjoy listening to it today.
Alvaro S.- I expected that a song that has a catchy chorus and that is using a successful pop formula at the time would have get to the finals easily. Actually, I am almost sure that, had a more "popular country" would have sent this song it would have performed better and benefitted from the bloc voting that was more pervasive during those years. Je t'adore is an entertaining pop song. Not the most groundbreaking act (especially in a year in which Lordi raised the bar) but it is still remembered by the fans.
You can relive Kate Ryan's performance at the 51st Eurovision Song Contest in Athens by watching the embedded video. Below it, you can read more about Kate Ryan.
A mini biography of Kate Ryan
Kate Ryan was born Katrien Verbeeck in Tessenderlo, Belgium in 1980. As a teenager she was part of a girl group but the group failed to take off and they disbanded before releasing any material and she continued to work on becoming a singer as a solo artist. She released her first album, Different in 2002 which charted well in the Belgian charts but it wasn't until her third single from the album, a cover of Mylène Farmer's Désenchantée which brought her first number one and brought her international recognition.
Following her time in the Eurovision Song Contest Kate has continued to make music and has also stated that she would be open to participating in Eurovision again, so long as she had more control over the creative process.