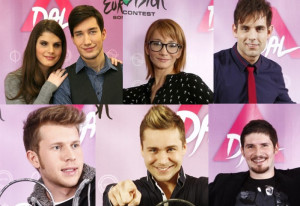 The first heat of A Dal, the Hungarian national selection for this year's Eurovision Song Contest, was held tonight in Budapest. Ten artists performed their songs for the chance to reach the semi-finals and six of them succeeded thanks to the votes of the jurors and the audience.
A few weeks ago, the Hungarian public broadcaster MTV presented the thirty candidates for this year's national selection for the Eurovision Song Contest. Tonight, the first out of three quarter finals took place and it was time for ten of the candidates to perform their songs live.
The songs:
1. Zoltán Fehér – Nincs baj
We started with a song with retro influences, which includes some rock and punk elements.
From that point of view it might be interesting, but unfortunately it is not. It sounds
like a combination of various songs completely different and without
good connections between them. This track is totally worthy for a
Saturday night party as it is positive and danceable, but not for an
Eurovision Song Contest competition. His performance was very enthusiastic. He was
accompanied by two female backing singers, two guitar players and a
drummer all of them dressed in black. He was dressed very smart in a
grey suit and white shirt. They were well distributed across the stage
and each of them maintained their position throughout the whole
performance. In the background screens we could see flames of fire.
2. Mrs. Columbo – Játszd újra
The next song was a gentler bossa nova with Latin influences. It has a delicious melody
and the voice of the lead singer is smooth and combined perfectly with
the vibe of the song. They did a convincingly live performance. The lead singer wore a pink and black dress. The remaining members of the group, a pianist and a cellist, were dressed in yellow and black. Behind them there were a drummer (the only male member of the group) and two female backing singers. The stage was lit in purple with bright flashes coming from the screens.
3. Gergő Baricz – Húz
We continue with a pleasant
pop-rock song, which starts off promisingly but it lacks something to be
remarkable or captivating. The melody is not particularly memorable and
this is an example of a sickly sweet song easily forgettable. Even
though his voice cannot be faulted, maybe if the vocals were more
powerful this song could achieve a significant result but the whole
performance lacked energy. The staging was quite intimate and everybody was sitting. He was playing guitar and he wore a black jacket and a maroon shirt but the most striking of his outfit were the colored feathers on his shoulders. He was accompanied by two female backing singers, a bass player and a drummer. The stage was lit in blue during the beginning of the song and then it turned red.
4. Bogi – Tükörkép
This is a cute retro pop song
with a strong influence from the 60s. Despite it does not have a strong
chorus and the ending is quite abrupt in general, it is very catchy and
cheerful. She is very charismatic and has the power to drag you in with
her looks and with her voice. She wore a blue velvet jacket, black trousers and yellow shoes. On stage she was accompanied by two female singers and three dancers whose choreography drew more attention than Bogi herself. The images that were shown on the screens consisted of different colorful drawings. This song has the potential to go far.
5. Tamás Palcsó – Ezt látnod kell
This is another well produced song, but maybe forgettable. His way
of singing and his voice matches the style of the song. He can do
something very special with his voice when it goes high and he had no
problems to reach all the notes. His performance was good and rather
endearing. The screen images showed a background of an autumn landscape and it was so realistic that in some shots he seemed to be really in the landscape. He began his performance sitting down, but then he spent the whole song walking around the stage. He was dressed all in black and with him were three female backing singers dressed in black and red. He should have a good shot to progress through to the
semi-finals.
6. Background – Neonzöld
When you listen to this
electronic rock song you cannot help but remember the soundtrack of
those videogames from the 90s. The chorus is very catchy but quite
repetitive and this can also be a bit annoying. The voice of the lead singer was out of tone during the whole song but their stage performance
was very energetic. The lead singer was dressed in denim shorts and a pink shirt and the four other members of the band (a drummer, two guitarists and a keyboard player) were dressed in casual clothes in bright colors.
7. Tibor Gyurcsík – Örök harc
He was among the
finalists in 2012 and now he is back with a song much better than last
year's with a very commercial and pleasant melody which lies between
pop, rock and hip-hop. He seemed to be very comfortable on stage and the staging was simple enough. He first appeared to be alone on stage since the two backing singers were quite far from the center stage. He was dressed all in black, but his jacket had a surprise that was revealed in mid-performance when some small flashing red lights were lighted on it. Towards the end of the song appeared on stage a female rap singer who sang a verse of the song. Oddly, all these elements are well combined and
the melody has a steady pace which does not sound as a hodgepodge
meaningless.
8. Ildikó Keresztes – Nem akarok többé játszani
After
the softness of the piano in the first few seconds this becomes a
wonderful rock ballad and the more the song progresses the more you like
it. Her amazing husky and raspy voice can hit amazing ranges. She sings
with so much passion that she expresses deep emotions. She wore a white dress and black tights. She was accompanied by a piano player and two female backing singers dressed in a style quite masculine (black suit, white shirt and a tie). The stage was lit in blue and purple creating a quite tragic atmosphere.
9. Gergő Rácz – Csak állj mellém
This is an
interesting mid-tempo song, maybe not the catchiest of the night, but
with a potential hiding somewhere. He was dressed in a maroon leather jacket (the same color as his guitar), white shirt, black tie and black pants. His backing singers singers were two women and three men who at times sounded like a gospel choir. It is not a bad song and after all we
have heard tonight Rácz, who was a member of VIP, the band which
represented Hugary in 1997, could have a good chance to claim victory it
he reaches the final.
10. Szilvia Agárdi & Dénes Pál – Szíveddel láss
We end the night with a duet composed by two great voices. Szilvia has a highly feminine and soft voice while Dénes has a very deep male voice. This is the perfect combination for a powerful and romantic ballad with a beautiful harmony and a great chorus.They both were dressed very elegantly. He wore a white jacket, black shirt and pants and she woere a white dress. They were accompanied by four female singers dressed in black. The stage was lit with white and black lights. Their performance is full of romanticism and tries to overlook the fact that Szilvia is blind. They just won the Hungarian edition of The Voice and that certainly will increase their odds to reach de semi-final round but this is a song that probably will appeal the jury more than the audience.
The show:
It started at 20:15 CET and it was hosted by Gábor Gundel-Takács joined by the Hungarian spokesperson Éva Novodomszky and Márton Buda from the green room. The stage was quite large and it was divided into several zones separated by stairs. The screens in the background were huge.
The show began with a quick introduction of the artists and the presentation of the jurors who were sitting right in front of the stage. The jury was comprised by Viktor Rakonczai, composer and former Eurovision participant as part of the boyband VIP, Jenő Csiszár, radio and tv presenter, Philip Rákay, programme director of m1, Csaba Walkó, the lead singer of Compact Disco and the only female jury memeber Magdi Rúzsa who represented Hungary at the 2007 Eurovision Song Contest.
Before each song we could watch a video presentation of each of the artists and at the same time we could see how they were taking positions on stage. From time to time we could see the artists in the green room and listen to them talking about their feelings after their performance.
While the audience were voting we could enjoy the performances of a great version of the popular song Hopelessly Devoted To You originally sung by Olivia Newton John on Grease and a bit later a male duo composed by Árpád Zsolt Mészáros and Ferenc Hujber were singing a cheerful song entitled Lady Carnival.
The results:
In tonight's first show of A Dal, from the ten acts that got their chance to perform, only six of them would qualify for the semifinals. In the end, three acts were chosen to go forward to the final by the jury, and another three by means of televoting.
The songs were reviewed and voted on by the jury members immediately after they were performed and their votes were as follows:
Zoltán Fehér: Viktor – 7; Csaba – 7; Magdi – 7; Philip – 8; Jenő – 8
Mrs. Columbo: Viktor – 7; Csaba – 8; Magdi – 8; Philip – 8; Jenő – 7
Gergő Baricz: Viktor – 8; Csaba – 9; Magdi – 9; Philip – 8; Jenő – 9
Bogi: Viktor – 7; Csaba – 7; Magdi – 7; Philip – 8; Jenő – 8
Tamás Palcsó: Viktor – 7; Csaba – 7; Magdi – 7; Philip – 7; Jenő – 7
Background: Viktor – 7; Csaba – 7; Magdi – 7; Philip – 7; Jenő – 7
Tibor Gyurcsík: Viktor – 9; Csaba – 8; Magdi – 8; Philip – 8; Jenő – 8
Ildikó Keresztes: Viktor – 9; Csaba – 10; Magdi – 10; Philip – 9; Jenő – 9
Gergő Rácz: Viktor – 9; Csaba – 10; Magdi – 9; Philip – 9; Jenő – 8
Szilvia Agárdi & Dénes Pál: Viktor – 9; Csaba – 10; Magdi – 10; Philip – 10; Jenő – 9
Thus, Szilvia Agárdi and Dénes Pál got the highest marks from the jury, with Ildikó Keresztes coming second and Gergő Rácz third.
The audience then had thirty-five minutes to vote on the seven remaining acts and their favourites were Gergő Baricz, Tibor Gyurcsík and Tamás Palcsó.
Hungary at the Eurovision Song Contest:
Hungary has participated at the Eurovision Song Contest ten times with Friderika Bayer as their first entrant in 1994. It left the competition after the 1998 contest, coming back in 2005 and reaching the 12th place with NOX. In 2006 the country announced it would not participate although it returned in 2007 with Magdi Rúzsa. In 2010 it withdrew due to financial reasons being back in 2011 with Kati Wolf. Last year, the band Compact Disco made it to the final where they were ranked in penultimate position with just nineteen points.