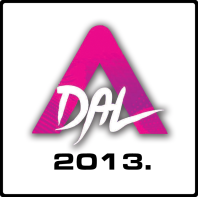 In a press conference this morning the Hungarian broadcaster MTV revealed the names of the thirty candidates to represent Hungary at the upcoming Eurovision Song Contest. The final will take place on March 2nd, but the televised selection process known as A Dal will start a month earlier.
As we reported earlier, this year's national selection will include three qualification shows, two semi-finals and a super final. No less than thirty acts will battle for the ticket to Malmö in the Hungarian qualifying shows, to be held on the 2nd, 9th and 16th of February, and they have been presented today.
The names of the artists and the song titles (all of them in the Hungarian language) are listed below:
• Plastikhead feat Gáspár Laci – A szeretet él
• Puskás Peti – Amíg a tűz ég
• The (hated) Tomorrow – Anyáddal
• Rácz Gergő – Csak állj mellém
• Völgyesi Gabi – Csak te légy
• Palcsó Tamás – Ezt látnod kell
• Szirtes Edina Mókus – Ha virág lennék
• Szabó Ádám – Hadd legyen más!
• Vastag Tamás – Holnaptól
• Baricz Gergő – Húz
• Mrs Columbo – Játszd újra
• Egy Másik Zenekar – Katatón dal
• Bye Alex – Kedvesem
• Éliás Gyula – Mindhalálig várni rád
• Kállay Saunders András – My baby
• Keresztes Ildikó – Nem akarok többé játszani
• Mohamed Fatima – Nem baj
• Background – Neonzöld
• Fehér Zoltán – Nincs baj
• Gyurcsik Tibor – Örök harc
• Rami – Puzzle
• Flash Travel – Soha ne add fel az álmaidat
• Agárdi Szilvi-Pál Dénes – Szíveddel láss
• Burai Krisztián – Született szívtörő
• United – Tegnap még más voltál
• Brasch Bence – Túl egyszerű
• Bogi – Tükörkép
• Radics Gigi – Úgy fáj
• Janicsák Veca – Új generáció
• Polyák Lilla – Valami más
In each of qualification phases, the finalists will be picked by an expert jury and televoting – the same counts for the overall winner who will be representing the country at the 2013 Eurovision Song Contest.
The panel jury during the TV shows will consist of Csava Walkó, member of Compact Disco, the band who represented Hungary at the 2012 Eurovision Song Contest; Philip Rákay, programme director; Jenő Csiszár, radio host; Viktor Rakonczai, member of VIP who represented Hungary in 1997; and Magdi Rúzsa who represented the country in 2007 with Unsubstantial Blues.
Gábor Gundel-Takács will be again the host of the national selection shows joined by Éva Novodomszky and Márton Buda.
Last year Hungary was represented by the band Compact Disc with the song Sound Of Our Hearts. Below you can watch our 3D video of their performance at the 2012 Eurovision Song Contest. As always, we strongly recommend watching this video in 3D to enjoy it to its fullest, but if you do not have a pair of suitable glasses this can easily be turned off in the player below to watch in regular 2D.