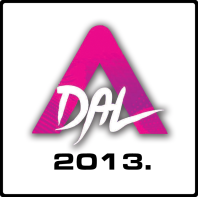 With their submission deadling having closed almost a month ago, broadcaster MTV recently announced its intention to stick with and to develop the A Dal selection concept further when searching for the successor to Compact Disco and the Hungarian entrant for Malmö.
MTV introduced the A Dal selection process last year, with the band Compact Disco and the entry Sound of Our Hearts emerging as the winner and snatching the ticket to Baku. Hungary also managed to make it to the final for the second consecutive year, so it comes as no surprise then that MTV has is set on expanding the A Dal concept.
Whereas last year's selection consisted of three shows, Hungarian fans are in for a treat this year, with all of six shows being devoted to finding the act who will represent Hungary in Malmö. A total of 267 entries were submitted to MTV and these are to be reduced to thirty by a jury during the course of next week. A Dal 2013 will consist of three preliminary heats, each featuring ten acts. The three heats are to take place on the 2nd, 9th and 16th of February, followed by two semi finals due to take place on the 23rd and 24th of Feburary. Four acts will advance from each semi final, resulting in eight finalists pitted against each other on the 2nd of March in Budapest.
Finalists will be selected over the five weeks by means of a combination of public and jury voting. Former Hungarian entrant Magdi Rúzsa (who can forget her soulful entry Unsubstantial Blues from 2007?) and Compact Disco frontman Csaba Walkó will be among the five member strong jury and will have her chance to influence just who makes it to the final eight. Jury votes will be combined with televotes to determine which four out of the eight finalists will make the super final, with the overall winner of the super final and of A Dal 2013 being chosen solely through televoting.
Below you can watch our 3D video of Compact Disco performing Sound of Our Hearts at
the 2012 Eurovision Song Contest. As always, we strongly recommend
watching this video in 3D to enjoy it to its fullest, but if you do not
have a pair of suitable glasses this can easily be turned off in the player below to watch in regular 2D. Play and enjoy!