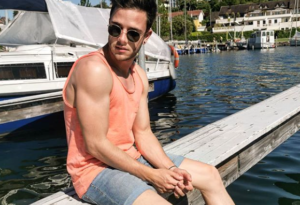 Eating McDonalds next to the Eiffel Tower, Buying vintage records in L.A. and taking in the sights of Moscow are just some of the things that the class of 2019 have been up to this summer. Yesterday we showed you how some of your favourite contestants from this year's contest have spent their summer. Let's take a look at some more.
It has been just two months since the class of 2019 got their return flights home after a fantastic contest in Tel Aviv. They had spent months of touring, rehearsals and interviews in preparation for the contest and were ready for some much needed rest. So, what have they been up to this summer? Let's find out.
---
Joci Papai (Hungary)
Hungarian favourite Joci Papai returned to the Eurovision Song Contest for the second time this year. After enjoying his time in Tel Aviv the singer has been performing in various concerns around Hungary and has been promoting his latest single Hova tűnt? He has managed to spend some much needed time with his amily. The group visited Croatia. The posted pictures of himself and his family relaxing on Omorika Beach.
---
Mahmood (Italy)
Mahmood has had a lot to be thankful for this year. He earned himself a third place finish with his track Soldi which charted well all over Europe and just recently went platinum in Spain. He performed at the closing ceremony of the Napoli Summer Universiade 2019, a sporting event that attracted athletes and spectators from all over the world. Most recently he posted a picture on his instagram account of him eating McDonalds outside the Eiffel Tower in Paris.
---
Duncan Laurence (Netherlands)
What a summer it has been for Duncan Laurence of the Netherlands. He won the Eurovision Song Contest and his winning single Arcade has been certified gold in Belgium and Norway. The singer-songwriter is currently in California writing new material but has managed to wangle a bit of time off as he shared snaps of himself buying music from an old record store in Laguna Beach. It seems that this summer will be the calm before the storm as the singer will embark on a tour of Europe over the months of November and December.
---
Otto Namadze (Georgia)
Otto didn't manage to win his country a place in the Grand Final this year but he hasn't let that ruin his summer. He has spent his leisure time horse riding in Tbilisi and has recently posted a picture of himself in the south of France.
---
Luca Hänni (Switzerland)
Eurovision favourite Luca has had a busy summer and it doesn't seem to be slowing down. He has been performing all over Europe including Greece, Italy, Germany and in various cities in his native Switzerland. During his time in Germany he visited Europa Park – the country's largest theme park. Luca uploaded a post thanking his fans for all of his support as his top 5 track She Got Me went platinum. Next month Luca will be embarking on a further tour of Europe, performing in Sweden, Germany, Poland and Switzerland.
---
Miki (Spain)
22nd place finisher Miki looks like he has had a fabulous summer. The Spanish singer has travelled to neighbouring Andorra and managed to squeeze in a trip to Russia. Miki posted a picture to his instagram page with the words From Russia With Love in Spanish. The picture was taken outside of St Basil's Cathedral in Moscow which is undoubtedly one of the most famous Russian landmarks. In addition to his travels, Miki has also released a single Celébrate which peaked at number 62 on the Spanish singles chart.