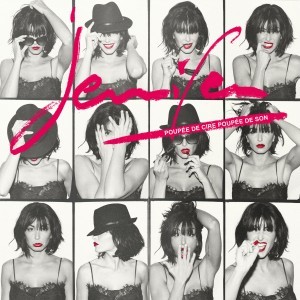 As the saying goes, "An old classic never dies". This is certainly proving to be the case with the former winning entry from Luxemburg, the France Gall classic, Poupée De Cire, Poupée De Son, currently riding high in French speaking countries as a revamped version by pop star Jenifer.
It's been a while since pop star Jenifer scaled the heights of the French music charts. She first gained her major breakthrough after winning the French music reality show Star Academy, back in 2002. A string of top ten hits followed, including the ABBA classic Gimme! Gimme! Gimme! (A Man After Midnight) #1, J'Attends L'Amour (Waiting For Love) #2 and Le Souvenir De Ce Jour (Memories of this Day) #6. A slump in her career followed, with a number of subsequent single releases in the early 2010's not even managing to crack the top 50.
All that looks set to change for Jenifer, however, as she turns to help from an unexpected source. The Serge Gainsbourg penned Poupée De Cire, Poupée De Son, which in its time caused quite the scandal, won for Luxemburg in 1965, giving performer France Gall a massive European hit. She has since distanced herself from the song, refusing to perform it any more due to its apparent sexual innuendo. This hasn't stopped Jenifer from seizing the opportunity to release an updated version of the track, greatly appreciated by her fellow Frenchmen.
The single was released at the end of April and has already managed to reach number 21 on the French charts and looks set to storm both the Swiss and Belgian Walloon charts also. Poupée De Cire, Poupée De Son is the lead single to be taken off her forthcoming sixth studio album, Ma Déclaration (My Statement), due for release tomorrow, the 2nd of June. It will be released both as a download and a physical CD alum and is be the follow up to her album from last year, L'Amour Et Moi (Love And Me), which reached #3 in France, #1 in Belgium and #46 in Switzerland. Coincidentally, there are two other tracks from Ms Gall included on the album: the huge hit from 1988 Ella Elle l'a (Ella, She's Got It), as well as the ballad Évidemment (Obviously) also covered by former Eurovision entrant Kate Ryan.
You might also like to read: