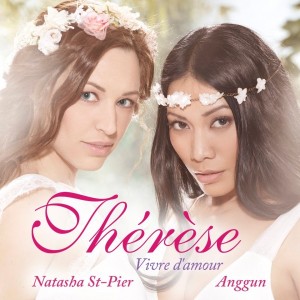 Both singers hail from different corners of the globe but have stood on the Eurovision stage representing France. Canadian warbler Natasha St. Pier and Indonesian beauty Anggun are poles apart in terms of musical genres but found common ground on the concept album Thérèse, Vivre d'Amour.
Both singers experienced slight setbacks and dissappointments in their careers; Anggun, hotly tipped to do well for France in Baku last year with her uptempo Echo (You and I) limped into a 22nd place. Natasha St. Pier on the other hand, was aiming at a comeback to the French market after a lengthy hiatus with her brand new album Bonne Nouvelle. The album received positive reviews for it's subtle melodies and sound, but failed to woo the French market. Since representing France in 2001 with her powerballad extraordinaire Je N'ai Que Mon Âme and giving France a fourth place, St. Pier had become quite a well known name. Bonne Nouvelle was meant to consolidate that status but failed miserably.
But you can't keep a good artist down, and so both ladies are combining their creative forces in the form of a concept album, Thérèse, Vivre d'Amour, due for release on the 22nd of April. The album features the poems of St. Therese of Lisieux set to music, performed by an array of artists, including both St.Pier and Anggun as well as Grégoire, Sonia Lacen and Elisa Tovati (who some may remember from her duet with former Belgian entrant Tom Dice, Il Nous Faut).
Grégoire has composed most of the music to accompany the poems written by St. Therese of Lisieux, who died tragically from tuberculosis aged just twenty four. The poems were written at the end of the nineteenth century, and doing them justice certainly wasn't easy. All artists involved in the recording are however confident that their labours of love will not have been in vain. The album will feature eleven tracks, and is to be released on the Sony Music label. The first single to be lifted from the album is to be called Vivre d'Amour and will feature both Natasha St. Pier and Anggun, the video of which is to be released shortly. The tracklisting on the album will be as follows:
1. Jeter des Fleurs (Throwing Flowers) Natasha St Pier
2. Vivre d'Amour (Living On Love) Natasha St Pier & Anggun
3. Petit Papa (Little Father) Natasha St Pier
4. Mes Armes (My Arms) Natasha St Pier & Sonia Lacen
5. Rappelle-toi (Remember) Natasha St Pier, Elisa Tovati & Sonia Lacen
6. Ma seule paix (My Only Peace) Natasha St Pier & Grégory Turpin
7. Ma Joie (My Joy) Natasha St Pier & Les Stentors
8. La Fiancée (The Bride) Natasha St Pier & Anggun
9. Pourquoi Je t'aime, Marie (Why I Love You, Mary) Natasha St Pier
10. A mes Petits Frères du Ciel (To My Little Brothers in Heaven) Grégory Turpin & Les Petits Chanteurs à la Croix de Bois
11. La Prière (The Prayer) Monseigneur Jean-Michel di Falco Léandri
12. Mon Chant d'Aujourd'hui (My Song Today) Michael Lonsdale
You might also like to read: