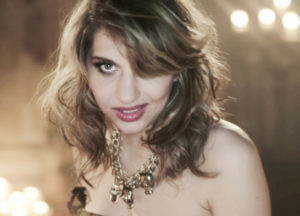 Amandine Bourgeois was recently selected to represent France at the 2013 Eurovision Song Contest.  Now she has released the official video clip for her song, L'Enfer Et Moi.  The clip was produced by Seb K for Les Films de Morphée.
The selection by France of Amandine Bourgeois is another page in her success story so far.  Amandine won the sixth edition of La Nouvelle Star (Pop Idol France).  She is now a big star in her home country.
She has released two best selling albums.  The second was recorded in London with the production team behind Plan B and Amy Winehouse.  Her albums have been a big success with fans and critics alike.
L'Enfer Et Moi (Hell and me) has a pop/rock sound.  The song was composed by Boris Bergman who has written such diverse songs for artists such as Alain Bashung, Paul Personne and Placebo.
You can read more about Amandine at her official website and her Facebook and Twitter pages. 
You can see the video for L'Enfer Et Moi below.

You may also like to read: