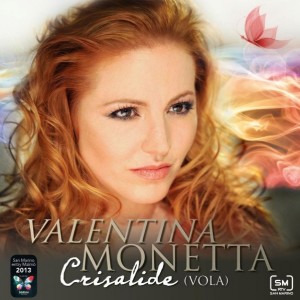 The 2013 national final season is coming to an end and after lots of speculations San Marino were this evening, as one of the last countries, able to present the song that will represent them at the Eurovision Song Contest in May this year. With Crisalide the country hope to qualify for the final for the first time.
This year there were a lot of speculations about who would be representing San Marino this year. For quite a while the rumoured mentioned the 1956 Eurovision winner Lys Assia to be representing the country with her failed Swiss entry; All In Your Head. A comment from her stating that she soon had exciting news to announce and that she would love to participate for another country, only gave more fire to the rumours.
Finally the speculations ended as Lys Assia later denied that she would be representing San Marino this year – and shortly after, the broadcaster themselves announced that it would be Valentina Monetta once again. 
The show: 
In a special half hour long programme San Marino tonight presented their entry. The programme was hosted by Head of Delegation Alessandro Capicchioni and in the studio was also Fabrizio Raggi, art director, Roberto Moretti, TV committee member, journalists Eddy Anselmi and Emanuele Lombardini and of course Valentina herself. We start out seeing preparations for the making of the video, to the tune of their entry from last year's Eurovision Song Contest.
Valentina herself says that she is quite glad that it is once again Ralph Siegel who has written the song and in the studio they also mention that there was no doubt in their minds that Crisalide should be the song to represent them and that the song makes her talent stand out, that is then being followed by a statement about that the journalists in the press room in Baku was highlighting that she, as one of very few participants, never failed a note during 5 rehearsals.
The goal is clear for San Marino. Where other countries are talking about winning the Eurovision Song Contest, it is directly mentioned that this song just needs to be able to reach a 10th place in the semi-final. They first of all wants to get into the final.
During the show the lyrics writter, Mauro Balestri, is with them on Skype where he mentioned that he accepted as Ralph Siegel was so sure about Valentina's talent. Mr. Siegel himself, also via a video connection, stated that he is so proud to work together with her again and that he sees her as her daugther. 
Near the end of the programme they were talking quite openly about that San Marino has been quite lucky with their draw into the second semi-final where they have a lot of the countries likely to vote for them, with them.
About the song: 
The song Crisalide is a song that starts out as a beautiful ballad, which really suits Valentina's voice. You hardly recognise Ralph Siegel as songwriter before it half way through changes to be a pop song. You are instantly hooked on the song, which might just bring San Marino into the final of the Eurovision Song Contest for the first time.
About Valentina Monetta: 
Most Europeans hadn't heard of Valentina Monetta before she represented San Marino at the Eurovision Song Contest last year. She had previously mainly been working with jazz and a bit of RnB and as such her entry, which was a bit of childish pop song, came very much as a surprise to most.
But this year the 38 year old singer comes with a completely different song and appearance. The long blonde hair with a tight ponytail making her look like a 16 year old wanna be is replaced with a mature woman with a classic beauty and long red hair. In the studio tonight she had her hair hanging lose, but in the video she has soft curls, which really makes her look beautiful. Yes, it is hard to imagine that this is the same participant – and nearly just as hard to recognise the song as a Ralph Siegel song.   
About Ralph Siegel:
To followers of the Eurovision Song Contest German songwriter Ralph Siegel needs no introduction. With this being his 21st Eurovision entry he is the most participating ever. He first took part in 1974 representing Luxembourg with the song Bye Bye, I Love You, which Ireen Sheer sang to a 4th place. Over the years he have represented Germany a total of 14 times, Luxembourg three times, Switzerland and Montenegro each once and including this year he will have written the San Marino entry twice.
Only one of Ralph Siegel's compositions have won the Eurovision Song Contest. That was in 1982 where Nicole captured the heart of most Europeans with the song Ein bißchen Frieden. In total half of his entries ends up in top 10 though with this being the case for 10 of his 20 entries so far. His last two Eurovision songs however failed to reach the final. He also wrote Lys Assia's All In Your Head, which they tried to get into the Swiss final for this year's contest. This song was not at all appreciated at all by the fans who declared both Lys and Ralph for being too desperate and having problems accepting that their time is long gone.
Time will tell how the Ralph Siegel critics will react to Crisalide, but the song should certainly appeal quite wide across Europe and maybe even bring San Marino into the final of the Eurovision Song Contest for the first time.
San Marino at the Eurovision Song Contest:
The republic of San Marino is one of the world's smallest countries and also the newest participant at the Eurovision Song Contest. They got their debut in 2008 when Miodio competed with the song Complice. They didn't qualify for the final and as a result they pulled out again. In 2011 they were however back with Senit and her Stand By. Once again, they didn't reach the final, but this time the tiny country, surrounded by Italy, decided to do stay.
This will only be the fourth entry from San Marino, but the second one from Valentina Monetta, who with a 14th place in the semi-final last year didn't continue to the final either, but secured the country its best result ever with The Social Network Song (oh oh uh oh oh). This was however not without struggle as the song was first rejected by EBU. The title was Facebook Uh, Oh, Oh and was plastered in with references to Facebook. As this wasn't in accordance to EBU's rules the song had to be changed. To the fans the new slightly altered lyrics didn't do much difference and the song was without doubt considered the most silly and hated song that year.
Below you can see the official video as it was presented tonight. 
You might also want to read:
– Marco Mengoni Wins Sanremo and Goes to Malmö
– Montenegro premieres Igranka for 2013 Eurovision Song Contest 
– Eyþór Ingi to sing Ég á Líf in Icelandic in Malmö