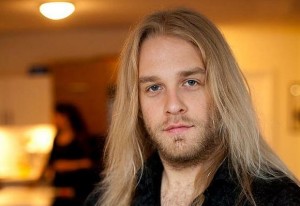 This year's Icelandic entry Ég á Líf performed by Eyþór Ingi Gunnlaugsson wil be sung in Icelandic in Malmö in May. This will be the first time since 1997 that an entry in Icelandic will grace the Eurovision stage. This was confirmed at a press conference in Reykjavík today.
Since winning the national final of Söngvakeppni Sjónvarpsins in February, Eyþór Ingi Gunnlaugsson has enjoyed great success with his single Ég á Líf, remaining in the top ten and even hitting the top spot. His entry for Malmö is currently sitting pretty at number nine after a five week chart tenure. It was at the Vodaphone premises in Reykjavík today that the music video for the song was shown for the first time.
The video sees Eyþór Ingi playing the part of a sailor who is pretty disgruntled with his lot in life. The video alternates between a fantasy world and real life. The video was shot last week, directed by Guðmundur Þór Kárason aboard a small boat. As Eyþór Ingi travels between fantasy and reality, he turns into a cartoon character. Filming of the video was reportedly pretty tough, as Eyþór Ingi had to spend some time for shots in freezing cold water!
During the press conference in Reykjavík today, it was also confirmed that Ég á Líf will remain in Icelandic – for the first time since Páll Óskar performed Minn Hinsti Dans in 1997. The video was aired for the first time at 12:00 hrs local time today and is currently available to watch on the Vodafone site until 17:00 hrs, when it will be made available on the ruv.is website. The video can also be seen below.