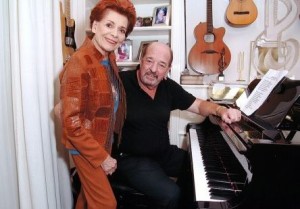 The very first winner of the Eurovision Song Contest, Lys Assia failed to reach this season's Swiss national final and thereby it looked like 2013 wouldn't be the year where we saw Lys back on the Eurovision stage fighting to win the trophy. Yesterday rumours however spread fast claiming her to represent San Marino instead, and today Lys answered back.
Lys Assia participated in the Swiss selection with the Ralph Siegel written song All In Your Head. With Lys being well remembered for her 1956 win with Refrain and Ralph having written a total of 20 Eurovision Song Contest entries it looked like a strong combination. But what was strong on paper however didn't quite work out as the song failed to make it through to the final in Switzerland. It looked like 2013 wouldn't be the year either where we would find Lys among the participants at the Eurovision Song Contest. 
Yesterday however the situation took another turn as Lys Assia announced the following on her Facebook profile: "Hello, my love ones! Very exciting news is coming soon! In the meanwhile take a break and enjoy my lovely song 'All In Your Head'." It didn't take long before Eurovision fans started spreading the rumours that this song, which the Swiss didn't like, instead would be representing San Marino at next year's contest in Malmö, Sweden.
Having in mind that Ralph Siegel also represented San Marino here in 2012 with the song The social network song (oh oh uh oh oh) song by Valentina Monetta it wouldn't be too hard to imagine this being true. If Lys Assia was expecting the fans to react with immense joy she must have been quite dissapointed when most of them reacted almost screaming their Noooo out in pain. Well respected as she is, a few positive comments were heard here and there, but the point of view from the fans was clear: "We will always love Lys Assia for Refrain and her always postive attitude towards the Eurovision Song Contest, but this is just pure desperation".
Fans were waiting eagerly as to what Lys Assia would be announcing and a short while ago this announcement came from her on Facebook: "Yes, I would be delighted to represent another country at the Eurovision Contest. My music goes beyond borders. New, musical news is coming your way." When asked about when the news will be public she answers that it will happen next month.
So at the moment nothing is confirmed, but the rumour is strong and sure won't get any less with Lys Assia saying she would be delighted to represent another country. Is she teasing the fans or will she be representing San Marino at the 2013 Eurovision Song Contest?