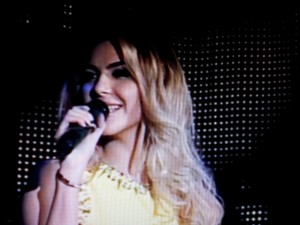 Olta Boka has released a beautiful new romantic love song featuring Erik Lloshi. The track is called Ti me ke mua (You Have Me). She is participating with the song in the 2014 Top Fest 11 competition in Albania. Olta has become increasingly popular in her homeland since taking part in the 2008 Eurovision Song Contest.
Olta Boka was born in 1991 in Tirana, Albania. She was just 16 years old when she took to the Eurovision stage in Belgrade with her gentle ballad, Zemrën e lamë peng. She won a lot of hearts with her charming voice and performance that year.
Olta has since gone on to have many hits in Albania and compete in the popular music festivals Top Fest and Kenga Magjike. She has shown her versatility with her music over the years from the sweet ballad of Zemrën e lamë peng at Eurovision to the uptempo Anna from Kenga Magjike in 2011, the happy and upbeat Rrak Tak with the Cili Band and the dramatic tango style of E Fundit Tango from 2013.
Olta has a regular show performing at a major complex in Tirana with two former Albanian Eurovision singers, Kejsi Tola (ESC 2009) and Juliana Pasha (ESC 2010).
Now Olta returns with the beautiful ballad Ti me ke mua featuring the vocals also of Erik Lloshi. The song has a light piano and acoustic feel with soft orchestral strings. The song is part of the Top Fest 11 festival this year.
You can see Olta and Erik performing Ti me ke mua below.
You may also like to read –