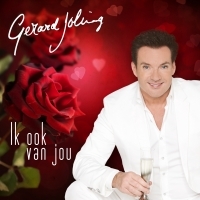 As reported on EuroVisionary a few months ago, Gerard Joling was celebrating a less than amicable split with his former record label NRGY Music and his brand new recording contract with label Vosound records. He is busy putting the finishing touches to his latest album, due in the shops by the 26th of April.
Gerard Joling's is back with his latest studio offering, Ik Ook Van Jou (I Love You Too) just around the corner, with a release date set for the 26th of April. Fans of the singer were given a taste of things to come, with the first single from the singer in nine months, the release of De Nacht Voorbij (Beyond The Night).
Joling has, during the course of his soon thirty year long career, been signed to a multitude of labels, including WEA, Phonogram/Polygram, Multidisk and EMI Music. A substantial number of his nineteen album releases have sold to either gold or platinum status, with his last album Gewoon Gerard (Just Gerard) appearing in April 2011 and peaking at number four on the Nederlandse Top 20 album charts. He hopes of course to continue the run of success with his latest offering, Ik Ook Van Jou, which will be his first album on the Vosound Records label. Produced by Marcel Fisser, the latest album will feature a number of ballads as well as some uptempo numbers. The first edition of the album will also contain a bonus DVD with a mini documentary showing the making of his latest studio outing. 
In the run up to thr release of his latest album, Joling will be making an appearance on TV screens as a jury member on the new TV programme Bloed, Zweet & Tranen (Blood, Sweat & Tears), where he will be joining Jeroen van der Boom, Danny de Munk and Roxeanne & Dré Hazes in the search for the next big Dutch folk singer. Still think a month seems too far away? Well in the meantime, you can watch the official video of Joling's first single, De Nacht Voorbij, below.
You might also like to read: