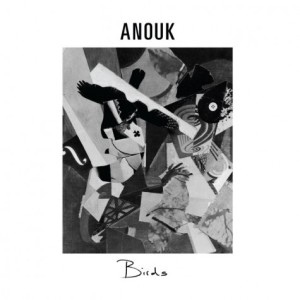 Dutch entrant Anouk has an explosive career to look back on in her native Netherlands. Since her breakthrough, platinum sales and sell out concerts have become the norm. Upon the release of her Eurovision entry Birds however, Anouk has just broken quite a special record in the Netherlands which hopefully is an omen for her success in Malmö.
Following confirmation of Anouk's participation for the Netherlands, interest among Dutch fans has gradually reached fever pitch, long before the unveiling of the entry Birds itself. Anouk started to get fans excited by stating that she had a "killer song" for the contest, but hopes were dashed shortly afterwards, when the producer of her album, Tore Johansson, told media that he didn't fancy Anouk's chances at Eurovision whatsoever. That was before Monday the 11th of March.
Since Birds was made available in its entirety, it seems to have been very well received by fans and is without doubt one of the big fan favourites this year. With the Netherlands also ranking top five on many bookmakers' sites throughout Europe, their chances of reaching the final have never looked better. Birds has presently only been given a digital release in the Netherlands, but within the space of mere four days, the song has sold enough copies to make Dutch chart history. The single is set to enter the Mega Top 50 charts at number one, the first time this has ever happened with a Dutch Eurovision entry. Prior to this, the highest position for a single to reach was third place back in 1972 with Als Het Om De Liefde Gaat by Sandra and Andres. Sandra Reemer also managed the same position with her entry, The Party's Over from 1976.
Other entries have enjoyed comparable success on the charts previously, namely the duo Mouth and MacNeal with Ik Zie Een Ster in 1974, currently the last Dutch winners, Teach In with their Ding-A-Dong from 1975, Maxine & Franklin Brown with De Eerste Keer from 1996 and last year's entrant, Joan Franka with her entry You And Me, all of whom have reached third place. Sieneke from 2010 reached the top of the Mega Single Top 100 with her entry Ik Ben Verliefd (Sha-La-Lie) as did the group 3JS the following year with their entry Never Alone. Birds gives Anouk her second Dutch number one, her first one being the single Three Days in a Row from 2009. Birds is the first single from her forthcoming album Sad Singalong Songs, which is due for release in May. A video of Anouk performing her entry live can be seen below.
You might also like to read: