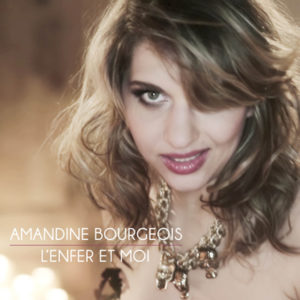 With only a handful of entries to this year's Eurovision Song Contest in Malmö remaining to be unveiled, excpectations surrounding the French entry are rapidly gaining momentum. Will Amadine Bourgeouis hotten things up with her entry L'Enfer Et Moi? The wait is finally over as her entry is revealed to the public today.
The failure of the much vaunted French entry from last year by Anggun, Echo (You And I), limping in to a 22nd place with a measly 21 points, sent shockwaves through many French fans. All hopes are now fixed on glamourpuss meets bad girl Amandine Bourgeois to undo the French wrongdoing from last year with her entry L'Enfer Et Moi, which is given it's European premiere today on Spotify at 10:00 hrs CET.
It was time to go back to the drawing board for broadcaster France 3, and that they did when searching for the next French entrant. Signed to Warner Records, Amandine has enjoyed both commercial and critical success with her previous two albums, 20 m² and Sans Amour Mon Amour. She has previously worked with the same team behind the success of artists such as Amy Winehouse and Plan B. The 2013 French entry for Malmö is written by Boris Bergman, respected for his work with amongst others Placebo. The man behind the music is composer David Salkin, who has previously worked with the likes of Zazie and Florent Pagny. 
Following today's launch of L'Enfer Et Moi on Spotify, an official videoclip will be aired for the first time on the official France 3 website tomorrow at 09:00 hrs CET. The video has been directed by Seb K, otherwise known as Olivia Ruiz and Emilie Simon and the France 3 website is promising fans a sensual, captivating clip to accompany Amandine's entry. Following the video premiere, Amandine will promote her L'Enfer Et Moi to French viewers by taking part in two television shows : C à Vous on the 14th of March, to be broadcast at 19:00 hrs CET on the France 5 channel. Another presentation of the song will be given later on in the month, on the 24th of March on the show Chabada, broadcast at 17:00 hrs CET on France 3.
So does France stand a chance? Judge for yourself and listen to Amandine's entry below.