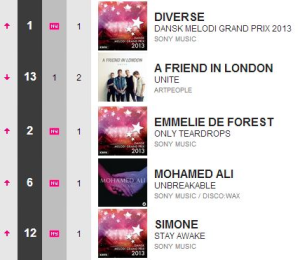 The official album with all ten participating songs from the Dansk Melodi Grand Prix 2013 is once again a well selling album. The same is the recently released debut album from A Friend In London. Three of the singles from the national final went straight into the charts as well. 
Saturday evening Emmelie de Forest won Dansk Melodi Grand Prix 2013 – and therefore the right to represent her country at this year's Eurovision Song Contest with the song Only Teardrops.
Monday afternoon it was time to see if the usually high viewing figures and good ratings for the Danish final would remain – and it did. And yesterday, where the list of the best selling albums and singles in the past week was published, we could then see if the album containing all 10 participating songs would sell well and how many of the entries might have done well as singles. Conclusion: also here things are as usual – which is positive.
The official album with all 10 songs in both original and karaoke version went straight into the album top 40 as third best selling album. On this list we also find the 2011 Danish Eurovision Song Contest representative A Friend In London's newly released debut album as #14. Kandis, participated in Dansk Melodi Grand Prix in 2005 with the song Lonnie Fra Berlin, is also to be found on the list. With their album simply titled Kandis 15 they are this week's #33, dropped from number 13 last week, but with a total of 26 weeks on the chart. 
On the single list, the Track top 40, we find the three super finalists from this year's Danish final. The winner Emmelie de Forest went into second place with Only Teardrops, Mohamed Ali is placed as #6 wth his entry Unbreakable while Simone and her Stay Awake is to be found as #12. 
When we look at the officially sold downloads the Dansk Melodi Grand Prix album is selling even better as it went straight into first position on the Bit Album top 20. They took over the first position from A Friend In London's Unite, who is now #13. The only of this year's Danish finalists whose single is to be found on the Bit Track top 20 is Emmelie de Forest and her winner song Only Teardrops. 
You might also want to read: