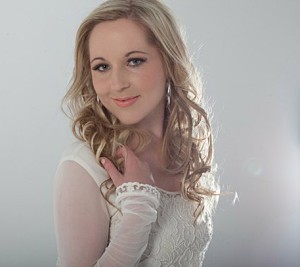 Jasmyn from South Africa has released a new album with an Afrikaans version (Ek Kan Weer Droom) of What About My Dreams (Kati Wolf – Hungary ESC 2011).  She has also just recorded an Afrikaans version of the 2013 Russian Eurovision song, What If, by Dina Garipova.
Jasmyn is a popular singer in her homeland and has recently released her second album.  She has recorded several Eurovision songs in Afrikaans including her version of It's For You (Dit is vir jou) by Niamh Kavanagh (Ireland ESC 2010).
Jasmyn was a guest at the 2011 Eurovision Song Contest in Düsseldorf where she performed a couple of songs at the Euroclub including a cover of A Message To Your Heart ('n Boodskap vir jou hart) by Samantha Janus (United Kingdom ESC 1991).
Her new album is called Agt Keer Opstaan.  For more information about Jasmyn and how to listen and buy her music visit her official website.
She has recently recorded an Afrikaans version of What If by Dina Garipova (Russia ESC 2013) to be released shortly. 
You can see Jasmyn performing Ek Kan Weer Droom below. 
You may also like to read –