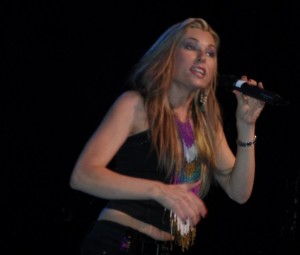 Colé van dais is to record duets with three of the acts from the 2014 Eurovision Song Contest. She will record her parts in the Afrikaans language and duet with Suzy from Portugal, Aarzemnieki from Latvia and Tijana from FYR Macedonia. This follows Colé's recent guest appearances in Copenhagen at the VEGA Euroclub.
Colé van dais is a well known singer in South Africa and normally records song in the Afrikaans language. But she also writes in English and Spanish as well as her native language. She has released two albums and is currently working on her next studio album which will include three 2014 Eurovision duets. She will record Quero Ser Tua with Suzy from Portugal, Cake To Bake with Aarzemnieki from Latvia and To The Sky with Tijana from FYR Macedonia. She is currently in London finishing some recordings (non Eurovision) for the album.
Colé was invited to perform at the VEGA Euroclub for several nights during the two weeks leading up to Eurovision this year. The Euroclub is the club for artists and accredited journalists open during the two weeks of Eurovision. She performed many Eurovision hits including the Afrikaans version of Only Teardrops by Emmelie de Forrest and she duetted with DQ (2007 ESC Denmark).
You can read more about Colé at her official website. 
You may also like to read –