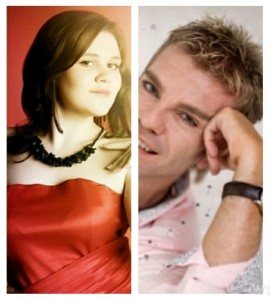 Dina Garipova from Russia and Henry Van Dyk from South Africa have teamed up to record a unique duet version of the 2010 Danish Eurovision entry, In A Moment Like This, by Chanée & N'evergreen. The duo have recorded a multi-lingual version in Russian, English and Afrikaans.
Dina Garipova represented Russia at the 2013 Eurovision Song Contest with the beautiful ballad, What If, where she finished in fifth place. Dina is from the Russian republic of Tatarstan and she won Golos, The Voice of Russia competition in 2012.
Henry Van Dyk is a popular singer in South Africa where he has already released an acclaimed album and dvd. He has recorded five official promo videos to date. 
Dina and Henry decided to record the 2010 Danish Eurovision song by Chanée & N'evergreen, In A Moment Like This, composed by Thomas G:Son, Henrik Sethsson and Erik Bernholm. The song is currently receiving a lot of airplay on South African radio. Both Dina and Henry will include the track on their individual forthcoming album releases. Dina's album will be released shortly and distributed by Universal Russia to 19 countries so far.
You can read more about Dina at her official website and for Henry at his fansite. 
You may also like to read –