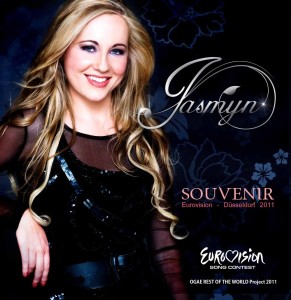 Top South African singer, Jasmyn, will be coming to Düsseldorf next week.  She will perform for Eurovision fans at the Euroclub on 6 May at 22:10 (CET).
Jasmyn will sing Afrikaans versions of a very popular song from Germany and also United Kingdom.  It will be a special night at the Euroclub to celebrate 25 years of Eurovision fan clubs.
Jasmyn recently released her debut album to critical acclaim in South Africa.  The 13 track album includes an Afrikaans version of It's For You by Niamh Kavanagh called Dit is vir jou.  The album is a mixture of pop, celtic, light classical, rock and contempory music.
Ireland and Georgia have been very supportive of Jasmyn and her music.  I am sure after performing in Germany many other fans and countries will be aware of Jasmyn's unique talent.
Jasmyn has recorded several Eurovision songs in Afrikaans from Ireland, Georgia, Belgium, the Netherlands, Norway, Slovakia and Malta.
For more information on Jasmyn you can visit her website at www.reverbnation.com/singendejasmyn .