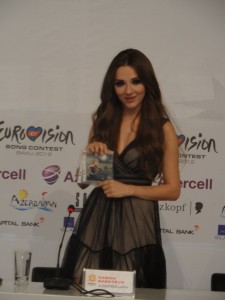 Sabina Babayeva was presented with an Afrikaans version of When The Music Dies at the Crystal Hall in Baku.  The song is by Colé van dais from South Africa.
Colé has made a special recording of the song and the Afrikaans title is Wanneer die musiek verdwyn.
Sabina was presented with the special disc at the second press conference for Azerbaijan at the 2012 Eurovision Song Contest.  Sabina was very happy to receive the gift and is honoured her song has been covered in the Afrikaans language by Colé.
Colé van dais is an experienced and accomplished singer in her homeland and has toured many other countries.
She has also covered other Eurovision songs in her career in Afrikaans. She is hoping to be on the Eurovision stage herself in the future for a European country. It is a big ambition.
You can read more at her official website and you can also buy her music there.