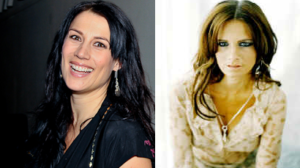 Former Swedish Eurovision entrants Jill Johnson and Lena Philipsson are to feature in special concerts on the 16th and 20th of January. Broadcaster SVT will be recording the events with the intention of broadcasting the show in the coming months.
Two very different types of music will join forces in just under a week's time, as both Jill Johnson and Lena Philipsson take to the stage at the Stora Scenen venue in Gothenburg in the capable hands of comedian and novelist Jonas Gardell acting as conferencier.
Neither need any introduction to Eurovision fans, as both have between them no fewer than six appearances at Melodifestivalen and both have represented their native Sweden at the contest. Johnson first appeared in 1998 with the Lady Diana tribute Kärleken Är, coming 10th in Birmingham. Since then, she has made quite a name for herself as a performer, concentrating mainly on country pop, as her Melodifestivalen entry from 2003, Crazy in Love, bears testimony to.
Philipsson, on the other hand, brought a whole new dimension to stage performance with a microphone stand, finally managing to represent Sweden back in 2004, with the fan favourite It Hurts reaching a very respectable shared fifth place. She had tried three times earlier with the entries as Kärleken är Evig, Dansa i Neon and Om Igen, which, although didn't win Melodifestivalen went on to give her sizeable hits and won her a huge fan base.
And as Sweden goes Eurovision crazy in the run up to Malmö, what better way to begin the new year than with an evening with the two ladies? Each of the three will have their own ninety minute slot on stage, looking back on their careers with a combination of music, show, humour and conversation, performing all of their classic and more recent hits. The show is also planned to feature other special guests and the audience will also be able to get up close and personal to all three stars, having the chance to ask them questions.
The event begins at 19:00 and tickets are on sale through the i Ticket site, with prices for standard tickets ranging from SEK 75up to SEK 325. If you feel lake making an evening out of it, you can also reserve tickets to include a three course dinner at the Gropen restaurant for SEK 710. If you just so happen to be in the vicinity, why not go along and treat yourself to an evening with two of Sweden's premier performers?
You might also like to read: