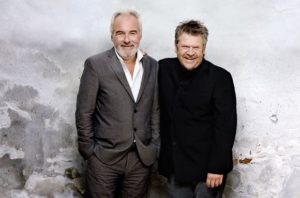 The Olsen Brothers were asked if they would like to be interval act at the Danish final in a few weeks, where a bunch of former Eurovision winners will be performing. They declined the offer due to a US trip getting inspiration for a new album that should bring them back to their rock sound.
This year the Danish broadcaster, DR, has put a lot of effort into making the Danish final a big party. Three former Eurovision Song Contest winners will be performing as interval act; Brotherhood of Man (1976), Johnny Logan (1980 and 1987) and Herreys (1984). The Olsen Brothers, who won the international contest in 2000 with the song Fly On The Wings Of Love, was also asked, but had to decline the offer due to an already planned trip to Nashville and Memphis in the United States. The trip will be a combination of holiday with their family and a study trip in preparation for their next album.
The album titled Brothers To Brothers will only contain songs written by Brothers – as examples are mentioned the Fogerty brothers from Creedence Clearwater Revival and the Gibb Brothers from Bee Gees. They will be recording in Roy Orbison's studio with only analogue equipment playing together with Nashville studio musicians, who have played with many of the ones the Olsen Brothers are admiring like Willie Nelson, Randy Travis, Tammy Wynett, James Taylor etc. 
The trip will also include visiting Graceland, the Gibson guitar factory and such places – and the Olsen Brothers calls it their musically pilgrimage.
Behind this trip is the idea to give their sound a more pure rock sound again, after the pop that has been a part of them since their Eurovision victory. Sony Music will release the album in Denmark, Sweden, Norway and Germany – the countries where it has been estimated that their fans will want this. Their is yet no planned release day available.
A documentary team from Danish TV2 will be following Olsen Brothers on this trip.
You might also want to read:
Johnny Logan, Herreys and Brotherhood of Man to perform at Dansk Melodi Grand Prix 2013
The Olsen Brothers Road Trip Movie Coming Next Month
A Friend In London's debut album, Unite, scheduled for 21st of January 2013