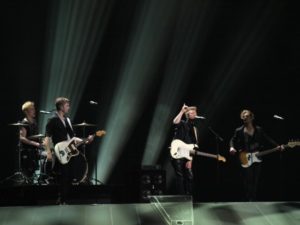 It has taken a long time, but now it should be sure. A Friend In London's debut album will be released on January 21st 2013. Leading up to the album they will every week be releasing new content as a teaser for what is waiting us on the album titled Unite.
The album that was recorded in Canada in December 2011 is finally ready to hit the stores. On the 21st of January 2013 it is ready for purchase – and having in mind that it has taken so long as the band wanted everything to be perfect fans will have something good to look forward to.
A Friend In London represented Denmark at the 2011 Eurovision Song Contest with the song New Tomorrow, which finished 5th at the international contest in Düsseldorf. Since that several singles have been released and the band has been touring in Europe with Backstreet Boys and New Kids On The Block. They have also been on a Canadian tour and expressed a wish to take USA next.
Together with the announcement of the date of release A Friend In London today also revealed that they will be posting exclusive content every week until January leading up to the album titled Unite. It will officially kick of from the 8th of October, but the first "behind the scenes" presentation video was uploaded today. That video can be seen below where you also find their 2011 Eurovision Song Contest entry New Tomorrow.
You might also want to read:
Soluna Samay and A Friend In London's Tim Schou to raise money for children's birthdays
A Friend In London wants to be on The Ellen DeGeneres Show
Get Rich In Vegas – New single released from A Friend In London
A Friend In London release second single about their Facebook and Twitter fans