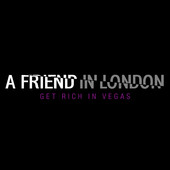 A Friend In London, who represented Denmark at last year's Eurovision Song Contest, has yesterday released their new single titled Get Rich In Vegas. The single is available on itunes and is leading up to the album soon to hit the stores. 
It won't be long until the debut album from A Friend In London will become for sale, but until then fans can enjoy their new single released yesterday. Get Rich In Vegas was made available for download purchase via iTunes and is already getting lots of positive feedback. Currently it is only available for the Danish market, but the band says that they are working on getting it available worldwide. 
Get Rich In Vegas it the third single released from the band that finished 5th at last year's Eurovision Song Contest with the song New Tomorrow, which also was their first single. In August 2011 the second single titled Calling A Friend, that was written for and about their fans on social medias, was released. 
Below you can first hear the new single and also see the performance of New Tomorrow from the 2011 Eurovision Song Contest: