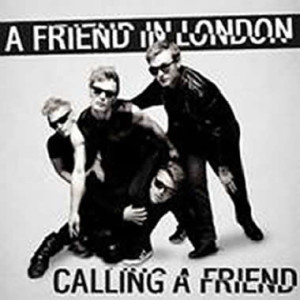 After touring the whole country this summer the second single has now been released from the Danish band, A Friend In London, that ended 5th at this year's Eurovision Song Contest. In the song they sing to all their fans at social medias like Facebook and Twitter. At the same time a merchandise store has been launched on their website. 
The coming CD was expected to hit the market late this summer, but that has been delayed. A new date has not yet been set, but it is expected to come for sale around New Year. Their second single titled Calling A Friend was released today.
A Friend In London's second single was aired on TV this morning and shortly after put for sale on itunes. In this video from the TV programme (they start singing at 5:15) they talk about their close relationship with their dedicated fans. When asked where in Europe they have achieved the biggest fan scare after the Eurovision Song Contest they mention Germany, the Netherlands and Ireland, but mention that several AFIL Army groups have turned up all around Europe in support for them – and it is those and their other fans/friends on social medias like Facebook and Twitter they sing about in the song Calling A Friend.
EuroVisionary previously reported how A Friend In London invited their Facebook friends to be a part in the video, which you can see the making of in the video below.   
A couple of days ago the band also launched their own merchandise store where you can buy various t-shirts, sweatshirts, laptop sleve and mugs.