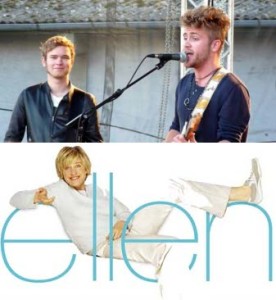 What do you do if the talkshow you want to be on haven't invited you yet? You of course ask yourself – and encourage your friends to help you along the way. That is at least what A Friend In London's leadsinger Tim Schou is doing when it comes to the The Ellen DeGeneres Show.
Since they represented Denmark at the 2010 Eurovision Song Contest and came fourth with the song New Tomorrow A Friend In London have been quite successful. Winning a DR talent show together with Gry's 13 year old son, recording their album in famous studios in Canada and touring with Backstreet Boys and New Kids On The Block however isn't enough for the Danish band. Now they want to be on The Ellen DeGeneres Show as well – and instead of waiting for an invitation they ask for it themselves. 
With a link to the official music video to their single Get Rich In Vegas Tim Schou wrote the following on the Facebook page for The Ellen DeGeneres Show: "Hey Ellen. We're a Danish band from Copenhagen and we toured with Backstreet Boys and New Kids On The Block in the spring and did this Music Video. We have started a FRIENDmission to get on your show and hope u will see the cool thing in what we're doing in this band – Uniting FRIENDS around the world and spreading a message of being open and kind to everybody. Hugs Tim – Leadsinger of A FRIEND IN LONDON".

The Ellen DeGeneres Show is an American talkshow hosted by the actress/comedian by the same name. Since its air debut in 2003 it has won a lot of awards – just like Ellen herself also has for her other work f.ex with the two television sitcoms simply titled Ellen and The Ellen Show.
Links