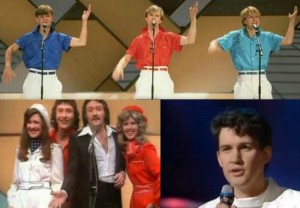 Today the Danish broadcaster announced three Eurovision Song Contest winners as interval act for the national final, that will take place on the 26th of January. British Brotherhood of Man, Irish Johnny Logan and Swedish Herreys are ready to throw some star quality over the final, that will be Denmark's largest ever.
On the 16th of January DR will present the 10 acts that will compete to represent Denmark at the Eurovision Song Contest in neighbour country Sweden this May. We however already know that we will see quite some stars on stage in Herning as the interval acts have been announced today:
Brotherhood of Man won the 1976 Eurovision Song Contest with the song Save Your Kisses For Me. Representing United Kingdom they scored themselves a status as being quite a Eurovision classic.
Johnny Logan has earned himself the nickname King of Eurovision with a total of three victories: in 1980 with the song What's Another Year, in 1987 with Hold Me Now and then he wrote Linda Martin's winning song from 1992; Why Me?
Herreys won a lot of girlshearts when they won the Eurovision Song Contest in 1984 with the song Diggi-loo Diggi-ley. Early in their career they moved to Denmark, where they will now once again stand on the stage together.
The Danish final will take place on the 26th of January from Jyske Bank Boxen in Herning and will be hosted by Lise Rønne (host in 2011), Louise Wolff (host in 2012) and Sofie Lassen-Kahlke (host of the Danish junior final in 2012).
You might also want to read: