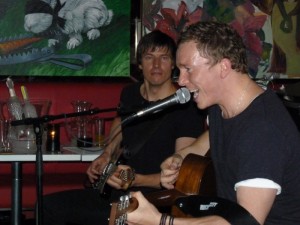 Few days ago Brinck entertained his fans in Aalborg with a nearly three hour long concert. Should anyone be in doubt that he has more than just Believe Again to offer that must have been shout down by this intimate performance. EuroVisionary is proud to show you a video from it – and bring you an interview with him.
Brinck, who represented Denmark at the 2009 Eurovision Song Contest with the song Believe Again, visited North Jutland's "capital" Aalborg thursday evening. During a very long intimate concert Brinck took the audience through his entire career, which includes songs in both Danish and English, many of them written by himself, songs from his first album as well as songs from the second album soon to come. 
Finishing 13th at the Eurovision Song Contest did not scare Brinck away and recently it was revealed that he has also submitted a song for the 2013 Danish final, the Dansk Melodi Grand Prix. This is a song he wrote himself – and is planning on singing himself as well if DR should select it among the 692 songs they received. To stay inline with the rules he is not allowed to play it yet, but from the way he talked about it we can conclude that it is a song that means a lot to him. That also match with that he mentioned about another song previously submitted that he would not have been singing that himself. 
Since the good days three and a half year ago with Believe Again and the first album, which was well recieved Brinck haven't had the most luck in his career and have also been publicly critisised for statements about deliebratly breaking speeding limits. He told EuroVisionary that he regrets those things mentioned back then, but now he is ready to take off where he left with the first album. Based on this concert in Aalborg his dedicated fans will not be disappointed. A group of female fans follows him around to almost every concert – and with such a intense performance as Thursday night that group will most likely get larger. Brinck showed that there is so much more to the man than just his Eurovision Song Contest entry and he proved that he cares about his fans. From stage he celebrated that one of them was having her birthday the same evening.
Pictures from the concert can be seen in our gallery. 
Below you can see a video including clips from the concert and an interview with Brinck. It is recorded in 3D, which we recommend for watching it. If you haven't yet gotten a 3D TV or appropriate glasses you can however easily turn this off in the actual player for watching in regular 2D.
You might also want to read:
692 songs received for Dansk Melodi Grand Prix 2013 – Brinck to try again
Anggun's Eurovision Song Contest entry now as duet with Danish Niels Brinck